Highlights

An Australian solar company Sundrive is proud to announce its latest development. Please read the complete article to know the details.
Vince Allen, an engineer in the team of a solar start-up is accountable for the achievement made.
Efficiency is the key in the solar sector, and the company has developed a cell to meet the standards.
Sundrive, an Australian solar company, has developed the world's most efficient commercial-sized solar cell by substituting silver with copper. This start-up company aspires to be the best solar company in Australia. Vince Allen, Co-founder, CEO & Builder of the solar start-up is accountable for this accomplishment.
Copper's golden era appears to have begun with increased demand, and it may soon rule the solar sector. Copper is a very efficient heat and electrical conductor utilised in renewable energy systems around the world to generate energy from wind, hydro, solar and thermal sources.
Related Article: Solar giant LONGi Green set to foray into hydrogen space
What importance does solar panel efficiency hold?
Efficiency is the key in the solar sector. For example, commercial-sized solar cells were only about 14 -16 % efficient 10 years ago. In contrast, the start-up has successfully developed a cell that has a 25.54% efficiency, according to the Institute for Solar Energy Research Hamlin in Germany.
Efficiency can be defined as the quantity of power generated from the amount of sunshine coming in.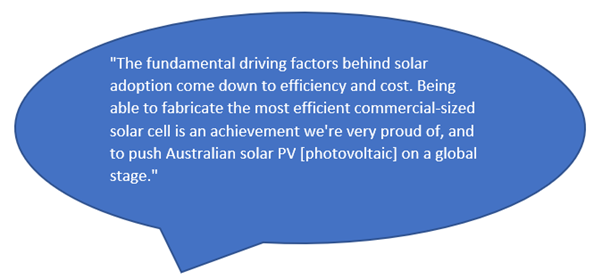 Said by, Vince Allen, Sundrive's CEO
What is the most crucial distinction between copper and silver?
Mr Allen and his firm's co-founder David Hu are enthused about the prospect of developing a process for making solar cells without the usage of silver.
Solar cells presently consume 15% of the world's industrial silver, according to ABC News dated 21 September 2021. However, Vince Allen has rejected it in favour of copper as silver is a scarce resource.
Moreover, copper is 100 times less expensive than silver, has a considerably larger supply, and needs lower processing temperatures, resulting in lower energy use.
According to Mr Allen, a commercial-sized solar cell's practical efficiency limit is around 27%, implying that the technology is reaching its efficiency limit.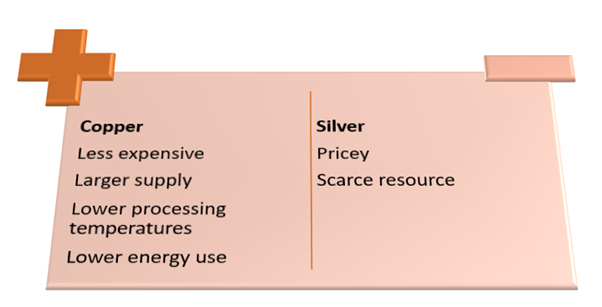 Source: Copyright © 2021 Kalkine Media
Related Article: 5 ASX solar stocks powering the green energy sector
The road ahead
Vince Allen's firm will take some time to make solar panels ready for installation because it competes in an industry with manufacturing and technology. The company just relocated from Wollongong to a more spacious location in southern Sydney.
Solar cells must endure the Australian climate, have a warranty, and be built to last for at least 25 years. According to Vince Allen, making the technology mass-productive will take a long time, but that is the goal.
Furthermore, copper may overtake silver and become the solar industry's ruler with a lower price and a much larger supply.
Related Article : Genex Power's 50MW Kidston Solar Project: December Quarter Revenue Update