Travelling- for business or leisure, has always been at the center of business for a host of companies operating in the red ocean markets of the hospitality sector. In the recent years, we cannot turn a blind eye to the gigantic wave that has emerged and changed the game of the rules in this hospitality industry. In order to understand the phenomena and acknowledge the game-changer, Kalkine media pens down to help understand the trending phenomena called the ?Airbnb? that emerged as a game-changer turning the tables around in the hospitality and tourism industry world-wide! The new choice of the tech-savy, wise-miser, contemporary traveler- hands down- Airbnb!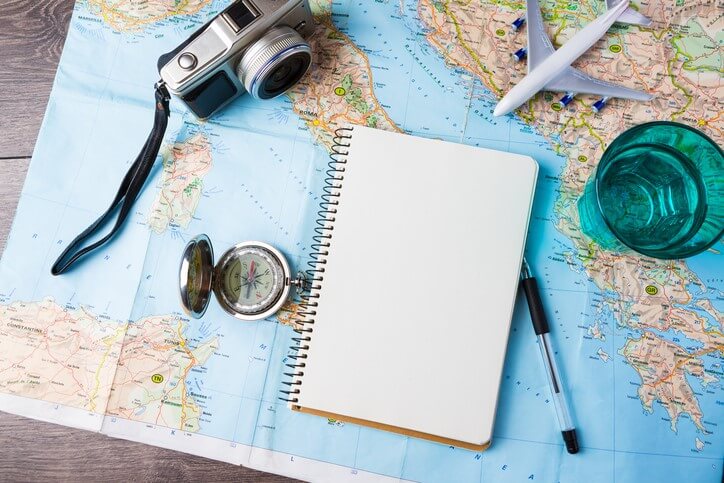 (Image Source: www.dreamstime.com/stock-photo-travel-trip-vacation-tourism)
Airbnb: Talk-of-the-town for global travel
Airbnb is an online platform connecting people from anywhere across the globe who may be willing to let-out a space or a section of their property to anyone who is looking for a lodging accommodation in that given locality or location in the city and country. At present Airbnb comprises of over 81,000 cities and 190 countries across the globe. Looking at the concept of Airbnb from different perspectives can be seen as a very trending feature, creating ripples and waves of new patterns and trends among the tourism and hospitality industry. For the host family or individual, Airbnb furnishes as an option to make some extra money and generate an income from the section of property that the host wishes to let-out alongside some amenities and services that are covered in the rent. The host has the liberty to set their own price as they deem fit corresponding to the offering on the kind of accommodation service that they are offering. Likewise, for the guest willing to take the lodging and accommodation in a rented-home or room space- the cost of living may drastically low down- allowing you to re-look or invest that saved fraction of buck to spend elsewhere in sprucing up your travel.
(Image Source: https://www.moneycrashers.com/ways-save-hotels-vacation/)?
With the advent of Airbnb, came a breeze of fresh air and a refreshing new way to scout out for your lodging and accommodation options, not only catering at best to your personal choices, with a special focus on your preference of locality and location but even to choose from a host of options between the exact kind of accommodation that you may be looking for. Be it about renting just a room, a studio apartment or an entire villa, Airbnb gives you the luxury to tailor-make the booking of your stay to suit your exact travel needs. With Airbnb, you could select and put a variety of filters while hitting the search option, which allows you to connect instantly with the right hosts, their listed properties and conversing with them to strike a discussion around the specifications of your need and their offerings- matching your search criteria. What more? If you would like to go-ahead a book the property making an online payment directly- you do it then and there. It?s really just that simple!
(Image Source: http://www.differencebetween.net/technology/difference-between-airbnb-and-vrbo/)
Australia has been identified as a significant market for Airbnb- as per the country manager- Sam McDonagh; with over 83,000 listing in Australia and nearly 70 percent of Australians having knowledge and awareness about Airbnb. Sam McDonagh points out that one of the key feature that Airbnb gets to encounter on almost a regular basis from both the hosts as well as the guest is that- when looking at Airbnb as a service provider, people express their desire to be living like a local. It has also been observed by the company that an Airbnb guest stays in Australia with a host/host family they tend to stay for a longer duration (nearly 2.1 times longer) besides showing a tendency to spend 1.8 times higher than an average tourist.
(Image Source: http://www.differencebetween.net/technology/difference-between-airbnb-and-vrbo/)?
Airbnb levies a?nominal commission of about 3 percent from the bookings made via their platform, as well as keeps a commission percentage of between 6 to 12 percent that is charged as a service fee from the traveler/guest; that accounts for a far lower expenditure on the cost of lodging vis-?-vis a hotel; and qualifying as one of the top reasons for being the preferred choice for the modern traveler.
Airbnb doesn?t just provide you a sea of options to stay at, but also advices some of the best and must-do things in and around your selection of stay, wherein you can feel free to choose between a range of- Stay, Experiences and Adventures. Under adventures, Airbnb has introduced options such as- multi-day trips that are guided by local experts wherein you can get meals, activities and stays included in the package, at an affordable rate. You may be a foodie, a hiker, an animal lover, or a fan of exploring the local culture and heritage- with Airbnb there is a trip in place available to start your exploration! If you are into exploring the culinary delights or wish to cook a meal yourself with the localities who?d treat you like a family- simply pick one of the packages at Airbnb and dive into nurturing your interest. Some of the popular Airbnb experience packages would help you take on a personalized handmade pasta class with a grandma, or a cooking class with an indigenous cook, or explore the music in the history and culture tour with one of the local DJ?s, the options are many.
Some of the popular Airbnb adventures include- farm stay at the countryside, exploring a particular culinary delight, Homestay treks, experiences life with the native villagers.
(Image Source: https://www.thehindu.com/life-and-style/travel/)
Goes without saying- for your next travel to any destination in Australia- whether business or leisure- Airbnb has it all figured out and sorted for you! Airbnb, indeed, is the game-changer, changing the landscape of the hospitality and tourism industry, taking the two to newer heights of opportunities as it throw the gates wide open and changing the ways one is travelling across the globe; as well as presenting a plethora of opportunities of promising investments. With that, Airbnb has been winning the hearts of one and many in the lodging and hospitality market and is a sure market leader providing an unparalleled win-win situation for all stakeholders, unlike any of its counterparts (Fully operational- Hotels, Motels, Resorts, Hostels, etc.)