Source: aapsky, Shutterstock
The Canadian aviation industry is in talks with the federal government over a C$ 7-billion relief loan, following which airlines can refund passengers for canceled or deferred flights.
According to the largest Canadian workers union, Unifor, the finance minister is negotiating a stimulus package with a low-interest charge with airlines, including Air Canada (TSX: AC), as the government is not in favor of a complete bailout.
After a disagreement between the aviation delegation and the government in late 2020, talks on federal package resumed last month and negotiations are underway. Final agreement will include a decision on canceled flight refunds, a structure for restoring service to domestic markets and financial aid for the airline, former Air Canada CEO Calin Rovinescu stated in February.
Air Canada suffered massive loss of C$ 1.2 billion in the fourth quarter of 2020, due to the stringent COVID-19 led restrictions. The company also declared that it sold advanced tickets worth C$ 2.3 million in Q4 2020.
In February, the carrier announced that it is suspending its flights across 17 routes and laying-off nearly 1,500 employees due to the pandemic-led measures and heavy quarterly losses.
Let us take a glance at Air Canada's stock performance amid the lingering relief package negotiations:
Stocks of Canada's largest passenger airline has been on the recovery runway in the current quarter. It has returned more than 26 per cent in one month, and is up nearly 190 per cent from its COVID-19 caused crash in March 2020.
A partial bailout package or a low-interest rate credit facility could refuel it to fly towards its 52-week high of C$ 36.65. Its previous close was at C$ 26.82 per share, with a market cap of C$ 8.98 billion.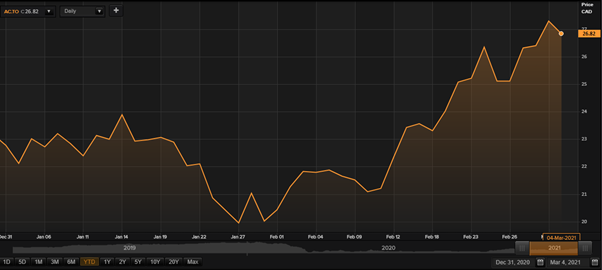 Air Canada Year-To-Date Stock Performance Chart. (Source: Refinitiv)
Investors have shown faith in this airline stock and boosted its year-to-date (YTD) performance to almost 17.80 per cent. This is marginally better than the entire aviation sector that has risen by 1.24 per cent YTD.
The company is currently reinvigorating its freight flights to bolster its revenue. On March 1, the national carrier entered a partnership with Jazz Aviation, a Chorus Aviation Ltd. (TSX: CHR) subsidiary that will solely operate Air Canada Express airplanes.
The airline has also been pursuing a takeover of Transat AT (TSX: TRZ). This deal may conclude after the federal government's relief package announcement.