Highlights

One of the companies mentioned here is exploring discoveries in new geographies like Japan, Egypt and Guyana in its greenfield program.
The encouraging drilling results and improved business performance posted by one of the below companies resulted in revenue growth of 14 per cent YoY.
Among them, the highest three-year dividend growth was 37.2 per cent.
Many analysts believe that there are benefits and advantages of buying gold stocks instead of physical gold. As the sector performed well, the gold companies also posted higher positive returns and stock price appreciation which investors can capitalize upon.
Moreover, as gold companies deliver a profitable and robust quarter, few issue dividends to their shareholders, and the dividends act as passive income for many investors. But a critical point to note here is that as the metal sector is capital intensive, investing in gold stocks comes with its own set of risks and industry dynamics which the investors must consider before investing.
On that note, let's look at some of the Canadian gold stocks.
Kirkland Lake Gold Ltd. (TSX: KL)
The gold producing company has business operations in Australia and Canada, with two mines in Northern Ontario and another in Victoria, Australia. Kirkland Lake Gold is scheduled to pay a quarterly dividend of US$ 0.188 per share on October 13. The dividend yield on September 20 was 1.81 per cent, and the three-year dividend growth rate stood at 85.15 per cent.
The gold scrip posted a return on equity (ROE) of 16.29 per cent, earnings per share (EPS) of 3.82, and return on asset (ROA) of 12.03 per cent on September 20.
The stock price of Kirkland Lake Gold dipped by nearly 24 per cent over the past year and, on September 17, closed at C$ 52.52 apiece.
The encouraging drilling results and improved business performance in the second quarter of the fiscal year 2021 resulted in revenue of US$ 662.7 million, up 14 per cent Year-over-Year (YoY). Its total production was 379,195 ounces in the same quarter.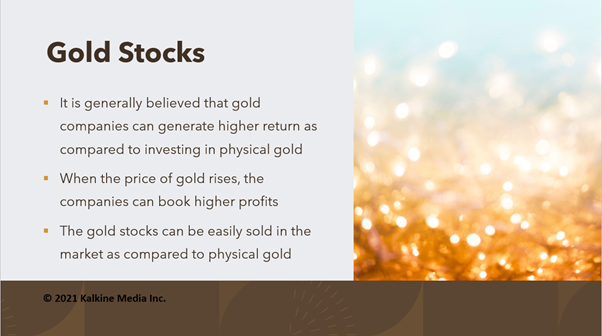 Kinross Gold Corporation (TSX: K)
The gold-producing corporation focuses on brownfield and greenfield projects located in Russia, America, and West Africa. The company has silver and gold reserves. Kinross Gold held a market cap of C$ 8.8 billion and 1.26 billion outstanding shares on September 20.
As per the CEO's commentary, two of its development projects, namely the Tasiast 24K and La Coipa projects, are on track and are expected to commence production in mid-2023 and mid-2022, respectively. The Tasiast 24K project will have an initial capacity of 21,000 tonnes per day in Q1 FY22 and will be increased to 24,000 tonnes per day by mid-2023.
The company posted revenue of US$ 1 billion and a free cash flow of US$ 182.8 million in Q2 FY21. A quarterly dividend of US$ 0.03 was paid on September 2.
On September 17, the stock price of Kinross Gold closed at C$ 6.98 and reached its 52-week low of C$ 6.91. The 52-week high of C$ 13.59 (September 18, 2020). Over the past year, the stock price dipped by 47 per cent.
Kinross Gold posted a price-to-book (P/B) ratio of 1.01, ROE of 20.59 per cent, and ROA of 12.27 per cent on September 20.
Also Read: 9 junior gold stocks to buy to glam up your portfolio
Barrick Gold Corporation (TSX: ABX)
The C$ 41.57 billion market cap (September 20) firm is one of the world's largest gold-producing companies based in Toronto. The company has copper and gold reserves and mines in South and North America, Africa, and Australia.
The investors of Barrick Gold were paid a quarterly dividend of US$ 0.09 per share on September 15. The dividends grew at 37.2 per cent as a three-year average and 33.64 per cent as a five-year average.
In the last six months, the stock price dipped by close to 10 per cent to close at C$ 23.38 on September 17. This was one per cent above its 52-week low of C$ 23.15 (September 17).
As per the latest quarterly report, the ongoing greenfield programs are finding new discoveries to include countries like Japan, Egypt, Guyana, and Tanzania.
Barrick Gold posted a revenue of US$ 2.89 billion and net income of US$ 694 million in Q2 FY21. On the valuation metrics, the ROE and ROA of Barrick Gold were 10.72 per cent and 5.34 per cent, respectively. The company also held a P/E ratio of 13.2
Also read: 3 Gold Stocks You Can Buy At Discounted Prices
Great Bear Resources Ltd (TSXV: GBR)
The gold exploration company is based in Vancouver drills, expands high-grade gold zones, and looks for new targets. As per its latest report, Great Bear Resources completed the geological modeling of 23 high-grade LP Fault zones stretching four kilometers.
The company held outstanding shares of 57.84 million and a market cap of C$ 763.47 million on September 20. The P/B ratio of the company was 6.28
On a quarter-to-date (QTD) basis, the stock price of Great Bear Resources climbed down by 13 per cent and traded three per cent above its 52-week low of C$ 12.8 on September 17. Also, on this day, the stock price was C$ 13.2 at market close.
Artemis Gold Inc (TSXV: ARTG)
The Canadian gold development company completed the 2021 Feasibility Study of its Blackwater Gold Project based in British Columbia. The throughput of Phase 1 was expanded by 6 million tonnes per annum. Moreover, an environmental, social and governance phase was initiated to replace diesel, propane components, and the carbon footprint of the blackwater project.
The market cap of Artemis Gold was C$ 828.87 million, and the P/B ratio was 3.19 (at the time of writing).
The company debuted on the Toronto Stock Exchange Venture after the successful launch of its initial public offering (IPO) on October 2, 2019.
The one-month stock return was four per cent and it closed at C$ 5.4 on September 17. It reached its 52-week high of C$ 7.64 on September 18, 2020.
Bottom line:
Continuous exploration without any significant hindrance and the ability to match demand and supply needs is essential for these gold-producing companies. Moreover, the stability of the prices of gold also plays a major role.