Summary

Telus' industry-leading customer net additions were 145,000 due to strong demand for its services.
In terms of year-to-date growth, TELUS' stock has outperformed the TSX 300 Composite Index.
To find out whether TELUS is a buy stock or not, read this article.
TELUS Corporation (TSX:T), one of the leading communication services provider in Canada, released its first-quarter fiscal 2021 results on Friday, May 7. The company posted operating revenues and other income at C$ 4 billion, an increase of about nine per cent from the same quarter of last year.
In the report, the company mentioned that its industry-leading customer net additions were 145,000 due to strong demand for its services. The Vancouver-based national carrier had said on May 6, that it is expanding its operations and will invest an additional C$ 54 billion on infrastructure and operations. This move is expected to create at least 38,000 jobs in the country.
In the earnings report, the company informed owners of its issued and outstanding common shares that the TELUS Board of Directors declared a quarterly dividend of C$ 0.3162 per share (payable on July 2, 2021). This represents an increase of 8.6 per cent from the dividend declared last year.
To find out whether TELUS (TSX:T) is a buy stock or not, let's look at the key Q1 financial results and stock performance:
TELUS' Stock & Financial Highlights

With a market cap of C$ 35.2 billion, TELUS' price-to-earnings (P/E) ratio sits at 27.2, and offers 10.67 per cent return on equity (ROE) and about three per cent return on assets (ROA), as per TMX.
The shares were priced at C$ 26.12 at market close on May 6, five per cent down from the 52-week high of C$ 27.54 on February 9, 2021. Based on a five-day average, over 2.4 million shares traded hands. The stock grew by two per cent in a week.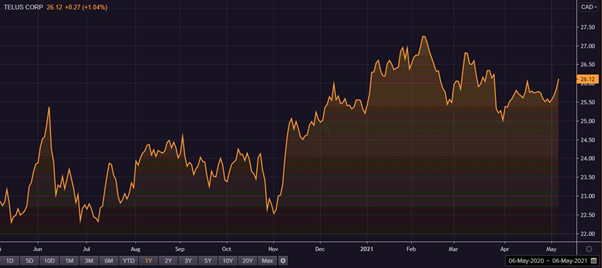 One-year chart of stock performance of TELUS (Source: Refinitiv/Thomson Reuters)
The stock surged by 14 per cent in a year. In year-to-date (YTD) growth, it surpassed the TSX 300 Composite Index by growing at 3.6 per cent, while the index went down by six per cent in comparison.
In Q1 2021, the adjusted EBITDA was C$ 1.5 billion, an improvement of 1.9 per cent from Q1 2020. The company's net income was C$ 333 million and its free cash flows were C$ 321 million in the first quarter of this year.
The above constitutes a preliminary view and any interest in stocks should be evaluated further from an investment point of view.