Highlights

The stock markets are usually expected to perform better in the winter months.
It is likely due to increased consumer spending and the shopping spree in the holiday season.
Party City Holdco Inc (NYSE:PRTY) reported 110.4 per cent YoY increase in total revenues for Q2 2021.
The stock markets are usually expected to perform better in the winter months, starting from Halloween on October 31 to May 1. It is likely due to increased consumer spending and the shopping spree in the holiday season, including Christmas, Black Friday and Halloween.
Halloween is all about spooky decorations, dressing up in different costumes and scary movies, but it is also really centered on candy.
While candies are enjoyed by people year-round, Halloween is commonly a very most promising time for candymakers as record sales are reported across North America due to the playful practices of trick-or-treating.
6 TSX stocks to buy this Halloween
With Halloween almost here, investors could be in for a treat with certain stocks that can rake in for sweet returns. So, let's take a look at some companies that could benefit from increased consumer spending this month.
Nutrien Ltd (TSX:NTR)
As harvest usually takes place in fall, a company like Nutrien Ltd is likely to be in demand during these times as it helps growers in increasing food production with sustainable agricultural and crop solutions.
The fertilizer company noted a return on equity (ROE) of about four per cent as of October 8.
Nutrien Ltd also distributes a quarterly dividend of US$ 0.46, which grew at the rate of 7.53 per cent in the last three years.
In Q2 FY21, Nutrien posted net earnings of US$1.1 billion. It also had US$ 1.9 billion free cash flow in the first half of 2021, up by 40 per cent in the same quarter of the previous year.
Restaurant Brands International Inc (TSX:QSR)
The publicly listed company owns over 27,000 restaurants in over 100 countries under three leading names: Tim Hortons, Burger King and Popeyes.
Restaurant Brands' quarterly dividend of US$ 0.53 grew at a rate of 32.87 per cent in the past five years.
In its second quarter in fiscal 2021, the firm saw a 60 per cent year-over-year (YoY) jump in its digital sales in the home markets.
Furthermore, the quick-service restaurant firm highlighted in the report that its unit growth returned to pre-pandemic levels with the opening of 378 net new restaurants in the first half of 2021.
The stock held a price-to-earnings ratio (P/E) of 28.4, as of October 8, indicating healthy returns.
Rogers Sugar Inc (TSX:RSI)
Rogers Sugar is a holding company engaged in production of sweeteners and refined sugar. It offers stevia, coconut sugar, yellow sugar, iced tea mix, etc.
In the third quarter of fiscal 2021, Rogers Sugar posted a consolidated adjusted EBITDA of C$ 17.2 million, up by 20.6 per cent from Q3 2020.
Its revenue for the Sugar segment in Q3 2021 increased by 11.8 per cent YoY, mostly driven by increased pricing and higher volume.
Also Read: 5 best Canadian water stocks to buy
Canadian Tire Corporation Limited (TSX:CTC)
Despite harsh impact of COVID-19 on the Canadian retail landscape, CTC stock seems to have survived the heat with a gain of nearly 30 per cent in the past one year.
Canadian Tire Corporation pays a quarterly dividend of C$ 1.175, payable next on December 1.
Its e-commerce sales in the second quarter for fiscal 2021 was C$ 856.7 million, while its consolidated retail sales surged by 11.6 per cent YoY to C$ 506.9 million.
Alimentation Couche-Tard (TSX:ATD.B)
The multinational company operates a network of convenience stores across Canada, Russia, the United States, Ireland, etc.
With easing pandemic restrictions in the country, the company is likely to leverage its existing network to see increase in the sales this holiday season.
Its net earnings for Q1 2022 was US$ 764.4 million. Couche-Tard also posted a 5.4 per cent increase YoY in total merchandise and service revenues in the latest quarter.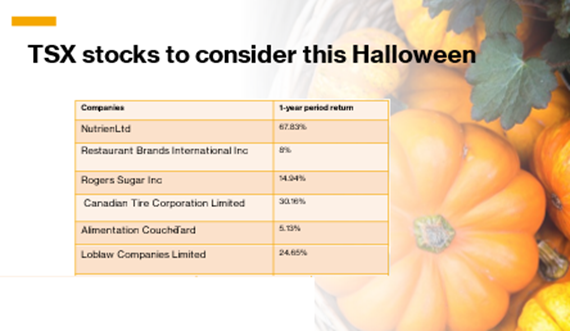 © 2021 Kalkine Media
Loblaw Companies Limited (TSX:L)
Canadian retail company Loblaw posted a revenue of C$ 12,491 million in Q2 2021, which it said was primarily driven by increase in retail sales. It also recorded an operating income worth C$ 708 million in Q2 2021.
The retail stocks posted a P/E ratio of 23 and an ROE of 13.05 per cent, as of October 8.
Loblaw pays a quarterly dividend of C$ 0.365.
Bottom line
Public health restrictions were eased in many provinces across the country in the recent months. As the year-end inches closer, increased retail sales are likely to boost sellers' confidence and benefit various North American retail companies.