Summary

Dismal automotive sector scenario has impacted EVs to a lesser extent than ICE vehicles
Several countries including Germany, France and China have announced EV incentives to accelerate the uptake of zero-emission vehicles
V shaped recovery anticipated for the EV market, with oil recovery to take a long time
Cobalt Blue, an ASX-listed pure play cobalt company, is advancing on the largest greenfield cobalt project outside Africa, expected to have an annual production capacity of ~4,000 tonnes
Despite the COVID-19 pandemic disrupting the global mobility industry in ways more than a few, advocacy for cleaner energy solutions showcased resilience and stayed strong.
Here are the recent automobile sales figures, despite cheap financing and extensive discounts in the June quarter, to substantiate our claims-
BMW sales declined by 40% in the US and 46% in Europe
General Motors' sales figures shrunk by 34% in the US market
Toyota sales fell by ~33% in the US market
Sales volume of Fiat Chrysler went down by 39% in the US market
The European Automobile Manufacturers' Association has forecast the European car sales to fall by 25% to less than 10 million vehicles in 2020 while expecting recovery to pre-COVID levels to take a few years.
The flames of lower demand in the automotive industry seem to have reached the EV and battery manufacturers with battery manufacturers such as SK Innovation announcing a 10% reduction in annual sales target for rechargeable batteries for 2020.
The quantum of decrement is important to understand, which seems to be much lower in comparison to the above automobile sales figures. Moreover, an aftereffect from the pandemic leading to the rise of electric vehicles is understood to be evident from the global call for clean energy and renewable power sources.
Crude Oil Gets Lost in Headwinds, Electric Vehicles to Gain
Similar trends are also evident from the US EIA projections for global petroleum and other liquid fuels consumption, expected to reach 92.9 mbpd in 2020 against 101 mbpd in 2019. The oil regulatory authority also expects a complete recovery in demand to take years. Crude oil the world's largest commodity witnessed an unprecedented downturn with WTI benchmark crude oil future trading at sub-zero levels in April 2020.
Almost a decade ago, less than 20 electric vehicles were commercially available in the market, but then a new car manufacturer, Tesla sparked the industry with its Tesla Roadster. Tesla has gone on to build many successful class leading models and today is the largest automobile company in the world with a market cap of USD 286 billion (as on 13 July 2020), clearly the market seems to back EV over conventional vehicles.
In 2020, car batteries are now almost 85% cheaper than they used to cost 10 years ago. With more than 450 electric vehicle models (BEVs and PHEVs) available in the market and the cheapest Tesla, Model 3, growth opportunities are immense.
Incentive Schemes, The Turnaround Factor for EV Industry
Though experiencing some declines, government policies including incentives and subsidy schemes came to the immediate rescue for the electric vehicle industry. The world's largest EV market, China has re-introduced EV incentives, with an aim to support EV sales.
European Union holds the title of pro-EV region, globally, with 15 of the 27 member countries already offering incentives to electric vehicle manufacturers.
Germany – Government measures are expected to encourage EV adoption across the country.
Starting 2021, owners of vehicles emitting more than 95 grams of CO2 each kilometre would be required to pay more taxes
EV incentive has been doubled to €9,000 (€6,000 from government and €3,000 from automakers) in cases when the new car cost is less than €40,000. As part of the incentive program, more gas stations would be required to offer EV charging.
France rolled out a stimulus plan worth €8 billion for the automotive sector in May 2020, announcing increase in government contribution to €7,000 from previously €6,000 to people purchasing new electric cars. The announcement came in the wake of France's target to manufacture over 1 million EVs by 2025.
Moreover, an incentive scheme worth £6,000 to people agreeing to swap their ICE vehicles with EVs may be offered by the UK government, with the plan reportedly under review by Boris Johnson led government.
The impact of these incentive schemes would be evident in the future, as Europe anticipates overtaking China as the world's largest EV market in 2020. Similar schemes can be expected from the US that could encourage further adoption of EVs in the country.
On the back of such measures, the battery industry anticipates a "V shaped" recovery in 2021 with coronavirus pandemic playing the role of an accidental catalyst in favour of Cobalt.
Cobalt Blue – Advancing on Globally Significant Australian Cobalt Project
Cobalt Blue Holdings Limited (ASX:COB), an Australian pure play cobalt company operating under the leadership of a young, enthusiastic and experienced team, anticipates a V shaped recovery in the demand for electric vehicles, driven by EV subsidies and other incentive programs. Cobalt Blue is progressing on bringing onstream the world's largest greenfield primary cobalt project outside Africa, Broken Hill Cobalt Project (BHCP) in New South Wales, which is expected to supply ~4,000 tonnes per annum of the metal during peak years of the production plan.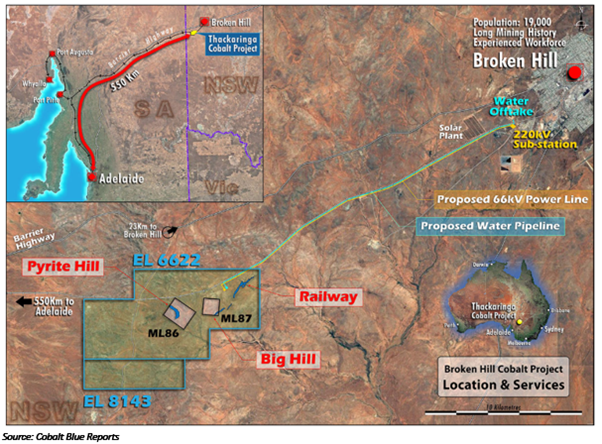 The cobalt-focused player plans to produce a high value intermediate or a battery ready cobalt sulphate product at its Broken Hill Cobalt Project (BHCP).
Must Read: Cobalt Blue's Broken Hill Cobalt Project with Excellent Economics
The cobalt explorer is currently progressing on sampling programs to further establish the product specifications and substantially enhance the value generation potential for its flagship project, BHCP even before the expected completion of feasibility study in 2022. A final investment decision is also anticipated in 2022.
Cobalt Blue is currently rescoping the pre-feasibility study, which will be completed in the near future. Post the completion of the revised PFS, a pilot plant would be constructed by the end of 2020. A full-scale demonstration plant would further help establish the Company's production processing. Cobalt Blue is in negotiations with 10 global partners who have expressed interest for offtake agreements and the Broken Hill Cobalt project.
The Company enjoys partnership of industry majors including Mitsubishi, Sojitz Corporation, and LG International, operating in close cooperation with LG Chem, which is one of the largest lithium-ion battery manufacturers in the world. Moreover, Cobalt Blue has secured a CRC-Project Program grant and is a participant in the Future Battery Industries CRC.
Cobalt Blue is focused on meeting future energy storage needs with a reliable source of ethical cobalt, with its sights set on making the Company Australia's domestic battery industry pioneer through its flagship asset.
COB closed the day's trade at A$0.100 on 13 July 2020.
Do Read: Cobalt Blue Holdings: The Future Supplier of Large-Scale Low-Cost Battery-Grade Ethical Cobalt