Highlights

Medical imaging technology has become an integral part of diagnosis and treatment planning for any indication.
Medical imaging services form an integral part of the Australian healthcare system.
In Australia, Medicare underpins industry revenue by offering schedule fee benefits for all medical imaging procedures.
Medical imaging uses several advanced technologies that are used to detect, monitor, or treat any medical indication in the human body. Each type of technology used in medical imaging provides different information about the possible injury, disease, or effectiveness of therapy.
Medical imaging has become an essential part of diagnosis and therapy planning methods for managing many indications. Medical imaging applications are used in uncovering interior structures covered by the skin and bones, diagnosing and treating the indication.
Types of medical imaging
Medical imaging has its applications in both for disease diagnosis as well as therapeutic purposes. In terms of diagnosis, some of the common types of medical imaging are depicted in the below image.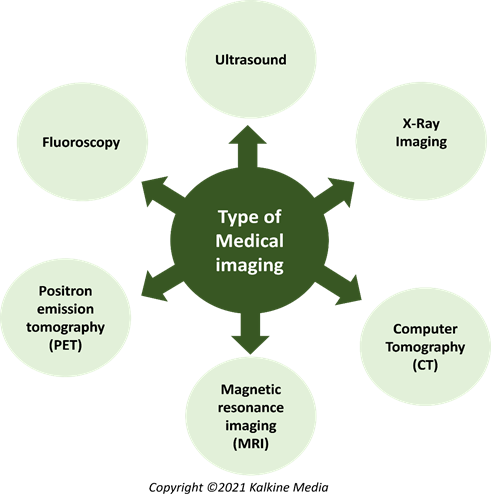 Ultrasound- Ultrasound is a usually non-invasive and safe medical imaging technology with a comprehensive range of applications. Ultrasound uses sound waves instead of ionising radiation, and the high-frequency sound waves are transmitted from a probe to the human body through conducting gel. The ultrasound imaging can identify disease in the abdomen, blood vessels, breasts, pelvis, muscles, kidneys, bones and joints.
X-Ray Imaging- X-ray imaging is one of the oldest but one of the most frequently used medical imaging types. X-ray continues to be useful for diagnosing and treating conditions that impact the skeletal system and some other rigid tissues.
Computer Tomography (CT)- Computer tomography uses X-rays for generating cross-sectional images. CT scans provide more clarity as compared to conventional X-rays in generating more detailed images of soft tissue, bones, internal organs, and blood vessels within the human body.
Magnetic resonance imaging (MRI)- Magnetic resonance imaging device utilises radio waves and magnetic fields for generating images of soft tissues. An MRI can be used to detect muscle tears and ligament sprains, including the indications that affect the internal organ.
Positron emission tomography (PET) Scan- A positron emission tomography scan is a medical imaging technique that uses radioactive dye to generate detailed images. These dyes are known as tracers and are ingested or injected into the human body for scanning. By using a PET scan the areas of disease in tissue, oxygen amount in the blood etc., can also be detected.
ALSO READ: Electronic Medical Records (EMR): What are they, and why do we need them?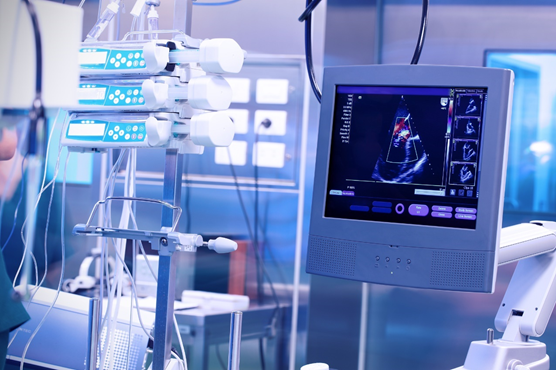 Source: © Sudok1 | Megapixl.com
Medical imaging in Australia
The medical imaging services industry in Australia has gained significant attention over the previous few years. Medical imaging services form an integral part of the Australian healthcare system. These services help to prevent, diagnose, as well as treat the injuries and illnesses.
RELATED READ: Australia's health system under attack by Cyber attackers amid COVID-19
In Australia, Medicare underpins industry revenue by offering schedule fee benefits for all medical imaging procedures. Increasing demand for medical imaging services, arising from the growing and ageing population in Australia, has driven the growth of the medical imaging industry over the past years. Additionally, the ongoing scientific advances have yielded new and improved diagnostic imaging capabilities, boosting demand for industry services.
The ongoing change from basic radiology for more advanced procedures without radiation, such as MRI, is anticipated to drive the industry's growth. Also, the Medicare schedule fees for these procedures are much higher.
In Australia, few of the ASX-listed medical imaging players holding the largest market share in the diagnostic imaging services include Sonic Healthcare Limited (ASX:SHL), Healius Limited (ASX:HLS), Integral Diagnostics Limited (ASX:IDX) and Capitol Health Limited (ASX:CAJ). The medical imaging players are developing advanced technologies and introducing new products in order to stay competitive in the market.
RELATED ARTICLE: Five ASX-listed healthcare service providers for investors' watchlist
Bottom Line
The ongoing scientific advances in the imaging industry are leading to early detection and prevention of medical indications, demonstrating the importance of medical imaging services. On the back of this, we can say that the Australian medical imaging industry is set to witness growth on the back of increasing demand for medical imaging services.
DO READ: Virtual care is booming amid pandemic: A glance at the pros and cons of telehealth