Summary

ImpediMed Limited (ASX:IPD) is an emerging contemporary medical technology company that produces a family of FDA cleared and CE Marked medical devices.
The Company uses bioimpedance spectroscopy (BIS) technologies to generate powerful data to maximise patient health.
ImpediMed's products help healthcare professionals to easily detect, assess, monitor, and manage certain diseases.
ImpediMed Limited (ASX:IPD) is the world leader in the design and manufacture of medical devices employing BIS technologies. The global company is headquartered in Brisbane and has operations in the United States and Europe. ImpediMed remains focused on three key areas of growth: Oncology, Heart Failure and Renal Failure.
Read about ImpediMed's first commercial heart failure sales order HERE
The Company develops sophisticated medical products that use BIS to measure and monitor fluid status and tissue composition. Using ImpediMed products, healthcare professionals can easily identify, evaluate, examine, and manage certain diseases.

SOZO®
SOZO® is the world's most advanced, noninvasive BIS device. It incorporates L-Dex® technology to assist in the evaluation of secondary lymphedema. It also aids in delivering a precise snapshot of fluid status and tissue composition in under 30 seconds. Notably, SOZO is easy to use, painless and efficient, making it a highly disruptive technology. It is rapidly being adopted within the medical community.
The medical applications of SOZO® include: Lymphedema (early detection and ongoing monitoring of treatment), Heart failure (Fluid status monitoring for patients living with HF) and Physical therapy (Fluid status and tissue composition analysis to monitor progress).
Read about ImpediMed's & NSW Health Lymphoedema Prevention Program HERE.
The core component of this device is a physical medical device with hand and foot plates (SOZOtouch and SOZOstep). While these are attached to a pedestal, an Android tablet pre-installed with the SOZOapp controls it.
The user accounts, patient records, measurement data, and other calculated measures and trends are stored in the proprietary and secure MySOZO cloud. ImpediMed assures that a single SOZO® reading permits clinicians to offer individualized, proactive care that can assist in improving patient outcomes.
Expected Milestones and Upcoming News Flow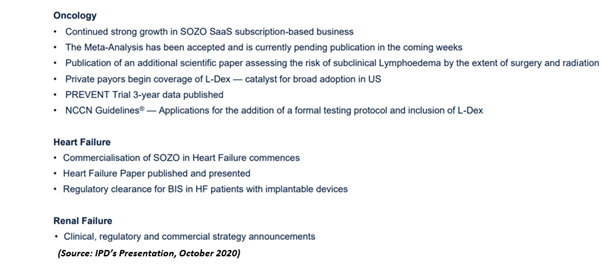 ImpediMed shares traded at $0.135 in the early hours of 17 December 2020.
GOOD READ: ImpediMed's Contract With AstraZeneca