Summary

Australian government intends to develop a national approach for digital health; however, challenges are hampering the pace of development.

MedAdvisor reported a record revenue during Q4, up 41 per cent year-on-year, while FY20 revenue grew by 20.8 per cent.
ResApp achieved significant milestones with its two products in the market - SleepCheck and ResAppDx, well received by users and creating considerable revenue.

SleepCheck application for the self-assessment of sleep apnoea is now available in the App Store of iPhone in 36 countries.
COVID 19 pandemic has been a transformative period for health care with a lot of developments happening in the sector. There has been significant acceleration in the adoption of more sophisticated technologies like Artificial Intelligence across many areas of health for evolving better to address challenges. Several players are focusing on mitigating the impact of coronavirus and preparing themselves for any other such infection in the future.
That said, e-health is being contemplated as the significant revolutionary next step in the health care sector. It uses computer technology and telecommunication developments to deliver health information and services efficiently and effectively. The electronic management of health care is safer, especially in the COVID-19 era and offers access to better quality and sustainable health system for all Australians.
Good Read: Australia's Healthcare Space and a Boom in the COVID-19 Era
The government is committed towards a national approach for digital health, as it improves the planning, management and delivery of health services. E-health services enable storing, sharing and transmitting key patient health care information online.
On that note, let's discuss two digital health companies listed on ASX – MDR and RAP.
MedAdvisor FY20 Total Revenue Up by 20.8 Per Cent
Late-July 2020, MedAdvisor Limited (ASX: MDR), Australia's leading digital medication management firm, released its report for three months to 30 June 2020 and full-year FY20. A recovery in health programs and beginning of US health programs drove the June quarter results after an initial impact of the COVID-19 pandemic.
The Company reported a record revenue for the quarter, as it continues to align activities with core strategic priorities, including uplifting of technology to make innovative solutions, executing on global expansion, establishing a performance culture, building a world-class marketing organisation and investing in a global sales organisation.
Key Q4 and FY20 highlights included:
Total operating revenue was AUD 3.0 million in Q4 FY20, up by 31.4 per cent on Q4 FY19 of AUD 2.3 million, with annualised recurring revenue (ARR) up by 15.3 per cent year-on-year to AUD 6.3 million
For Q4, total revenue stood at AUD 4.4 million, representing an increase of 41.0 per cent from AUD 3.1 million in the same period a year ago
FY20 total revenue grew by 20.8 per cent y-o-y to AUD 11.1 million, while operating revenue stood at AUD 9.6 million, up by 17.0 per cent on PCP
Opened a new marketplace in the US with a strategic alliance deal with NASDAQ-listed HMS.
First US health program went live through the Adheris partnership late in Q4
Q4 cash receipts were AUD 3.7 million, up by 30.9 per cent on PCP, including government grants and R&D tax incentives
Q4 receipts from customers stood at AUD 2.4 million, up by 17.1 per cent on PCP.
Digitally connected patient base grew to 1.7 million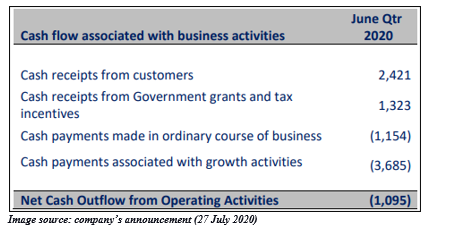 MedAdvisor is committed to offering innovative solutions through the uplifting of technology, for which AUD 2.5 million was injected during the last quarter of 2020. Also, the Company invested AUD 1.2 million for executing on global expansion.
The Company is aiding pharmacists all over the world by providing them easy-to-use digital tools that streamline their workflows and improve customer experience and loyalty, according to MedAdvisor CEO and Managing Director Robert Read.
MedAdvisor closed the quarter with AUD 12.5 million in cash, remaining well capitalised to execute on expansion activities.
Stock Performance - On 21 August 2020, MDR settled the day's trade at AUD 0.460, down by 2.128 per cent, with a market cap of AUD 115.96 million. The last one-year return of the stock was noted at more than 34 per cent.
ResApp Expands SleepCheck App Availability to 36 Markets
ResApp Health Limited (ASX: RAP) is a leading e-health company, engaged in developing smartphone applications for the diagnosis and management of respiratory diseases.
On 4 August 2020, RAP announced the expanded availability of SleepCheck application for the self-assessment of sleep apnoea to 36 countries, via the App Store of iPhone.
Globally, nearly 936 million people are suffering from sleep apnoea, a common sleep breathing disorder in which the patient experiences periods of shallow breathing or repeatedly stopping of breathing. SleepCheck app uses the iPhone's microphone to record and analyse the breathing and snoring patterns of an adult.
In the late-July 2020 update, covering quarterly activities report for the period ended 30 June 2020, RAP CEO and Managing Director Tony Keating highlighted achievement of the most significant set of milestones to date. Its two products, SleepCheck and ResAppDx are generating revenue and have received good feedback from the users.
At the end of June quarter, ResApp held cash of AUD 5.8 million, an overall net decrease of AUD 1.1 million.
Other expenditures during the quarter included:
R&D activities payments were AUD 320,000
Staff costs stood at AUD 794,000
Administration and corporate costs were AUD 119,000
In Q4, RAP received AUD 134,000 in government grants and tax incentives.
Stock Information- On 21 August 2020, RAP settled at AUD 0.130, down by 3.704 per cent, with a market cap of AUD 101.94 million.
For Australia, digital health holds great potential in several areas such as reducing cost related to care for ageing population and resolving tyranny of distance. However, policymakers are facing challenges in creating national policies and programs for e-health, some of which are resolved while others continue or are emerging.
Good Read: Three Unique Investment Tips to Build Recession-Proof Portfolio in COVID-19 Crisis