Summary

The Reserve Bank of Australia has lowered interest rates and started buying longer dated Government bonds.
The GDP outlook for the year ending June 2021 has been upgraded to 6%.
Loan deferrals are gradually reducing as customers continue repayments after interest holidays.
The Reserve Bank of Australia (RBA) has embarked on a $100 billion quantitative easing program. Moreover, interest rates have been lowered again, and the cash rate now stands at a historic low of 0.1%.
Markets had been pricing in this cash rate cut since late September when the yield on the three-year Government bond fell below 0.25%. Earlier, the Reserve Bank was targeting a rate of 0.25%, but now the target on this bond is around 0.1%.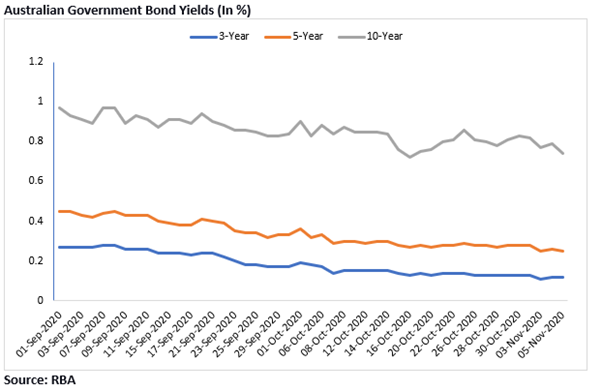 With quantitative easing now in play, the central bank has sought to buy bonds with longer tenors. It is now targeting to buy Australian Government bonds as well as bonds issued by the states and territories.
Over the next six months, the RBA will conduct auctions for five to 10-year bonds and is likely to buy bonds outside these tenors. The $100 billion worth of bonds to be bought under the quantitative easing program will not include bonds purchased in support of the three-year yield target.
Since the Reserve Bank is now buying bonds across the yield curve, it is expected to lower the whole interest rate structure in Australia. These measures would drive down borrowing costs, lower exchange rates and push asset prices.
The bank would not raise the cash rate until inflation is sustainably within the target range. Given the expected muted wage growth, it is expecting inflation to remain below the target range. The bank anticipates that a materially higher wage growth remains a few years away.
The Reserve Bank does not expect to raise the cash rate for at least three years. Before any cash rate hike, the yield target on the three-year Government bond would be scrapped.
It is now expecting the GDP growth to be ~6% over the year to June 2021 and 4% in 2022. The unemployment rate is forecast to peak at a little below 8% compared to 10% earlier. The unemployment rate is anticipated at 6% by the end of 2022.
The Board continues to view negative interest rate policy as 'extraordinary unlikely'. It has not denied the chances of further quantitative easing. The Reserve Bank would continue to monitor the market and ensure smooth functioning.
What does it mean for banks?
Banks are likely to take a hit on net interest margins as further cash rate would require adjusting lending rates as well as deposit rates. Income from the Government bonds will also take a hit as interest rates will be suppressed by quantitative easing.
As of now, the banking industry is largely offloading non-core businesses and emphasising on core banking operations. This will impact the non-interest income and make banks more dependent on income from core banking services.
With interest rates lower, the core banking income is likely to remain subdued. However, the cost of borrowing for households as well as businesses is now at record low levels.
Given the increasing demand for housing, it is likely that the loan book of banks would increase. As businesses find more opportunities to invest, they would access bank funding which would also drive demand for credit.
A period of economic recovery is also required to have a meaningful improvement in credit demand from businesses and households.
The budget announcement made by the Federal Government also included provisions to amend laws that would facilitate credit growth in the economy. These changes to existing laws are expected next year.
Now that economic forecast for the economy is better than before, the stress testing outcomes for banks are expected to be less dire than earlier forecasts. It is likely to impact credit provisioning by banks as economic recovery is expected to be better than earlier predicted.
Meanwhile, the legacy issues stemming from the Royal Commission continue to impact profits as banks continue spending income on customer remediation.
It is yet not clear when this hangover from banks would alleviate. For this very reason, the banking industry is focusing on divesting the non-core businesses.
Besides, the digitisation theme underpinned by remote banking, digital services and emphasis on technology will allow optimising cost base for the banking industry over the long term.
However, this renewed focus on cost savings and optimisation will come at the cost of near-term investments in technology and capability.
Some critical aspects over the next six months will be the removal of fiscal stimulus in terms of payments like JobKeeper and end of loan deferrals for the customers who had opted for extended support/relief measures.
How are big four banks positioned with deferrals?
Recently, Australia and New Zealand Banking Group Limited (ASX:ANZ) reported full-year results. ANZ unveiled that out of 95k deferrals in Australian home loans, around 55k accounts have complete deferrals as of 15 October. Within the 55k accounts, 79% are returning to full payment, 20% requested a deferral extension and 1% opted to restructure.
In Australia Commercial, around 23k accounts took deferral relief. As of 15 October, around 15k accounts out of 23k have completed deferral, and within those 15k accounts – around 1.6k accounts have opted a four-month extension.
In New Zealand, the bank provided 24k accounts with loan deferrals. As of 15 October, around 10k accounts were in deferral.
National Australia Bank (ASX:NAB) also released full-year results recently and gave deferral commentary as of 23 October. In Australian home loans, it granted deferrals of approximately 110k, and around ~75k accounts are no longer in deferral. Home loan deferral balances were down to $34 billion from $92 billion in June 2020.
54% of the customers who came in contact with the bank intend to resume repayments at deferral. 38% elected to resume repayments before deferral expired. 5% of customers opted for NAB Assist and 2% extended deferral.
As of 27 October, business loans deferral balance stood at $11 billion, compared with $39 billion in June 2020. From customers who interacted with the bank, 76% intend to resume repayment at deferral expiry, 16% started repaying before deferral expiry, 6% took NAB Assist, and 1% intend to opt for loan pay-out.
Westpac Banking Corporation (ASX:WBC) also released full-year results recently. As of 19 October, Australian mortgage deferral balance was $19.2 billion from $54.6 billion in March 2020.
From the customer accounts with expired deferrals, 66% returned to repayments, 31% opted extension, and 3% opted for restructuring and hardship.
In Australian small businesses, deferral balance was $1.4 billion as of 18 October 2020, with $8.1 billion deferrals expired – where customer check-ins were in progress.
In New Zealand, deferral balance on mortgages was $2.4 billion. Out of all the customer accounts with expired deferrals, 91% returned to repayments, 9% opted extension, and 1% opted for restructuring.
In October, Commonwealth Bank of Australia (ASX:CBA) reported loan repayment deferral data for September 2020. Deferral balance at the end of September was $42 billion, which included $37 billion of home loans, $4 billion of SME loans, and rest in others.
Further information on deferral is likely to be provided by the bank with the third-quarter update, which is expected this month.