Highlights
Imugene Limited (ASX:IMU) achieved a range of milestones in the March 2022 quarter.
The Company reported encouraging developments pertaining to HER-Vaxx, PD1-Vaxx and its oncolytic virotherapy candidates, CHECKVacc and VAXINIA during the quarter.
The Company closed the March quarter with a significant cash balance of A$109.1 million.
Australia-based Imugene Limited (ASX:IMU) has recently released its quarterly activities and cash flow report for the quarter ended 31 March 2022. The report incorporates the key developments announced by the Company during the last quarter with respect to its product pipeline.
Imugene's product pipeline includes a range of immunotherapy B-cell vaccine candidates and an oncolytic virotherapy (CF33) aimed at treating different cancers in combination with standard of care drugs and emerging immunotherapies like CAR T's for solid tumours.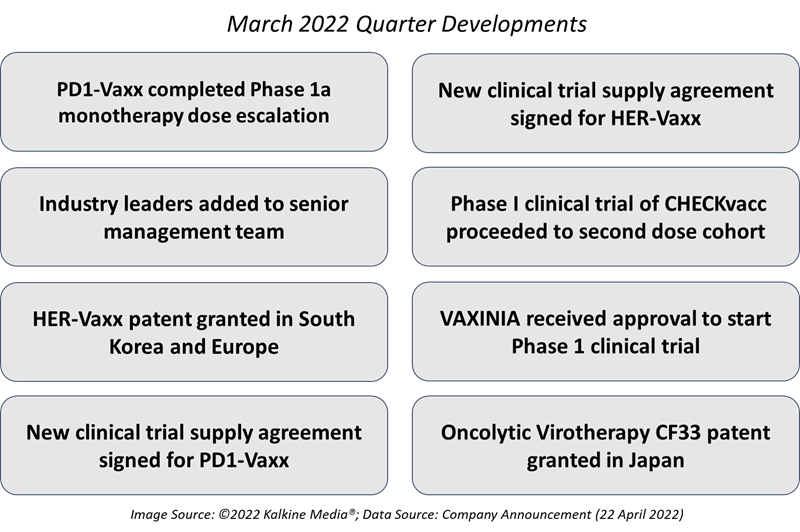 Let us quickly discuss the Company's key developments during the March quarter below:
PD1-Vaxx
Imugene signed a new clinical trial supply agreement in January 2022 to evaluate the safety and efficacy of its PD1-Vaxx in combination with atezolizumab (Tecentriq®) in patients suffering from non-small cell lung cancer (NSCLC).
Related Read: Imugene signs a new agreement for PD1-Vaxx, wins another patent for HER-Vaxx
The supply agreement is for a period of up to 5 years for the supply of Tecentriq. The Company will sponsor the clinical trial and fund the study from existing budgets and resources. Atezolizumab will be supplied for the duration of the clinical study.
In January, Imugene also completed Phase 1a trial of its checkpoint immunotherapy candidate, PD1-Vaxx. The Company's PD1-Vaxx completed its Phase 1a monotherapy dose escalation and proceeded to combination dose escalation. Dual targeting of the PD-1/PD-L1 axis is an area of considerable interest, with continuing clinical results creating strong interest inside the pharmaceutical industry.
HER-Vaxx
Early during the quarter, Imugene received Notice of Grants from both the European Patent Office and South Korean Intellectual Property Office for patent applications protecting the Company's HER Vaxx immunotherapy, currently under development for HER-2 positive gastric cancer.
Must Read: Imugene wins HER-Vaxx immunotherapy patent in South Korea
South Korea is a selected country to undertake the nextHERIZON Phase 2 clinical trial in 2022 and has one of the highest incidence rates of gastric cancer across the world, with around one in five cases considered HER2 positive. Europe is another major pharmaceutical market to grant patent protection for HER-Vaxx.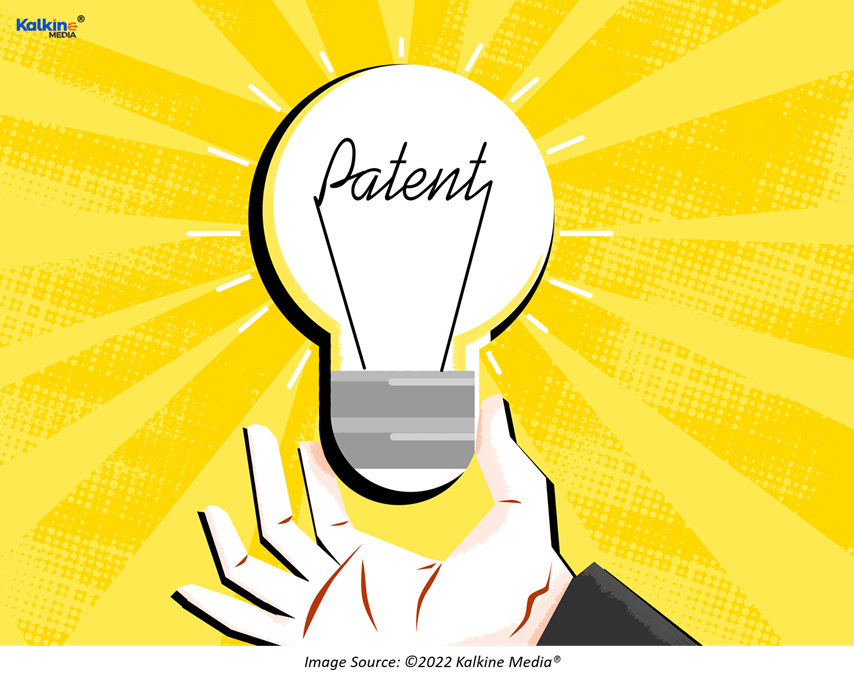 Subsequently, in March 2022, Imugene entered into a new clinical trial supply agreement to evaluate the safety and efficacy of HER-Vaxx in combination with pembrolizumab (anti-PD-1 therapy), in patients with HER-2 positive gastric cancer. The agreement is for an indefinite term until final reports of the study have been completed, and the underlying study is likely to run for at least 24 months.
Oncolytic Virotherapy CF33
During the quarter, Imugene received a Notice of Grant from the Japanese Patent Office for the patent application that protects its oncolytic virotherapy CF33, including CHECKVacc (CF33-hNIS-anti-PDL1) and VAXINIA (CF33-hNIS).
Related Article: Imugene secures an oncolytic virotherapy CF33 patent in Japan
The Company further proceeded to the second dose cohort in the Phase 1 clinical study of CHECKvacc (HOV3, CF33-hNIS-anti-PDL1) in the March quarter. City of Hope® confirmed the dose escalation in the Phase 1 clinical study of CHECKvacc. Recently, the first cohort 2 patient was dosed in the Phase 1 clinical study of CHECKvacc.
The clinical trial aims to evaluate the safety and initial evidence of efficacy of intra-tumoural administration of CHECKvacc against metastatic triple negative breast cancer (TNBC). The trial is expected to run for 24 months and is funded from current budgets and resources.
Good Read: Imugene proceeds to second dose cohort in CHECKvacc's Phase I trial
Imugene also received Western Institutional Review Board (WIRB) approval to commence a Phase I clinical trial of VAXINIA in patients with multiple solid tumours during the last quarter. City of Hope is the first hospital in the USA to receive ethics approval, with additional clinical sites likely to open in the USA this year.
Other Developments
In January, Imugene appointed former Roche/Genentech employees and experts in oncology clinical development, Dr Nimali Withana and Ursula McCurry, to its senior management team. Dr Nimali Withana and Ursula McCurry were appointed as Senior Director of Clinical Science and Senior Vice President of Clinical Operations, respectively.
Read More at Imugene advances Phase 1 clinical trial of PD1-Vaxx, appoints two industry leaders
Moreover, the Company successfully raised $1.55 million through the exercise of options, which would be used to support the Company's commercial and clinical milestones.
At the end of the March 2022 quarter, Imugene has A$109.1 million in cash or equivalents, providing an ample cash runway to support its clinical pipeline and operations. The Company's quarterly research and development expenditure amounted to A$8.2 million.
Imugene shares closed the trading session at A$0.20 on 27 April 2022.