Worth $9 billion, the global silica sands market today is bigger than the lithium markets probably ever will be. Besides, silica sand is known for its environmentally sustainable and recycle-able nature, along with several industrial and consumer applications.
Tapping this potentially attractive business avenue, Perpetual Resources Limited (ASX:PEC) aims to produce high purity silica for national and international markets.
Global demand for industrial silica sand is growing at 5% per year and is expected to continue to grow at this rate in the foreseeable future. This is catalysed by urbanisation of the developing world, boosted demand by industrial uses, higher grade needs from high-tech manufacturing and the macro legislative shift against single use repackaging.
PEC seems to be rapidly advancing backed by the buoyant demand supply scenario for silica sands. The Company recently announced its quarterly report for the three-month period ending 31 March 2020, demonstrating further advances at its flagship asset in Western Australia, the Beharra Silica Sand Project where exploration and metallurgical results have been encouraging.
PEC's project portfolio comprises of four discrete project areas located proximal to established infrastructure, prospective for high purity silica and construction sand products. Presently, the total land area of granted tenure across PEC's portfolio totals 128km2.
Beneficiation Testing
The preliminary beneficiation testing and visual examination of exploration samples from the Project are supporting its potential to become an important producer of high purity sand products.
Nagrom in Perth concluded the initial beneficiation test work of white silica sands from auger samples that resulted in production of a non-magnetic concentrate of up to 99.85% SiO2.The test work confirmed that Beharra silica sand exceeds the minimum specification for float, container glass applications and foundry glass. Moreover, there was significant reduction of iron, aluminium and titanium oxides, suitable in the production of clear glass products.


To know more about the Beneficiation Testing Program, READ HERE- Initial Beneficiation at Perpetual Resources' Beharra Project Exceeds Expectations, Further Test Work Underway
Acid Leach and Calcination Testwork
PEC conducted further test work involving acid leach and calcination on the non-magnetic concentrate. This resulted in SiO2 grade of 99.94% along with further reductions in iron, aluminium and titanium oxides.
The Petrological examination of the non-magnetic concentrate reported a very clean sand with only minor slimes evident.

Air core Drilling Program
During the quarter, PEC completed a 40-hole air core drilling program for a total length of 505.7 meters, average hole depth being 12.6 meters. As per the visual logging of the drill samples, more than 80% of the samples are white or light grey high-grade sands, while the remaining are minor yellow sand, clay and surface organic material.
These samples are currently undergoing analysis to ascertain the SiO2 grade and level of oxide contaminants. Results are likely to be received in the June 2020 quarter.
To know more about the Air core Drilling Program, READ HERE- Perpetual Resources Completes Air Core Drilling; Undertakes Successful Capital Raising to Fund Future Growth
Maiden Resource Estimate
The air core drilling program completion at Beharra is expected to lead to multiple, high impact events for the Company in coming months. Snowden Group has commenced work on the Project's Maiden Resource Estimate in Perth. Results of the same are likely to arrive in the June 2020 quarter.
Corporate Details
On the corporate end, right post the March 2020 quarter, the Company completed a capital raising of $553.5k in early April. This was followed by the appointment of Mr Julian Babarczy as Executive Chairman.
Cash and cash equivalents at the end of the March 2020 quarter amounted to $199.67k.
PEC's Work Pipeline
Besides Beharra, PEC has been progressing at its remaining prospective projects as well-
Eneabba & Eneabba North enriched for high purity silica sands and construction sands, and Sargon, where Priority high purity silica sand target had been identified.
Demonstrating potential for strong exploration and operating synergies, PEC recently expanded at Sargon by acquiring an option over Exploration Licence Application 70/5376 (Sargon North) that has strong potential for construction sand. The conversion of the Sargon North option is expected within six months.
To know more about the Sargon Project Expansion, READ HERE- Perpetual Resources Expands Sargon Project, Enhances Potential Product Offering
The Company defined its near-term value catalysts in a recent presentation, highlighting the below-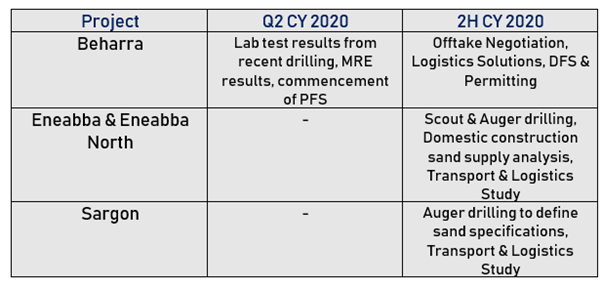 In a world facing supply concerns due to sand shortage but with soaring demand, it will be interesting to gauge PEC's developments in the silica sands market. Besides, the stock quoted $0.030 post market close on 1 May 2020 and has delivered returns of 55% on the past one month.