Summary

Pacifico appoints BurnVoir as Financial Advisor for identifying and obtaining optimal funding mix for Sorby Hills Project.
Pacifico's stock price soared by around 67% last week, backed by steady advances in its project endeavors.
Mineral resource Upgrade at Sorby Hills Project materially de-risks the project through the justification of increased plan throughput and allowing conversion of a noteworthy portion of the M&I to Reserves.
Ongoing PFS, expecting completion in July 2020, is fostered by buoyant market opportunities and robust project advancements.
Pacifico Minerals Limited (ASX: PMY) seems to hit out of the park in its exploration objectives, appointing leading independent finance advisory group BurnVoir Corporate Finance as financial adviser and arranger of finance for the development of the Sorby Hills Project.
Pacifico has received strong interest from multiple parties for potential offtake and debt financing and has appointed BurnVoir to manage competitive financing and off-take process. BurnVoir holds extensive experience in arranging development funding for high-quality projects in recent years.
Backed by recent substantial resource upgrade at its flagship Sorby Hills Lead-Silver-Zinc Project, the company's stock seems to be all the rage among investors. PMY stock soared by whopping ~67% last week after taking a significant hit on Friday, edging up by ~43% on 26 June 2020 to close at $0.010.
The notable achievements and strategic developments appear to boost Pacifico Minerals' popularity, gearing up the company for its much-awaited Optimised Pre-Feasibility Study (PFS).
Pacifico's acquisition of 100% owned tenement E80/5317 at Eight Mile Creek added a further 30 km strike length of near-surface prospective exploration ground. It also executed Native Title, Heritage Protection and Mineral Exploration Agreement with Native Title claimant for Eight Mile Creek.
The encouraging developments seem to defy the threats looming over the second wave of infection after Victoria witnessed a spike in the cases. In the face of COVID-19 crisis, Pacifico Minerals stayed relatively unaffected by the pandemic while the exploration activities remained ahead of the curve.
Besides, Western Australia's entry in Phase 4 of restrictions on 27 June 2020 could favourably influence the activities of the Sorby Hills Project.
ALSO READ: Here's How Pacifico Minerals' MD, Mr Simon Noon Charts Out Future Growth Trajectory
With this backdrop, let us look at the advancing activities and market prospects that together are fostering optimism for Western Australia's Lead exploration company.
Positive Highlights of Sorby Hills Project
Pacifico Minerals appears to be making good progress in varying aspects of the exploration at Sorby Hills Project. The company's recent developments catalysed by robust Phase III drilling results and comprehensive review of its geological and analytical database has infused another rush of optimism for the company.
Notably, varying advances so far have been reported in the June 2020 Quarter, which coincided with the pandemic outburst and lockdown restrictions.
Mineral Resource Upgrade
Pacifico Minerals announced an updated Mineral Resource Estimate (MRE) for the Sorby Hills Project stationed at approximately 50 kilometres north-east from Western Australia's regional centre called Kununurra.

MRE classified 7.1 million tonnes at 6.1 % Pb equivalent (4.3% Pb, 57g/t Ag) and 0.4% Zn as Measured Resources.
Contained Lead increased by 20% in the Measured & Indicated (M & I) resource category to 20.8 million tonnes at 4.9 % Pb equivalent (3.6% Pb, 40g/t Ag) compared to the previous MRE.
Overall, 19% increase in Contained Silver (54.8 million ounces) was reported, incorporating a 28% increase in the M & I category (26.8 million ounces).
Moreover, Contained Lead increased by 9% to 44.0 million tonnes at 4.5% Pb equivalent (3.3% Pb, 38g/t Ag) and 0.5% Zn over previous MRE.
The project has been materially de-risked by the recent Resource upgrade which justifies an increase in plant throughput and allows conversion of a significant portion of the M&I to Reserves.
Advancing PFS
The company made significant Optimised Pre-Feasibility Study (PFS) progress at Sorby Hills Joint Venture Project, with principal consultants DRA Global (engineering) and Entech (mining).
Pacifico reported a 50% increase to mining rate, with plant throughput increasing from 1.0Mtpa to 1.5Mtpa. The company also completed pit optimisation and mining schedule, which maintains over eight-year mine life at an increased throughput rate.
Metallurgical testwork confirmed improved lead recovery estimates. Besides, the excellent results from Heavy Liquid Separation testwork support beneficiation on low-grade ore. Pacifico Minerals completed the simple process plant design and is progressing with engineering and cost estimation.
Buoyant Market Opportunity
Sorby Hills project, possessing necessary approvals and tenements with the strong advantage of location and infrastructure, witnesses substantial market opportunities in terms of support that lead batteries provide towards global clean energy transition.
In the transition to a low carbon economy, lead batteries are regarded as a critical element. Besides, vehicles with start-stop technology and Electric Vehicles, which are showing significant growth trend recorded higher usage of the lead battery.
Business Wire predicted that global lead market demand is expected to increase at CAGR of 6.74% between 2018 and 2022. The base case for mined lead denotes deficit from 2023 without new mine supply.
The upsurge in demand against the low lead mine supply provides promising opportunities for lead exploration.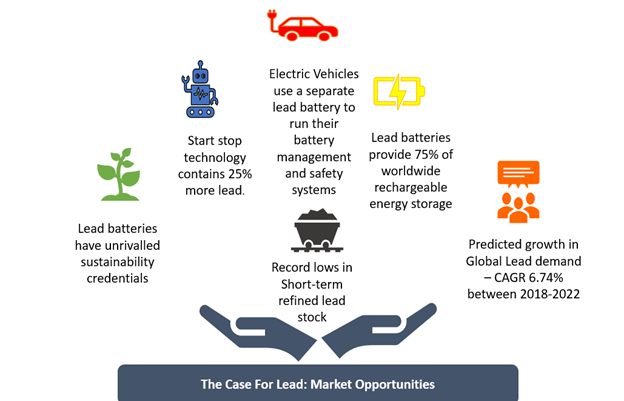 Way Ahead
Completion of Optimised PFS expected in July 2020
Drilling plans for confirming continuity between Norton and Omega deposits.
Gravity survey extension to cover full tenement package including the recently acquired E80/5317.
Follow up diamond drilling will target the continuity of shallow mineralisation confirmed by four recent wildcat drill holes and could be a possible link to Norton.