Cettire Limited (ASX:CTT) was listed on ASX around mid-December. It is a global online luxury goods retailer, operating through its website cettire.com. It sells shoes, bags, apparel, and accessories from over 1300 globally-leading luxury brands.
Cettire was launched in 2017 and has been able to sell goods in 53 countries. Since its commercial launch, the company has been profitable and has never required external equity or financial debt to fund its growth.
The company raised $63 million through the Initial Public Offering (IPO), issuing 130 million shares. Founder and Chief Executive Dean Mintz now holds 65.9% stake in the company, and new shareholders own the rest.
It was understood that the company was launched in response to the digitisation of personal luxury goods industry. The company believes favourable industry trends and growing penetration of online e-commerce, have positioned the business for growth.
Industry and market position
According to the prospectus, the company's total addressable market (TAM) stood at $460 billion in 2019, having grown 4% over the year. Over the 23 years to 2019, the market has grown 6% each year, indicating a secular run irrespective of business cycles.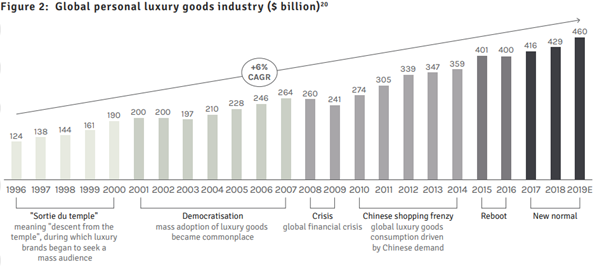 Source: Prospectus
Cettire's addressable market or personal luxury goods is the core of the overall luxury segment and includes apparels, hard luxury goods, beauty products, and accessories. It was noted that the TAM of the company is forecast to grow between 3-5% CAGR from 2019 to 2025.
Business model
Cettire uses a proprietary tech platform, which allows integration with supplier for real-time inventory management, enables pricing strategies to optimise volume and margins, and automates order fulfilment and global logistics.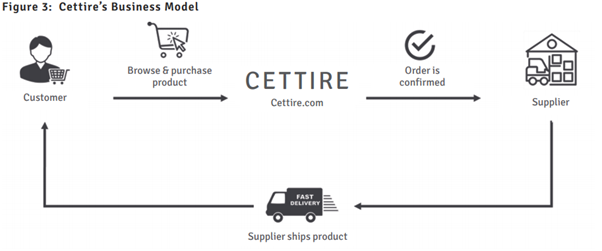 Source: Prospectus
Its platform also collects traffic data to propel data-driven marketing strategies, thus aiding high return on advertising expenditure. Cettire platform enables a seamless fulfilment of orders, which are directly delivered to the customers from the supplier.
The company does not hold any physical inventory, enabling an extensive collection of goods, available for global sales at no inventory risk. The proposition also means that capital intensity is lesser since there are no warehouses and stores.

Source: Prospectus
In FY20, sales revenue growth was more than 300% compared to the last year. At the end of October 2020, the business had nearly 50,000 active customers and had clocked 9.7 million website visits over the year to October.
Over 90% of its revenue was contributed from international markets. In FY20, the company generated EBITDA of $2.6 million. At the end of October 2020, Cettire had nearly 15 full-time employees across its operations.
Trading update
Cettire also confirmed that the business continues to show strong trading performance. In November 2020, the company recorded gross revenue of $13.9 million, which meant a growth of 432% compared to the same period last year.
Source: CTT Announcement, 18 December 2020
YTD sales to November were $32.4 million, up 427% from the same period last year. It also broke a few records in November trading, including record gross and sales revenues, largest individual sales days, and record monthly orders.
For FY21, it is guiding for nearly $89 million in gross revenue and $70 million in sales revenue. At the end of November, the business had achieved 46% of the FY21 sales revenue forecast.
On 7 January 2021, CTT last traded at $ 0.585, up by 1.74% from the previous close.