Summary

Australia-based Greenland Minerals has been operating in Greenland since 2007 and is currently developing the Kvanefjeld rare earth project in south west Greenland.
Kvanefjeld Project is likely to be a low-cost, large-scale, long term supplier of products that could be revolutionary in efficient use of energy.
Kvanefjeld has the only known bulk occurrence of steenstrupine globally – a unique, non-refractory rare earth mineral conducive to simple, low-cost processing.
Kvanefjeld's advanced permitting status and strong foundation set for development success makes Greenland Minerals well-positioned for upcoming development window.
Rare earths (RE) have unique magnetic, luminescent, and electrochemical properties that enable greater efficiency, improved performance, speed, durability, and thermal stability. Owing to this, they are deemed to be the clean energy future.
Leveraging the lucrative RE opportunity and positioning Greenland to be a major international RE supplier, Greenland Minerals Limited (ASX:GGG) is developing an emerging world-class RE project of global significance - Kvanefjeld Project. The large-scale project is placed on the globally distinctive Ilimaussaq Alkaline Complex where mineralisation is known to be hosted by a rock-type called lujavrite, besides being enriched in RE, uranium and zinc.
Recently, Greenland Minerals reported promising Q220 results, wherein it progressed on advancement of Kvanefjeld RE project with more developments in pipeline.
To know about the Company's developments across Q220, PLEASE READ: Greenland Minerals Reports Impressive Q220 Results, Stock Rallies Over 14%
Kvanefjeld Project Overview
New industry and economic growth is reportedly important to southern Greenland municipality. GGG's 100% owned Kvanefjeld Project is one of the most significant, advanced RE projects globally, well-positioned for approaching development window and a probable start point of major new RE supply. The vast mineral inventory comprises > 11Mt REO, 590Mlb's U3O8 and 2.4Blb's Zn.
Besides, outcropping lujavrite (RE host rock) occurs throughout a broad natural bowl on Kvanefjeld plateau with open cut operation likely to progressively mine into bowl area.
It has a major logistical advantage, being located in close proximity to existing infrastructure in southern Greenland, with perennial direct shipping access, airport in the vicinity and a mild climate, making it an optimal location.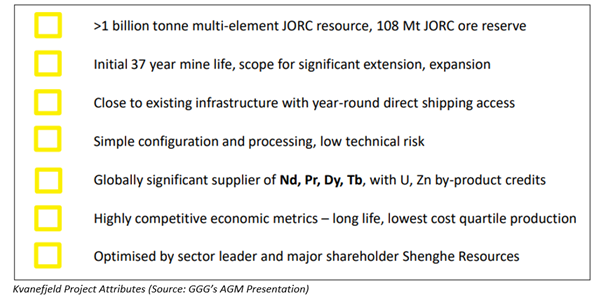 The Company has been working closely with major RE international specialist, its biggest shareholder and the world's second largest producer of RE- Shenghe Resources, to establish fully integrated supply chains to global end-users. It should be noted that Shenghe studied over 50 international projects and eventually chose to collaborate with GGG for Kvanefjeld.
The process flowsheet is simple and customised- key that unlocks the value in the Kvanefjeld story. It has two stages that have been extensively piloted and are subject to supplementary optimisation under Shenghe's guidance – first being industry standard froth flotation and the second, hydrometallurgical leaching of steenstrupine concentrate (followed by uranium solvent extraction).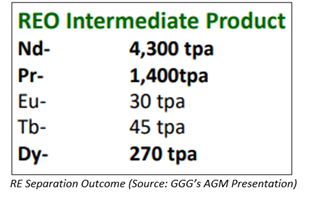 Kvanefjeld Project Improvement Metrics
A project optimised with specialist guidance of Shenghe and its world-leading RE processing technology, Kvanefjeld saw test work programs being conducted in both China and Australia. There were flotation improvements that generated a higher-grade, low-volume RE mineral concentrate besides major improvements developed to both flotation and refinery circuits and refining optimised in single stage atmospheric leach circuit, that led to impressive outcomes-
Improved recoveries, 40% reduction in annual operating costs
Unit costs of <USD 4/kg of REO, net of by-product credits
Project believed to be lowest of undeveloped REE projects in ASX-listed companies
On the engineering optimisation end, Nuna Logistics, Tetra Tech, PDN Engineers, China-CCC catered to collaborative onsite surveys/studies. Follow-up studies resulted in a 44% reduction in civil construction costs to USD 175 million (including indirect costs and contingencies). Major reductions in civil construction costs were achieved through metallurgical optimisation to reduce overall capital costs substantially-
Capital costs reduced to USD 505 million (inclusive of 15% contingency on direct and indirect costs)
Rare earth production of 32,100t/a REO in intermediate product
Inclusive of 5,692 t NdPr oxide, 270 t Dy oxide, 44t Tb oxide

Kvanefjeld Project Global Presence, Advanced Status & Community Support
A complete RE project, Kvanefjeld is compared to Mt Weld, and typical bastnasite (Mt Pass). In March 2020, Shenghe Chairman Mr Hu Zesong presented at the 2019 Confederation of Danish Industry's Greenland Conference updating Greenland and Danish governments on project status and development strategy. With technical optimisation complete, focus is on commercial development and strengthening ties with European Industry, a major new demand centre for RE.
Besides, the Governments of Greenland and Denmark have worked to establish a regulatory framework to manage production and export of uranium from Greenland. In September 2016, Greenland formalised status as signatory to IAEA conventions.
A review phase for project permitting is nearing completion with-
On the community front, GGG signed an MoU with municipality and local business council in March 2019, to negotiate a participation agreement to cover community involvement and capacity development. Stakeholder meetings with specialist consultants and company representatives were conducted shortly after, in June 2019.
ALSO READ: Greenland Minerals Presents Kvanefjeld Project Significance At PDAC Mining Conference, Stock Up ~10%
RE Sector Outlook
Though Neodymium-iron-boron magnet demand was down in 2020 owing to COVID 19, a rebound is expected by GGG through 2021 toward CAGR of ~ 8% through to 2030. Besides, strong demand growth for RE is driven across EV's, consumer appliances, electronics and wind power.
To 2030, overall demand for magnet RE's (Nd, Pr, Tb, Dy) is likely to increase by 150%, calling for a 2x increase in global production to keep up to it. With limited new supply, and key Chinese producers likely to absorb great costs, pricing of key magnet metals may rise progressively through the decade.
This paves an excellent development window for Kvanefjeld that could be a globally significant, cost-competitive supplier of all key magnet metals – Nd, Pr, Tb, Dy.
GGG traded at $ 0.215 on 7 August 2020.