Highlights

The ASX 200 nosedived 2.3% to hit a four-month low by the mid-session on Friday.
All 11 sectoral indices were bleeding in red, led by financial, A-REIT and consumer discretionary.
Concerns about rising inflation and uncertainty surrounding China Evergrande dented market sentiment.
Gold stocks shine as investors shifted to safer assets amid economic uncertainty.
NSW reported 864 COVID-19 cases and 15 deaths in the past 24 hours.
Australian shares have extended their losses in the mid-session trading as concerns about China's looming economic crisis as well as rising COVID-19 cases soured investors' appetite for riskier assets and prompted them to shift to safe harbours like gold. The market witnessed absolute carnage as investor sentiments were spooked by concerns about rising inflation and uncertainty surrounding debt-ridden Chinese real estate giant, Evergrande. The announcements from the US Federal Reserve that economic stimulus provided during the pandemic also added negativity in the market.
ASX tanks over 2% on China fears; investors bet on gold stocks
Benchmark index, the ASX 200, nosedived 151.40 points or 2.06% to 7,180.80, by the lunchtime. The index opened lower today and has declined as much as 2.3% to hit a low of 7,160.80 points during the day's trade so far.
In the overnight trade, Wall Street suffered its worst day since March as the Delta virus threat painted a gloomy picture for the economy, which kept investors away from risky bets. The S&P 500 fell 1.19%, while the Dow Jones Industrial Average dropped 1.59%. The NASDAQ Composite Index ended 0.44% lower.
Back home, on the sectoral front, all the 11 sectoral indices were bleeding in red. The financial sector was the worst performer with a 3% loss, with all major four banks trading in red. The financial sector was followed by A-REIT and consumer discretionary, which fell over 2% each. Among others, the material, health care, industrial, energy, telecom, and tech sectors also saw a surge in selling.
Victoria's daily COVID-19 case tally continues to outnumber NSW
Image source: Corona Borealis Studio, Shutterstock.com
New South Wales (NSW) reported 864 new local COVID-19 cases and 15 deaths in the past 24 hours. Victoria's daily case tally continued to outnumber NSW for the fourth consecutive day. The state recorded 1,143 cases and three deaths on Friday. Meanwhile, Prime Minister Scott Morrison is expected to make an announcement today about the international border, suggesting the country may learn the time of reopening.
Top gainers and losers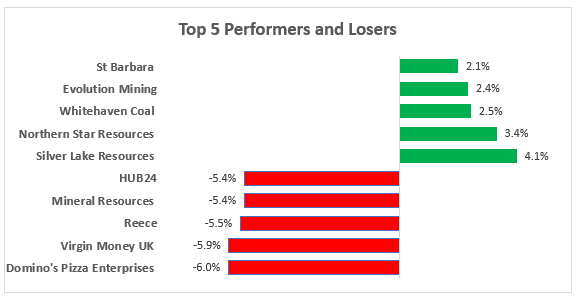 The top loser on the ASX pack was Australia's largest pizza chain Domino's Pizza Enterprises (ASX: DMP) with a 6% loss. Some of the other worst performers were English bank Virgin Money UK (ASX:VUK), plumbing, waterworks business Reece (ASX: REH), miner Mineral Resources (ASX:MIN) and financial services firm HUB24 (ASX: HUB).
On the gaining side, gold miner Silver Lake Resources (ASX: SLR) was the top performer with a 3.5% gain. Gold stocks dominated the gainers' chart with the likes of Northern Star Resources (ASX:NST), Evolution Mining (ASX:EVN) and St Barbara Limited (ASX:SBM), as investors shifted to safer assets like gold amid economic uncertainty. Australia's largest independent coal miner Whitehaven Coal (ASX: WHC) was also among top five gainers.
Shares in news
Image source: LStockStudio,Shutterstock.com
CIMIC' UGL secures AU$297M contract
Shares of engineering services company CIMIC (ASX: CIM) were down 0.7% even after its group firm secured AU$297 million contract. The company' arm, UGL, has bagged a contract to manufacture and supply diesel-electric locomotives to Pacific National.
Pro Medicus inks deal with Novant Health
Shares of Pro Medicus (ASX: PME) were trading marginally lower after it inked an AU$40-million contract with Novant Health. The health imaging company has signed a 7-year contract with Novant Health, Inc.
Brightstar Resources completes fund raise
Brightstar Resources' (ASX: BTR) shares rose 6% after it completed oversubscribed capital raise of AU$2.3 million. It has received firm commitments from sophisticated investors to subscribe for a placement of around 87 million equity shares in the company at an issue price of 2.7 cents per share.
Energy One to acquire 100% stake in EGSSIS
Energy One (ASX:EOL), a supplier of software products and services, has entered into a share purchase agreement (SPA) to acquire a 100% stake in EGSSIS NV, a Company incorporated in Belgium.
Mosaic Brands to acquire 100% stake in EziBuy
Mosaic Brands (ASX:MOZ) shares dropped 3.5% after the women's fashion retailer unveiled plans to acquire the remaining 49.9% stake in online fashion retailer, EziBuy. MOZ currently owns a 50.1% stake in New Zealand e-commerce operation, EziBuy.
PlaySide Studios buys DWTD franchise from Metro Trains Melbourne
Shares of PlaySide Studios Limited (ASX:PLY) rose 2.6% after the Aussie video games developer acquired the 'Dumb Ways to Die' (DWTD) franchise from Metro Trains Melbourne.
Ainsworth Game Technology appoints Harald Neumann as CEO
Ainsworth Game Technology (ASX: AGI) has appointed Harald Neumann as the Company's Chief Executive Officer, subject to the completion of all necessary regulatory approvals. Neumann's appointment commenced on 1 October 2021. The company has also appointed David Bollesen as Chief Product Officer (CPO) effective from 7 October 2021.