Australia's clinical stage immuno-oncology company, Imugene Limited (ASX:IMU) will present the clinical plans for the initial Phase 1 trials of its oncolytic virus, Vaxinia (CF33-hNIS) and its PD-1 targeting cancer immunotherapy, PD1-Vaxx at the American Association for Cancer Research (AACR) 2020 Virtual Annual Meeting, planned for 27th – 28th April 2020.
It's a remarkable achievement for Imugene, that has so far made considerable progress in line with the development of its oncolytic virotherapy (CF33) and B-cell immunotherapies.
IMU traded at $0.025, up 4.17% on 28th April 2020 (11:24 AM AEST).
Besides, the Company has also released its first quarter 2020 report (Quarterly 4C) for the three-month period ended 31st March 2020, highlighting the following key developments of the quarter:
Grant of HER-Vaxx Immunotherapy Patent in US
Imugene received a core US patent for its HER-Vaxx cancer immunotherapy from the United States Patent and Trademark Office (USPTO) in January this year. Below are the key details of the patent:
Patent Application: 15/316868
Granted Patent No.: 10,532,090
Patent Title: "A vaccine composition and uses thereof"
The patent provided method of composition and method of use protection for Imugene's HER-Vaxx for the production of a therapeutic antibody response against HER-2/neu receptor, until 2036. Significantly, the HER-Vaxx cancer immunotherapy is currently under Phase II development for HER-2 positive gastric cancer disease.
Currently, the Company continues to enrol patients into the HER-Vaxx open label Phase II study and is waiting on patients to proceed to examine the provisional safety data, which will be reviewed by the IDMC (Independent Data Monitoring Committee).
Source: Company's Presentation (Wholesale Investors Feb 2020)
Completion of GMP Manufacturing and Pre-Clinical Toxicology Studies for PD1-Vaxx
In January-end, Imugene announced the completion of GMP Manufacturing and all preclinical toxicology studies for its B-cell immunotherapy PD1-Vaxx.
The Company informed that all pre-clinical milestones have been met with the finalisation of GMP manufacturing, including final sterile fill and finish. These processes were completed in the US by FDA inspected and qualified CMO's (Contract Manufacturing Organizations).
Besides, the Company also notified about the completion of non-human primate (NHP) preclinical toxicology studies at a respected CRO (Contract Research Organization) in the US, which allowed confirmation of clinical dose levels of PD1-Vaxx.
The three doses tested under the study were well tolerated. Additionally, the doses generated high grades of PD1-targeting polyclonal antibodies.
The findings strongly indicated that the B-cell immunotherapy PD1-Vaxx would break tolerance in humans, generate antibodies and may produce an anti-cancer effect similar to Opdivoâ, Keytrudaâ and the other immune checkpoint inhibitor monoclonal antibodies, transforming the treatment of a range of cancers.
The Company intends to use three doses for the dose escalation phase of the Phase I trial, scheduled to commence in 2020.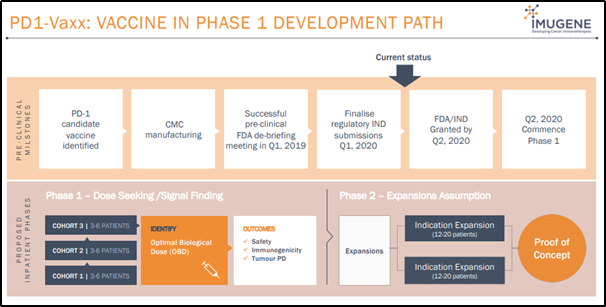 Source: Company's Presentation (Wholesale Investors Feb 2020)
New Publication on CF33 (Vaxinia) from Professor Yuman Fong
Imugene informed about the publication of another paper from its City of Hope colleagues led by Professor Yuman Fong in Oncoimmunology.
Notably, the Company is on track to conduct Phase I human clinical trials for two CF33's constructs - Vaxinia and CHECKvacc in 2020.
Imugene is ideally positioned to progress with its four clinical programs in 2020, backed by a robust management team and remarkable workflow from its scientists. Additionally, with a bank balance of $33.7 million as on 31st March 2020 and strong balance sheet, the Company seems to be well funded to uphold its commercial and clinical milestones.
Must Read! Noteworthy! Imugene Continuing its Planned Activities amid COVID-19 Pandemic