What are blue-chip stocks?
Blue Chip stocks are those ASX Blue Chip companies which offer stable earnings to investors and have a market capitalisation of around $10 billion and above.
Its history tracks back to 1920, when a Dow Jones employee, Oliver Gingold coined the word 'blue-chip' for the first time to describe the high-quality stocks.
Blue chip companies are the market leader of the industry or we can say 'the stalwarts' having the long track record of consistent performance, with the increased or consistent returns, generally paid in the form of dividend to its shareholders.
Investment in any stock means an indirect investment in the business of that company. A smart investor always studies about the company and its business before promptly diving into the investment race!
Therefore, the reason for which the blue-chip companies are given the highest stature on stock exchange is the nature of their business that includes the sale of high-quality and widely accepted goods and services. One of the best examples to quote in this context includes FMCG (Fast Moving Consumer Goods) sector where the companies selling consumer discretionary and other everyday life products enjoy investors' attention for the stability and long-life the business offers.
How to choose good blue-chip stocks for investment?
In the pool of a number of companies listed on the stock exchange, it is really important for the smart investor to know how to choose the best blue-chip companies. Kalkine here will assist you how to track some of the best 2019 blue chip shares on ASX.
Do your own research- Blue chip stocks are generally the choice of long-term investors who prefer to lock in their money for a long time to earn safe and profitable returns. With heavy returns come heavy cost! Blue chip stocks are costlier compared to mid-cap and small-cap stocks.
Therefore, the foremost step for the investor is to do their own research based on three important components:
Investment strategy- It is always advisable for the investor to be clear with the idea of his investment strategy. Do you want to employ conservative approach and earn safe and fixed income by investing in the companies generally operating in consumer discretionary or else you are willing to employ aggressive approach to earn breath-taking profits, likely to be generated with the technology companies bringing innovations across the world that is stepping into the transformational phase!
Sector you want to invest into- The investor is always advised to select their favourite sectors they want to invest in and then skim through the blue-chip companies, operating in that sector. A diversified investment is always considered a viable option by the smart investor. So, the investment dividend into some growth stocks and some dividend stocks can help you keep your portfolio balanced at minimum beta (risk).
The amount you want to invest in relation to the company's stock price and the return the company has posted in its recent past years- Set aside the amount of investment you are willing to make in blue-chip companies and then make a thorough comparison between how much amount is required to invest in the stock of your choice, and what would be the prospective return that you could receive from that investment.
Consult an Investment Advisor- Many a times, despite doing the thorough study by our own, we miss the opportunities and land up to some worst-performing stocks. So, its advisable to consult to an investment advisor before putting your hard-earned money in the blue-chip stocks, especially when the investment amount is big.
The investment advisor provides direction to investors and recommend them to buy, sell or hold on the basis of the individual's specifications.
Track the History- As well quoted by a globally famous American financial market analyst, Sir John J Murphy 'History Repeats Itself'!
The stock market generally repeats the trends and patterns, it must have had in the past for the market action mostly depending on the sentiments. Well, that tells us about the role of human psychology influencing the stocks market momentum; the study of this subject matter is called behavioural finance.
To select the best blue-chip companies, it is prudent to study the past performance of the company and the magnitude to which the company's stock price and returns react to the macro or other events taking place outside the company.
The boom and bust cycles of the company can precisely frame the performance of the specific blue-chip company during varied phases of economic conditions. In fact, the blue-chip stocks are generally preferred over other stock categories for their ability to weather economic downturns and operate profitably in the phase of adverse market conditions.
List of 2019 best performing blue chip companies
Two famous blue-chip companies in Gold Space:
Newcrest Mining Limited (ASX: NCM)- A major metals and mining player, NCM last traded up by 1.79% on 20 September 2019 and quoted $9.100, with a market cap of $2.12 billion and 237.68 million shares outstanding.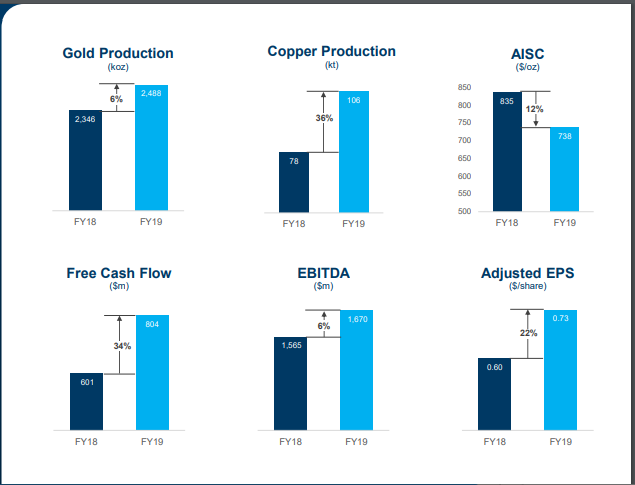 Source: Company's Report
For the year ended 30 June 2019, the company reported a Statutory profit and an Underlying profit of $561 million, 178% and 22% higher on pcp and gold production of 2.49 million ounces.
Kirkland Lake Gold Limited (ASX: KLA)- Gold miner and explorer, KLA last quoted $71.00 after the trading hours on 20 September 2019, up by 4.658%, with a market cap of $14.23 billion and approximately 209 million shares outstanding.
For Q2 2019, the company's net earnings were $104.2 million, soared by 69% and the revenue totalled $281.3 million, up by 31%.
Iron Ore Blue Chip Stocks
Rio Tinto Limited (ASX: RIO)- The market capitalisation of this metals and mining sector company stands at $34.49 million and it closed the day's trading on 20 September 2019 at $93.04, up by 0.12%.
As part of its interim results for 2019, the company declared returns to shareholders of $3.5 billion including interim dividend/distribution of the amount $2.5 billion and a special dividend/distribution of $1 billion. The underlying EBITDA for the period was $10.3 billion.
BHP Group Limited (ASX: BHP)- Perhaps the most-discussed metals and mining player of Australia, the BHP stock last quoted $37.750, up by 0.186% on 20 September 2019, at market close.
Source: Company's Report
For FY19, Higher prices and solid underlying performance contributed to EBITDA of US$23 billion at a margin of 53 per cent, while the Underlying attributable profit was US$9.5 billion.
Blue Chips in Consumer Staples and Discretionary Sector
Woolworths Group Limited (ASX: WOW)- A stock in consumer staples sector, WOW last traded, up 0.781% to close at a price of $37.430. The stock last traded at a price to earnings multiple of 18.010x with a market capitalisation of $46.75 billion.
Source: Company's Report
Woolworths' financial position stood strong in Fiscal 2019 with the Board declaring a fully franked final dividend of 57 cps bringing the full year dividend to 102 cps, a 9.7% improvement on the prior year. Its NPAT from continuing operations was up 7.2% to $1.75 billion.
Coles Group Limited (ASX: COL)- The stock last traded at $14.780 with a price to earnings multiple of 13.920x and a market capitalisation of $19.97 billion. Over the past six months, the stock has surged up 33.22% and its year-to-date return stands at +28.33%.
For Fiscal 2019, Coles announced a total fully franked dividend of 35.5 cents per share, representing a pay-out of 81.7% of earnings pre-significant items for the period 28 November 2018 to 30 June 2019.
Blue Chip Stocks in Energy Sector
Woodside Petroleum Limited (ASX: WPL)- A stock in the energy sector, WPL surged up 0.373% to close at a price of $32.29. The stock last traded at a price to earnings multiple of 16.660x with a market capitalisation of $30.12 billion.
Shareholders are awaiting the DRP on 20 September 2019 wherein the 2019 interim dividend would be paid in respect of the period ended 30 June 2019 amounting to $31.3447.
Santos Limited (ASX: STO)- A stock in the energy sector, STO surged up 0.776% to close at a price of $7.790. The stock last traded at a price to earnings multiple of 12.330x with a market capitalisation of $16.1 billion.
Source: Company's Report
The company recently reported a record 6 months underlying profit standing at $411 million and 71 percent rise in interim dividend. Also, READ HERE.
---
Disclaimer
This website is a service of Kalkine Media Pty. Ltd. A.C.N. 629 651 672. The website has been prepared for informational purposes only and is not intended to be used as a complete source of information on any particular company. Kalkine Media does not in any way endorse or recommend individuals, products or services that may be discussed on this site. Our publications are NOT a solicitation or recommendation to buy, sell or hold. We are neither licensed nor qualified to provide investment advice.