The medical services industry includes care givers and third-party service workers, selected by essential healthcare companies for providing better economies of scale. The said industry comprises of pharmacy benefit managers, mobile and wireless medical technology companies, contract research organizations and healthcare workforce solutions providers, to name a few.
Recently, pharmaceutical & biotechnology companies have been witnessing outsourcing of clinical expansion to advance quality of medical care at cheaper costs. The medical service industry touts to be a key part of the recent healthcare mechanism, given the ever-escalating demand of healthcare management.
It is worth stating that the medical services companies positions to benefit from encouraging trends, which consists of new drug approvals, an accelerated pace of innovation, promising drug launches, growing importance of biosimilars, cost-cutting initiatives, an aging population, mounting insurance coverage, the rising middle-class, insatiable demand for new drug, and an ever-increasing health care spending.
Key Trends to Watch Out for:
The global economy is dazed due to the COVID-19-led disruption. Though, one sector that is observing industry-wide growth is the healthcare sector and medicines. With increasing awareness about the advantages of expert medical caregiving, the need for healthcare medication, workforce or employees has increased considerably. Thus, the industry participants stand to benefit from its deliberate methods for considering numerous growth opportunities in a very active healthcare sector.
This apart from a few molecular diagnostics service providers are far-sighted good times amid coronavirus-led economic downfall. These companies have either obtained a nod or are in process to receive the Emergency Use Authorization (EUA) by the FDA for their examinations to be used for the study of SARS-CoV-2.
Further, the healthcare companies are gradually making their way in terms of technology implementation. This is turn is generating opportunities for mobile and wireless medical technology companies. This apart, specialised skills and progressive techniques of surgical facility providers are making treatments less aggressive with quicker recovery times. In the coming years, ideas like 'bed less hospitals' are likely to increase acceptance. Presently, rising need for complex tests, services and clinical research have led to high demand for CRO and third-party laboratory testing providers.
For the biotechnology and pharmaceutical companies, clinical trials make the bulk of their drug development costs. The healthcare sector is one of the few sectors that has performed consistently over the last few years. Specifically, in Australia, the S&P/ASX 200 Health Care had a return of 34.4% in the last one-year period.
In this article, we will highlight three of the healthcare stocks all set experience a thrilling 2020 and are worth looking into.
Stocks to Watch Out For-
Paradigm Biopharmaceuticals Limited (ASX: PAR)
A biopharmaceutical company, Paradigm Biopharmaceuticals Limited is engaged in research and development of therapeutic products for therapy of illness. The Company deals in drug repurposing, and it finds new uses for old drugs which progresses in lessening the cost and time to bring therapeutics to market. PAR was listed on ASX in 2015. The company's top clinical signs comprise of treating bone marrow edema (BME), and the treatment of joint function, mobility, and pain in patients with mucopolysaccharidoses (MPS).
1HFY20 Financial Highlights for year ending 31 December 2019: During the period, the company reported revenues from continuing activities of ~$602.3K, which increased from $574.2K in the prior corresponding period. Paradigm posted a loss of $5.1 million as compared to the previous gain of $6,703.7K in the year-ago period. Other income for the period stood at $825.9K as compared to $28K in 1HFY19. During the 1HFY20, R&D expenses stood at $4.3 million as compared to $3.2 million in 1HFY19.
Key Financial Highlights (Source: Company's Report)
Outlook: In the osteoarthritis market, PAR stated that OA happens to be the most common form of joint disease. In the United States, it affects more than 33 million adults, while in Australia, arthritis affects more than 3 million people. In the US alone, the financial load of OA has been projected to be ~$81 billion in medical costs and $128 billion in total cost per year. The demand for new effective treatment is amplified by the opioid epidemic throughout the US. The Company's capital raising initiatives, and its focused towards delivering on the pipeline of catalysts is a key positive.
As per the quarter ended 31 March 2020 report, PAR is anticipating to unveil the results on the initial 5 patients who went through the treatment under the EAP by the second quarter this year, and the entire patient population going though the treatment under the EAP in the third quarter in the calendar year 2020.
Further Paradigm anticipates notifying the data on hundred new patients under the TGA SAS (utilising the primary and secondary endpoints of PAR's proposed stage 3 trials) by the third quarter period of CY2020.
Also, during the third quarter of CY2020, PAR's MPS 1 Phase 2 clinical trial period will begin in Adelaide. After the conclusion of the Capital Raise, PAR noted a solid cash position of more than $107 million.
Stock Performance
PAR has a market cap of $559.6 million with ~ 224.74 million outstanding shares. The stock of PAR on 20 May 2020 was trading at $2.68, up ~7.63% (at AEST 3:31 PM).
Probiotec Limited (ASX:PBP)
Probiotec Limited is one of the top Australian pharmaceutical companies, which is betrothed in the manufacturing and distributing of extensive variety of medicines and over the counter (OTC) pharmaceuticals, thus balancing medicines and consumer health products.
1HFY20 Financial Highlights for the period ended 31 December 2019: During the period, PBP's total sales revenue increased a whopping 34% year over year and came in at $44.1 million. Underlying EBITDA for the period stood at $6.2 million, increasing 68% on pcp. EBIT for the period came in at $4.3 million, up 72% year over year.
The results were positively impacted by higher organic growth and acquisition synergies. Underlying NPAT came in at $2.4 million, up 85% year over year. Reported NPAT for the period stood at $1.8 million, up 65% year over year. Earnings per share came in at 3.7 cents per share, up 92% on a year over year basis. In 1HFY20, the Company declared an interim dividend at 1.5 cents per share.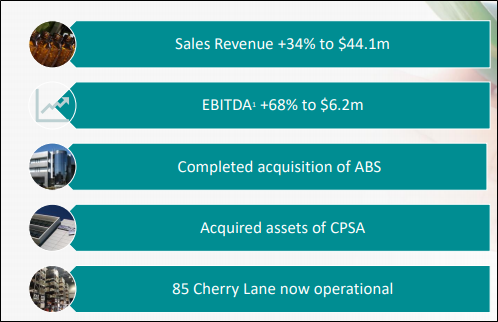 Key Financial Highlights (Source: Company's Report)
COVID-19 Update: In the current uncertainty led by coronavirus outbreak, PBP remains well established and states that all its manufacturing and packing sites will remain fully operational throughout the pandemic. The Company is taking necessary actions to manage the current situation and continues to trade powerfully despite these difficult times. Probiotic opines that it has witnessed increased level of demand and uplifts in orders, which incorporates cough, cold & Flu, and immunity products. The increased level of demand is likely to continue through the 1HFY21.
Stock Performance
PBP has a market cap of $138.34 million with ~ 74.78 million outstanding shares. The stock of PBP was trading on 20 May 2020 at $1.96, up ~5.94% (at AEST 3:35PM).
Sonic Healthcare Limited (ASX: SHL)
Sonic Healthcare Limited is a universal medical diagnostic companies, which is engaged in providing laboratory and radiology services to medical practitioners. The Company has continuously remained on track to advance its growth strategy and has proven its strength in cultural, financial, managerial, and operational space, thereby creating shareholders value and, provides excellent service to patients and their doctors.
1HFY20 Performance for the Period Ended 31 December 2019: During the period, the Company reported revenues of $3,344 million, up 15% year over year. On a constant currency basis, organic revenue for the period climbed ~5% on pcp. Synergies from Aurora acquisition, robust growth in Australian, UK and Swiss laboratory businesses, along with incentive in Imaging division augmented the Company's growth during the period.
SHL witnessed margin accretion in both laboratory and imaging operations by ~10 basis points and ~40 basis points, respectively. Underlying EBITDA for the period came in at $548 million, up 14% year over year. In 1HFY20, the Company's net profit stood at $256 million, higher than the year-ago figure of $223 million reported in 1HFY19. Earnings per share for the period came in at 53.7 cents per share, as compared to 51.9 cents per share in pcp.
Key Financial Highlights (Source: Company's Report)
Outlook: With number of confirmed COVID-19 cases rising with each passing day worldwide, the coronavirus crisis shows no signs of dissipating any time soon. It is being said that testing for the COVID-19 is the main key in limiting the outbreak. As a worldwide laboratory company, SHL is presently playing a major lead role in battling the coronavirus pandemic.
The Company is taking necessary measures to test thousands of patients every day for COVID-19 in its laboratories situated in Australia, the USA and Europe. Further the company remains on track to continue to increase its testing capacity to meet the needs of the communities in which it operates. The experts and experienced management teams as well as medical staff of SHL are working with close proximity of governments and other healthcare organisations to provide as much support as possible.
Also, on 30 April 2020, SHL notified the market on securing the Australian Government contract to give a dedicated pathology service for swift sample collection and testing for coronavirus in residential aged care accommodations.
Although, the Company has withdrawn its previously provided FY20 outlook amid the ongoing uncertainty, still given the spread of this disease, healthcare stocks on the whole might witness decent gains, in the coming years.
Stock Performance
SHL has a market cap of $12.88 billion with ~ 475.05 million outstanding shares. The stock of SHL on 20 May 2020 was trading at $27.17, up by ~0.18% (at AEST 3:51 PM).
(NOTE: Currency is reported in Australian Dollar unless stated otherwise)