An increase in usage of the internet raises the chances of cyber threats and online scams. The solution to this resides in blockchain technology, which is a much safer and secure platform. Blockchain is a record-keeping technology that offers an unmatchable layer of trust to the users. This technology is unique in the sense that it has a decentralised and distributed nature.
Blockchain is a type of data structure used in specific distributed ledgers which stores the data and transmits it in packages known as blocks. These blocks are then connected in a digital chain where the blocks of records are verified and maintained. For recording and synchronising the data, blockchains employ algorithmic methods and cryptographic techniques.
For example, blockchain is used by several economies around the globe for maintaining their land records and transactions related to buying and selling of land. By placing the transactions on a blockchain, the use of paperwork is eliminated with barely any possibility left to forge the land data records.
Also read: iCandy Launched Its First Ever Blockchain Game CryptantCrab
Outlook for blockchain:
The global rating agency, Moody's expects that blockchain standards across the industry are likely to emerge by 2021. Further, the agency mentions that this method of standardising blockchain technologies could be immediately adopted internationally (if it proves to be a success).
As per Department of Industry, Science, Energy and Resources; Australian Government, the Blockchain technology is expected to create an annual business value of more than US$175 billion by the year 2025 and even above US$3 trillion by the year 2030.
According to a media source, the global blockchain technology market is likely to deliver a CAGR of ~65 per cent (2019-2027).
From 'disruptive' into 'mainstream':
Blockchain is considered as a disruptive technology and businesses face problems in its integration due to the lack of well-versed technical teams in this field. Blockchain-as-a-Service (BaaS) companies play a role in helping other companies integrate their respective businesses with blockchain technology in a much smoother and simpler way. BaaS channelise the integration process with no harm or disruption in the routine processes of a business.
BaaS companies have confirmed the blockchain's feasibility in many businesses around the globe, thereby, facilitating the movement of this technology from 'disruptive' to 'mainstream'.
The World Bank has created a Kangaroo bond, which is the first bond developed, allocated and managed through its life cycle using blockchain created DLT. The bond has three joint lead managers, namely RBC Capital Markets, Commonwealth Bank of Australia and TD Securities.
Types of Blockchain:
Blockchain activity types can be divided into three categories, as follows:
Focused – It is a single application technology product for a specific problem in a particular industry.
Farsighted – It includes application products that provide a solution to various problems across industries in a single industry.
Facilitative – It provides finance, consulting, crypto-exchange or technical services for blockchain-related productisation
The wide adoption of blockchain technology in Australia – By ASX and by Sectors
The popularity of using blockchain technology is increasing and is cherished by several stock exchanges all around the globe. The exchanges are also exploring the best options to leverage this technology, to gain its invariable benefits to tighten the trading securities and lower the risks.
Other than NASDAQ, London Stock Exchange and many others, the Australian Stock Exchange is another stock exchange that is in the process of replacing its ageing Clearing House Electronic Subregister System (CHESS) with blockchain technology (Distributed Ledger Technology, DLT). CHESS manages the settlement and clearing process of its equities.
Ranging from medicine to finance, almost every sector has a scope to absorb blockchain technology in their respective systems. Some of the prominent players active in the blockchain technology market at a global level are Accenture Plc, Advanced Micro Devices Inc., Amazon Web Services Inc., IBM Corporation, Intel Corporation, Infosys Ltd., Microsoft Corporation, NVIDIA Corporation, SAP SE, SAMSUNG, and Siemens AG, among others.
Looking at the contribution of Australian blockchain activities by considering various industries, Financial and insurance services head the list (as presented in the figure below). Professional, scientific and technical services are the second-largest contributor, followed by Retail trade. The adoption of blockchain by the financial and insurance services can be justified by the nature of the financial market and application of the technology in Bitcoin and digital currency.
Around 50 per cent of blockchain activities in Professional, scientific and technical services, and financial and insurance services are of facilitative nature.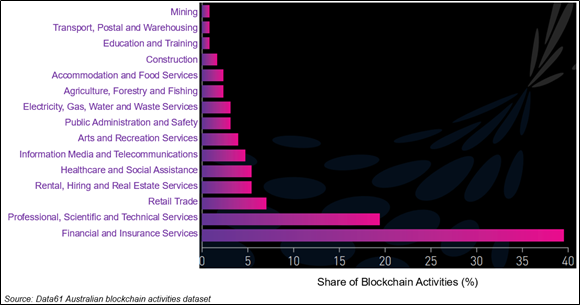 Main Advantages of using blockchain technology:
Cost-Benefit to Businesses: Blockchain technology can power up a business by increasing profitability and reducing costs to business processes. According to an estimate by Accenture, a banking database based on blockchain technology could reduce the central finance reporting costs by 70 per cent and reduce costs of central and business operations by 50 per cent.
Greater Transparency: Along with the decentralised nature of blockchain technology, it also allows for public addresses to view the transaction. Specifically, in financial businesses and systems, accountability holds sheer importance to the data.
Better Security: A vital advantage of blockchain technology is that it is highly safe and secure. Every new transaction is encrypted in blocks and linked to the earlier transaction by creating blocks of record. The chain of blocks is created by some mathematical numbers which cannot be modified once formed. Thus, the incorruptible nature of this technology keeps it away from the hacking of the information.
Enhanced Efficiency: The adoption of blockchain removes unnecessary processes and steps because of its decentralised nature. As the processes get digitalised, there is a removal of the workforce in the intermediary process and complete eradication of paperwork across various industries.
Some of the recent updates from ASX listed companies using blockchain technology in their businesses.
Security Matters Limited (ASX:SMX)
Security Matters Limited launched its 2nd generation blockchain product on 28 November 2019. This product was launched in association with R3 and Quantum Crowd.
From its 1st generation product in blockchain, this product incorporates several additional features such as customisation capabilities, improving user experience, and the capacity to link multiple external and internal systems.
SMX's stock price last traded at $0.400 on 24 February 2020, a decline of 6.977% compared to the previous day's closing price.
Animoca Brands Corporation Limited (ASX:AB1)
On 26 September 2019, Animoca Brands Corporation Limited announced that its subsidiary Animoca Brands Limited had secured a three-year global licensing agreement with Dorna Sports S.L.
Through this agreement, the Companies aims to develop MotoGP™ by creating and publishing the blockchain manager game with associated digital collectibles.
Manager Game would be launched by the beginning of MotoGP's racing season in 2020.
AB1's stock price last traded at $0.180 on 24 February 2020, in line with the previous day's closing price.
Interesting Read: Is The Crypto and Blockchain Fever Over For Now - CCA, AB1, DCC, FFG, ICI
The Road Ahead:
Companies need to embrace the blockchain technology to their system for eventually making it to the core part of their operations. To start with, the companies could at least dip their toes in the water. Also, there is a need to improve blockchain literacy by familiarising with blockchain technology parameters and its potential.
---
Disclaimer
This website is a service of Kalkine Media Pty. Ltd. A.C.N. 629 651 672. The website has been prepared for informational purposes only and is not intended to be used as a complete source of information on any particular company. Kalkine Media does not in any way endorse or recommend individuals, products or services that may be discussed on this site. Our publications are NOT a solicitation or recommendation to buy, sell or hold. We are neither licensed nor qualified to provide investment advice.