The Australian companies having big operations in Britain are potentially vulnerable to the risks triggered by the Brexit debacle. Britain is an important market for many companies trading on the Australian stock exchange, and its exit from the European Union is likely to result in significant consequences for these companies. Many of these companies generate significant amounts of earnings from the UK and Europe, raising concerns among the market analysts over the growth prospects of such companies.
Let us have a look at some of the companies trading on the Australian Securities Exchange (ASX) having exposure to the UK market:
QBE Insurance Group Limited
Headquartered in Sydney, QBE Insurance Group Limited (ASX: QBE) is a general insurance and reinsurance company that offers personal, commercial and speciality products and risk management solutions to its customers. The company has over 12,000 employees working in more than 31 countries. The company is now recognized as one of the top 20 insurers and reinsurers globally.
Modifications in Operational Structure
The company's operational divisions earlier included North American Operations, European Operations, Australian & New Zealand Operations and Asia Pacific Operations. However, the company announced changes to its operating structure in October 2018, reducing the number of divisions to three: Australia Pacific, International and North America. The International segment now includes European Operations and Asia, and the Australia Pacific incorporates Australia, New Zealand, the Pacific and India.
Operational Performance
The company has earlier informed that it has a fully operational and well?capitalised insurance and reinsurance company located in Belgium in response to the Brexit challenge. QBE Insurance Group received High Court approval for its post-Brexit restructuring plans during a hearing in December. The company mentioned about the successful renewal of its existing business in continental Europe in its FY2018 annual report.
Financial Performance
The company's revenue from ordinary activities from continuing operations fell 8 per cent in 2018 to US$15,392 million from US$ 16,790 million. However, the company reported a Net profit after tax for the year ended 31 December 2018, equivalent to US $390 million relative to the net loss of US $1,249 million in 2017.
The company's average premium renewal rate from European Operations demonstrated a rise of 4.4 per cent in 2018 compared to a reduction of 0.2 per cent in 2017. The combined operating ratio of European Operations also improved from 95.2% in 2017 to 94.8% in 2018. QBE's UK motor, financial lines and international property continued to gain from the strongest rate improvements.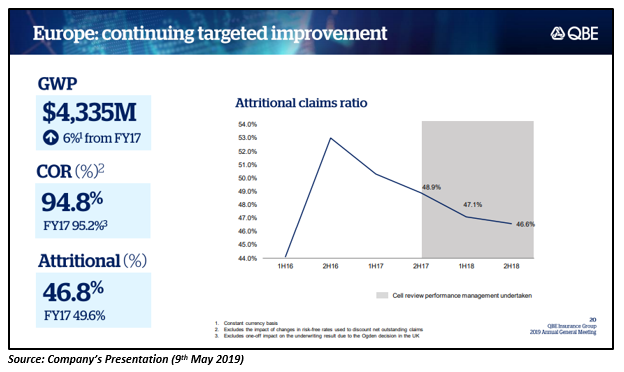 Stock Performance
The company's stock is trading higher on the ASX today at AUD 11.960, with a rise of 1.1 per cent in (As at 12:33 PM AEST, 12 June 2019). It has generated a return of 20.10 per cent on a YTD basis.
IRESS Limited
An Australia-based fintech company, IRESS Limited (ASX: IRE) develops, designs and delivers technology for the financial services industry. The company is among the leading suppliers of innovative technology solutions for clients in the wealth management, financial markets, and mortgage sectors. It has its operations in New Zealand, Australia, South Africa, the United Kingdom, Asia and Canada.
Financial Performance
The company released its Annual Report 2018 in February this year for the period ending 31st December 2018. The company reported 8.06 per cent increase in its revenue from ordinary activities from ~$430 million in 2017 to ~$464 million in 2018, driven by the revenue growth in Australia and the UK. 32 per cent of the revenue growth came from the United Kingdom, reflecting key client deliveries and product uptake. The successful progression of client projects as anticipated by the company accelerated revenue growth in the second half in the UK.
The revenue in the UK increased 13 per cent on a reported basis and 7 per cent on constant currency basis against pcp, reflecting ongoing projects to deploy IRESS' integrated wealth and trading solution at key clients.
Future Outlook
The company does not expect a significant direct impact from Brexit, given the predominantly domestic focus of its UK clients. Also, the company expects its 2019 annual revenue growth rate to be similar to that of 2018.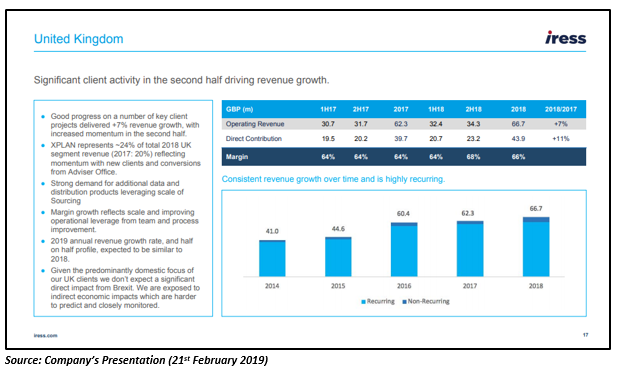 Stock Performance
The company's stock is trading at AUD 13.480, up 0.22% (As at 12:41 PM AEST, 12 June 2019). It has generated a return of 23.87 per cent and 6.58 per cent in the last six months and three months, respectively.
CYBG PLC
An independent banking group headquartered in the United Kingdom, CYBG PLC (ASX: CYB) incorporates Clydesdale Bank, Yorkshire Bank, Virgin Money and the digital banking platform B. The company offers a full range of financial products and services to help people and businesses grow.
Financial Performance
In May 2019, CYBG PLC released their interim financial report for the six months to 31 March 2019. The group delivered a resilient underlying financial performance in H1, announcing a total underlying income of £843m in the first six months that was in accordance with H1 18 and H2 18. The Pro forma profit before tax stood at £9m during the period, impacted by significant acquisition and integration costs associated with the acquisition of all the voting rights in Virgin Money Holdings (UK) plc in October 2018.
The underlying operating expenses of the group fell from £493m to £480m in H1 19 and are expected to be less than £950m in FY2019. The fall in the operating expenses was due to the cost savings delivered through the Group's cost efficiency and integration programmes.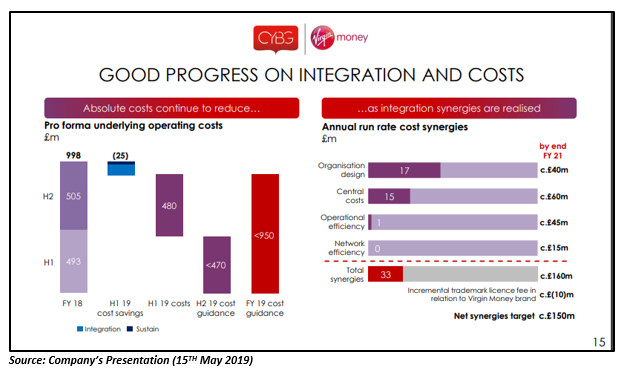 Future Outlook
The FSMA Part VII transfer of the assets and liabilities of Virgin Money PLC to Clydesdale Bank PLC is expected to complete by the end of the calendar year 2019.
Stock Performance
The company's stock advanced 1.52 per cent on the ASX today, trading at AUD 3.340 (As at 12:41 PM AEST, 12 June 2019). The 52-week high and low value of the stock was recorded at AUD 6.360 and AUD 3.100, respectively. It has generated a minor 0.92 per cent return on the YTD basis.
Xero Limited
A New Zealand based public software company, Xero Limited (ASX: XRO) offers cloud-based accounting software services, helping more than 1.8 million subscribers worldwide transform the way they do business. The company was founded in 2006 and was identified as the World's Most Innovative Growth Company in 2014 and 2015 by Forbes.
Operational Performance
A number of strategic initiatives were undertaken by the company during FY19, including the acquisition of Instafile, a UK tax filing and compliance tool. Along with this, Xero got registered as an Account Information Services Provider with the UK Financial Conduct Authority, allowing it to take advantage of the UK open banking regime.
Financial Performance
On 16th May 2019, the company announced its full-year earnings to 31st March 2019. Delivering strong progress in cash generation, top line growth and profitability, the company reported a 36 per cent growth in the operating revenue to $552.8 million, and an increase in its Free cash flow by $35.0 million during the period.
The International net subscriber additions exceeded the ANZ region for the first time as the UK net subscriber additions accelerated significantly. 151,000 subscribers were added in the UK over the FY19 year, and more than 100,000 net subscribers were added in H2 FY19. The UK achieved an operating revenue increase of 50 per cent to ~$120 million from FY18.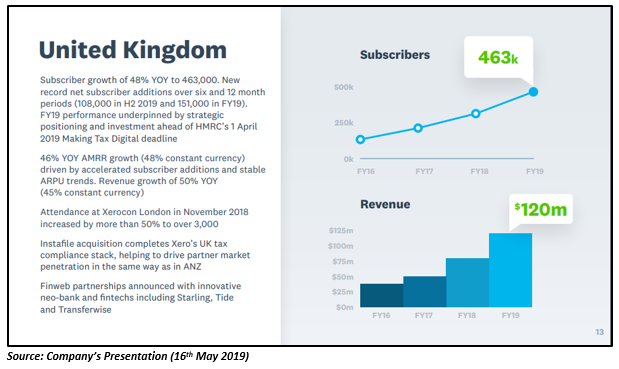 Future Outlook
The company expects its Free cash flow in the financial year to 31st March 2020 to be a similar proportion of total operating revenue reported in the financial year to 31st March 2019.
Stock Performance
The company's stock is trading at AUD 60.020 today (As at 12:59 PM AEST, 12 June 2019), with a dip of 1.46 per cent with a market capitalisation of AUD 8.59 billion. The stock has performed remarkably well in the past, delivering a return of 45.20 per cent on a YTD basis. Besides this, it has generated a return of 62.21 per cent, 25.02 per cent and 11.68 per cent in the last six months, three months and one month, respectively.
Macquarie Group Limited
A global financial group, Macquarie Group Limited (ASX: MQG) is regulated by Australia's banking regulator, Australian Prudential Regulation Authority (APRA). The company offers services to its clients through asset management and finance, advisory, banking and risk and capital solutions across equity, debt and commodities.
Financial Performance
The company published its financial results for the full year ended 31 March 2019 on 3rd May 2019. The company's net profit was up 17 per cent in FY19 to $A2,982 million relative to FY18. The company reported a Net operating income of $A12,754 million in FY19. 66 per cent of the total income was generated offshore including EMEA, Asia and the Americas.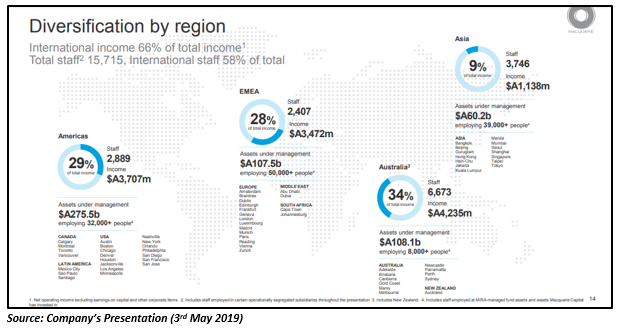 Macquarie View on Brexit
The company does not think that Brexit will be a material event for the Group. The company informed that the three of the four targeted new licences are now in place, and the progress on licence applications to supplement existing EU licences is well advanced. Also, the company has made contingency arrangements for a small number of clients who could be affected if the UK leaves EU without a transition agreement. Macquarie expects a continuation of its longstanding and deep commitment to the UK in the future.
Stock Performance
MQG is trading at AUD 121.270, up 0.025% (As at 1:05 PM AEST, 12 June 2019). The stock has generated a return of 227.32 per cent since it began trading on the ASX and YTD return of 13.38%.
---
Disclaimer
This website is a service of Kalkine Media Pty. Ltd. A.C.N. 629 651 672. The website has been prepared for informational purposes only and is not intended to be used as a complete source of information on any particular company. Kalkine Media does not in any way endorse or recommend individuals, products or services that may be discussed on this site. Our publications are NOT a solicitation or recommendation to buy, sell or hold. We are neither licensed nor qualified to provide investment advice.