Highlights

Under Armour (NYSE: UAA) reported its Q3 earnings for fiscal 2023 on February 8.
The company's net income was US$ 122 million, and the adjusted net income was US$ 76 million in Q3 2023.
Under Armour is projecting the growth period to remain in the low single digits.
The American sportswear firm Under Armour, Inc. (NYSE: UAA) creates apparel and footwear. Kevin Plank, a former captain of the University of Maryland football team's special teams, established one of the world's biggest sportswear brands on September 25, 1996.
As of the market close on Wednesday, February 22, the UAA stock declined by about 0.3 per cent and closed at US$ 10.06 per share.
Latest developments associated with UAA stock
The company stated that Patrick Whitesell and Carolyn Everson joined Under Armour's board of directors on February 1, 2023. A veteran board member, Harvey Sanders, will also leave Under Armour on March 31, 2023.
On January 31, the company said in a statement that Stephanie Linnartz would join the organization on February 27, 2023, taking on the roles of president, chief executive officer, and director.
Earlier in November 2022, Wes Moore had stepped down from Under Armour's Board of Directors.
What were UAA's latest financials?
Under Armour reported its earnings for the third quarter of fiscal 2023 on February 8 and said its revenue amounted to US$ 1.6 billion, up three per cent year-over-year (YoY).
Compared to the prior year, gross margin decreased by 650 basis points to 44.2 per cent, principally due to increased promotions, mix effects from the higher distributor and footwear income, and the unfavorable effects of exchange rate fluctuations, said Under Armour.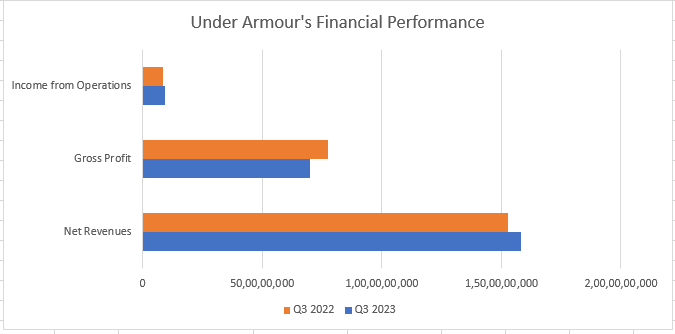 ©2023 Krish Capital Pty. Ltd
The company's net income was US$ 122 million, and the adjusted net income was US$ 76 million in Q3 2023.
Bottom line
In terms of reported revenue, growth is expected to remain in the low single digits, but on a currency-neutral basis, growth will be in the mid-single digits, said Under Armour while giving an update about its financial outlook for fiscal 2023.
Meanwhile, operational income, which is anticipated to total US$ 270 to US$ 290 million, is predicted to remain the same as the prior forecast. Adjusted operating income is anticipated to be between US$ 290 and US$ 310 million after deducting the company's litigation reserve.