Highlights

Coca-Cola Company (NYSE: KO) net revenues for the third quarter ended Oct 1, 2021, grew 16% to US$10.0 billion.


The Kraft Heinz Company (NASDAQ: KHC) reported a 1.3% growth in organic net sales YoY. Its net income grew 23.2% YoY to US$736 million in the quarter.


Both companies have raised their outlook for fiscal 2021.
Stocks of Coca-Cola Company (NYSE: KO) and Kraft Heinz Company (NASDAQ: KHC) gained traction on Wednesday morning after reporting their third quarter results. The KO stock was up 2.99%, while KHC stock rose 1.62% from their previous close in the premarket.
Third-quarter Highlights:
Coca-Cola Company
Coca-Cola's net revenues grew 16% to US$10.0 billion in the third quarter ended Oct 1, 2021, compared to US$8.65 billion in the corresponding period of the previous year. The non-GAAP organic revenue grew by 14%, boosted by sales as more markets reopen after covid curbs.
Its operating income jumped 26% YoY to US$2.89 billion, while the operating margin was 28.9% versus 26.6% in Q3 of the previous year. Its earnings per share were US$0.57, up 41%, compared to US$0.40 in Q3 of 2020. The non-GAAP EPS was US$0.65, an increase of 18% YoY.
With increased revenue and operating profit, the company's cash flow from operations rose by US$3.0 billion to US$9.2 billion YTD. The increase could be attributed to improved business performance, additional five days in the first quarter, and working capital initiatives.
The non-GAAP free cash flow also increased by US$3.0 billion to US$8.5 billion YTD.
Coca-Cola launched the World Without Waste strategy in 2018 as part of its commitment to reduce plastic pollution. The company has unveiled an innovative prototype bottle this month made from 100% plant-based plastic except for the cap and label.
Also Read: AMD's Q3 profits soar, Twitter (TWTR) hits 211 mn daily active users
Outlook for full-year 2021
The company expects non-GAAP organic revenue growth of 13% to 14% and the non-GAAP comparable EPS growth to be between 15% and 17%.
The non-GAAP free cash flow is expected to be US$10.5 billion. The capital expenditure deduction from cash flow does not include any payments towards ongoing tax litigation with the US Internal Revenue Service.
Coca-Cola has a market cap of US$235 billion. Its P/E ratio is 29.13, while the dividend yield is 3.1%. The Atlanta, Georgia-based beverage company is the world's largest non-alcoholic beverage maker, with brands like Coke, Sprite, Costa, and Glaceau.
Also Read: US markets scale fresh highs on upbeat earnings, housing data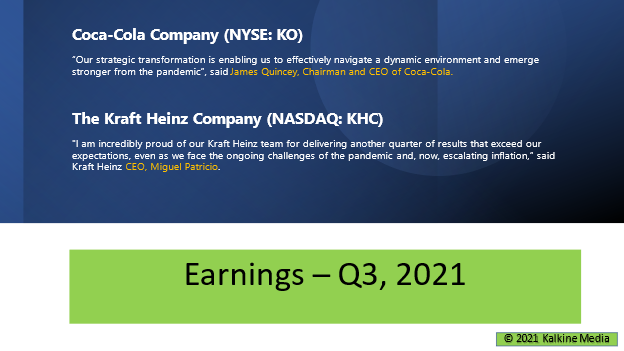 Also Read: Alphabet Inc (GOOGL), Microsoft Corp see profits soar in Q3
The Kraft Heinz Company
Kraft Heinz's third-quarter results showed a 1.3% growth in organic net sales compared with its robust growth in 2020. However, its net sales decreased by 1.8% to US$6.3 billion compared to US$6.4 billion in Q3 2020, mainly because of absorbing a negative four percentage point impact from the divestiture of its nuts business.
The net income for Q3 was US$736 million, up 23.2% YoY. The growth is primarily due to the deduction of US$300 million non-cash goodwill impairment loss related to the cheese transaction in Q3 of 2020.

The EPS diluted increased to US$0.59 compared to US$0.49 in the prior year, and the adjusted EPS was US$0.65, down 7.1% YoY.
The net cash from operations was US$2.4 billion year-to-date, down 26.4% from the same period a year ago. The free cash flow was also down 38.8% YoY to US$1.8 billion YTD. The decrease in cash flow was mainly due to divestiture cash tax payment in 2021 on its nuts business and lower cash from operating activities.
Also Read: Top artificial intelligence stocks to explore amid AI boom
Outlook
The company expects organic net sales growth for full-year 2021 to be flat compared to the exceptionally strong full year 2020. The adjusted EBITDA is expected to be between US$6.1 billion and more than US$6.2 billion in 2021. The expectation is based on high organic net sales and the company's efforts amid inflationary pressures for long-term growth.
Kraft Heinz Company is one of the largest food and beverage manufacturers in the US. Its products are sold in more than 190 countries. The Pittsburgh, Pennsylvania-based Kraft has a market capitalization of US$45 billion and a P/E of 20.59. Its current dividend yield is 4.42%.
Also Read: Eli Lilly (LLY), Novartis (NVS) profits up on robust sales growth
Bottomline
Coca-Cola is expected to maintain its high business momentum in the new year, driven by its innovative products. On the other hand, Kraft Heinz is confident in its agile approach that produced positive results in Q3 despite market uncertainties. Coca-Cola stock grew around 2%, and Kraft Heinz rose nearly 6% YTD.