Highlights:

Washington-based Seagen Inc. (NASDAQ: SGEN) stock rose 16.76% on Friday.
Merck & Company, Inc. (MRK) is considering buying the biotech firm.
However, their talks are not yet conclusive.
Washington-based Seagen Inc. (NASDAQ: SGEN) stock rose 16.76% to US$171.385 at 12:14 pm ET on Friday after WSJ reported that Merck & Company, Inc. (MRK) is considering buying the cancer-focused biotechnology firm.
According to the report, a possible deal could be still far away, although talks are going on; and they may also settle for a marketing collaboration. Seagen currently has a market capitalization of US$31.50 billion, while Merck's market value is around US$212 billion.
After the news, the MRK stock plunged 1.50% to US$83.62 at 12:32 pm ET. If the deal gets finalized, Merck will boast an impressive lineup of cancer drugs.
Also Read: CELU to CMPI: Explore top 5 biotech stocks with over 100% YTD return
Both the companies have already been collaborating on breast-cancer treatment. They plan to test Merck's top-selling product Keytruda in combination with another drug in an experiment.
Merck has reportedly offered Seagen US$600 million up-front out of its total five million shares worth US$1 billion for the takeover.
The healthcare sector saw fewer deals this year amid a topsy-turvy market condition. The industry typically sees a lot of deal-making each year. The fewer deals in 2022 compared to last year were due to the high valuations and increased risks of antitrust scrutiny.
Also Read: HST to VTR: Should you explore these 5 REITs as inflation shoots up?
Seagen, formerly Seattle Genetics, develops therapies to treat cancers. Its treatments use the monoclonal antibodies' targeting ability to produce cancer cell-killing agents.
Seagen's lead product Adcetris has received six "indications approval" for treating Hodgkin lymphoma and T-cell lymphoma. It also licenses its antibody-drug conjugate technology to other leading pharmaceutical companies.
Also Read: Top agri stocks to watch amid rising prices: ADM, CTVA, MOS, BG & CF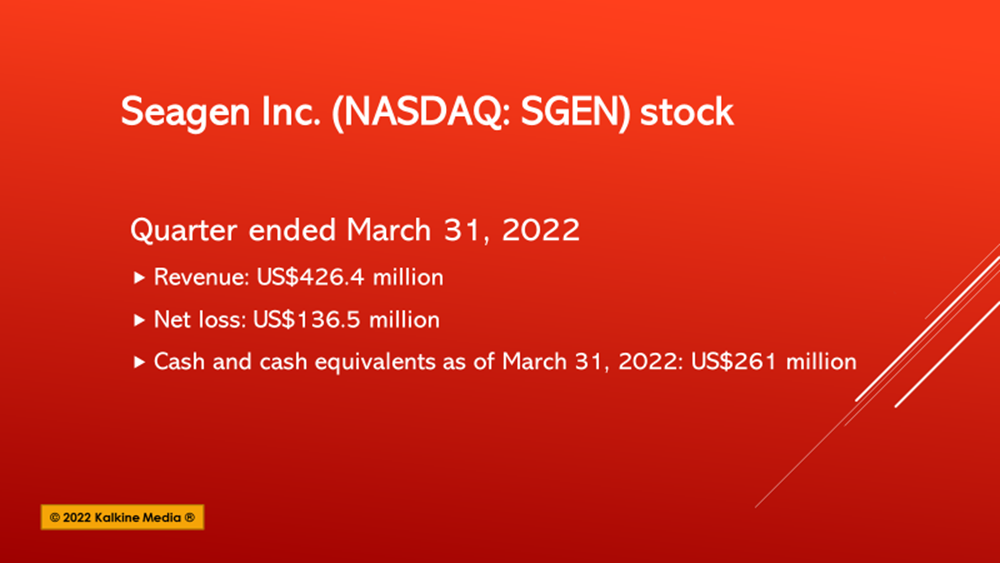 Also Read: Five financial stocks to watch in Q3: FHN, Y, WRB, LPLA & PGR
Financials:
Seagen brought its IPO in 2001. In the quarter ended March 31, 2022, it generated a revenue of US$426.4 million compared to US$331.98 million in the same quarter a year ago. The net loss was US$136.5 million versus a net loss of US$121.4 million in the previous year.
Also Read: Top healthcare stocks to explore in June: JNJ, LLY, ABBV, MRK & BMY
Seagen had US$261 million in cash and cash equivalents as of March 31, 2022.
Its stock traded in the range of US$192.79 to US$105.43 in the last 52 weeks.
Also Read: GOGO to LPTV: Five communication stocks to watch in July
Bottom line:
According to analysts, Merck needs more pipeline products to bolster its portfolio. Merck CEO Robert Davis, they say, is looking for more do more deals. The S&P 500's biotechnology Index fell around 7% YTD; RGEN stock dropped 5.7% YTD at the closing price of June 16.