Benchmark US indices closed the week on a positive note on Friday, September 9, after marking a weekly loss for three straight weeks, bolstered by the gains in the technology and growth stocks.
The S&P 500 rose 1.53 per cent to 4,067.36. The Dow Jones was up 1.19 per cent to 32,151.71. The NASDAQ Composite added 2.11 per cent to 12,112.31, and the small-cap Russell 2000 rose 1.95 per cent to 1,882.85.
The market participants are now waiting for the CPI data that would be released next week, for cues on how the Federal Reserve would move with its monetary policy plans. However, comments from the regulators cemented bets that the central bank may lean towards an aggressive hike at their September 20-21 meeting.
Chicago Fed President Charles Evans also suggested that the Fed could stick to their aggressive monetary plans at their next meeting to tame the decades-high inflation. Echoing the remarks, Fed Governor Christopher Waller said that he would "support a significant" surge at their upcoming meeting.
Other Federal Reserve officials also backed a significant rate hike earlier this week, which has boosted the possibilities of another 75 basis point hike in their September meeting.
On Friday, September 9, all 11 segments of the S&P 500 index stayed in positive territory. The information technology, consumer discretionary, and healthcare sectors were the top moving segments in the index.
Shares of Zscaler, Inc. (ZS) gained more than 18 per cent in the intraday trading on September 9, a day after the cloud security firm reported strong quarterly earnings results while providing robust guidance for the current quarter and the ongoing year.
The Kroger Co. (KR) added more than five per cent in the intraday session on Friday after the retail company announced its quarterly report while raising its annual guidance.
DocuSign, Inc. (DOCU) soared more than seven per cent on Friday, September 9, after the San Francisco, California-based company posted its financial results for the second quarter of fiscal 2023 while providing guidance for the ongoing quarter and full fiscal 2023.
In the technology sector, Apple Inc. (AAPL) increased by 1.88 per cent, Microsoft Corporation (MSFT) gained 2.30 per cent, and NVIDIA Corporation (NVDA) added 2.84 per cent. Broadcom Inc. (AVGO) and ASML Holding N.V. (ASML) soared 2.05 per cent and 3.78 per cent, respectively.
In consumer discretionary stocks, Amazon.com, Inc. (AMZN) surged 2.66 per cent, Tesla, Inc. (TSLA) rose 3.60 per cent, and Alibaba Group Holding Limited (BABA) jumped 2.87 per cent. Toyota Motor Corporation (TM) and Nike, Inc. (NKE) advanced 1.03 per cent and 2.07 per cent, respectively.
In the healthcare sector, Pfizer Inc. (PFE) ticked up 1.64 per cent, Novo Nordisk A/S (NVO) added 2.72 per cent, and Abbott Laboratories (ABT) climbed up 1.37 per cent. Novartis AG (NVS) and Bristol-Myers Squibb Company (BMY) were up 1.64 per cent and 1.14 per cent, respectively.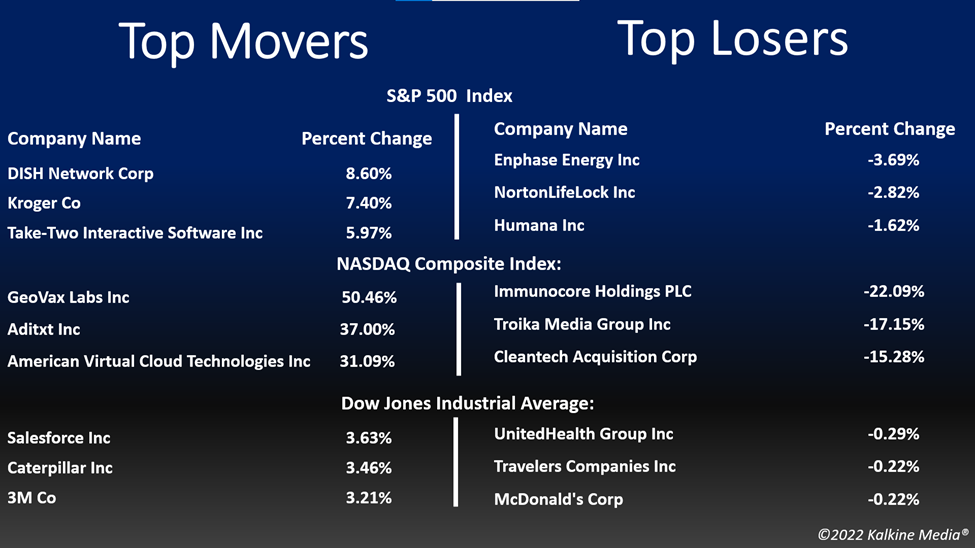 Futures & Commodities
Gold futures were up 0.40 per cent to US$1,727.10 per ounce. Silver increased by 1.69 per cent to US$18.753 per ounce, while copper rose 0.75 per cent to US$3.5535.
Brent oil futures increased by 3.53 per cent to US$92.30 per barrel and WTI crude was up 3.17 per cent to US$86.19.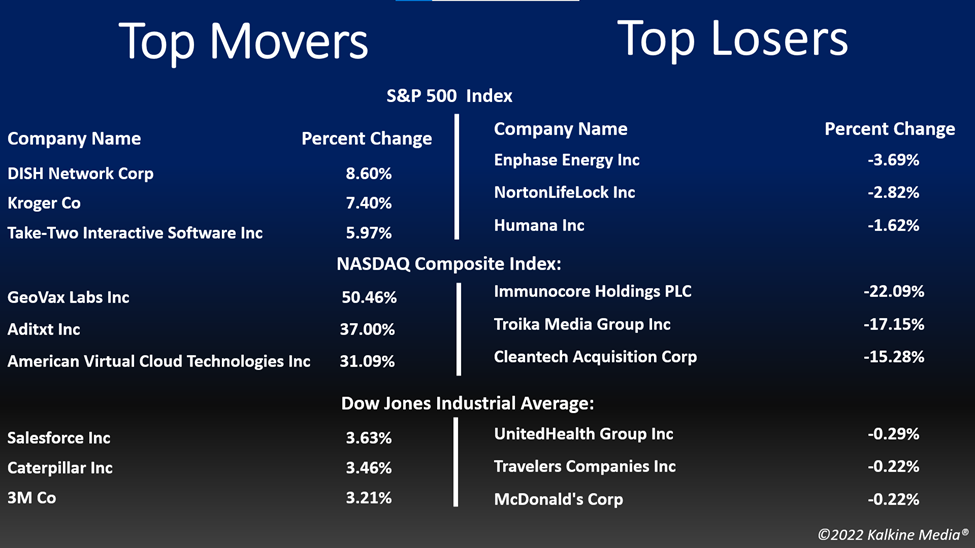 Bond Market
The 30-year Treasury bond yields were up by 0.47 per cent to 3.457, while the 10-year bond yields rose 0.83 per cent to 3.319.
US Dollar Futures Index decreased by 0.66 per cent to US$108.990.