Summary

ITM expects the top-line business to remain approximately £4.0 million during FY21.
The Contract backlog had reached £154.0 million as of 10 June 2021.
It anticipates producing 50MW of electrolysers during FY22.
ITM Power PLC (LON: ITM) is the oil & gas stock listed on the London stock exchange. ITM's shares have generated a return of 13.19% in the last 12 months. Moreover, it is a constituent of the FTSE AIM UK 50 index.
Company Overview
The Company is into the manufacturing of integrated hydrogen energy solutions to enhance the utilisation of renewable energy. It is the leading UK-based electrolyser producer. ITM has been traded on the AIM market since 2004.
Recent Trading Update (for the twelve months ended 30 April 2021, as of 10 June 2021)
Increase in Contract Backlog – The contract backlog stood at a record level of £154.0 million as of 10 June 2021, which comprised £35.4 million worth of projects under contract and a further £118.6 million of awards in the final stages of negotiation. Moreover, it constitutes around 290MW of electrolysers.
Update on New Contracts – The Company had received a contract of 24MW sale to Linde Gas for the Leuna Chemical Complex in Germany. Moreover, it had also received contracts across Germany, Austria, Japan, Tasmania, and France with an aggregate sale of 10MW. Furthermore, ITM had obtained a €5 million funding from European Union for OYSTER.
Strategic Partnership with Snam – The strategic partnership with Snam had progressed well since October 2020. Both companies are identifying relevant synergies for the development of new projects and improvements in the manufacturing process.
Decent Financial performance – As this being the first year of collaboration with Linde, the Company had managed to secure sales contracts worth approximately £12.8 million. Moreover, the Company expects FY21 revenue to remain around £4.0 million as it was adversely impacted by several project delays, mainly in Australia, caused by the Covid-19 related restrictions. Furthermore, the Company had a cash position of £176 million as of 30 April 2021.
One Year Chart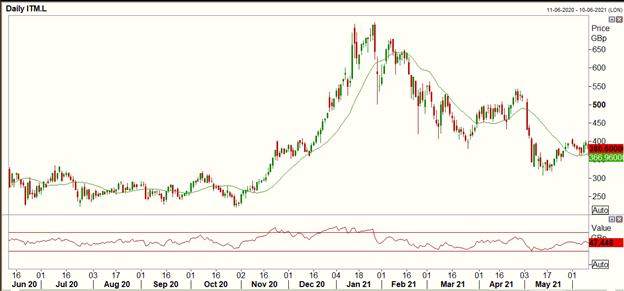 (Data Source: REFINITIV)
ITM shares were trading at GBX 380.60 and were down by close to 3.94% as of 10 June 2021 at 02:45 PM GMT. The 14-day RSI stood at ~47.45, while the 20-day simple moving average was around GBX 366.96. ITM's 52-week Low and High were GBX 220.50 and GBX 724.00, respectively. The market capitalization of ITM is approximately £2.18 billion.
Business Outlook
ITM had anticipated producing 50MW of electrolysers during FY22, ending 30 April 2022. Moreover, 33MW of electrolysers are already accounted in the backlog, while remained 17MW is in the advanced stages of contract negotiation. The recognized revenue would be more weighted in H2 FY22. In a nutshell, ITM has an adequate manufacturing and operational capacity to address market demand for the developing suite of products.