Norman Broadbent Plc that started operations nearly 40 years ago, is a leading support services firm focussed on acquiring talent & advisory consulting. Norman Broadbent Plc provides solutions which are centred on leadership consulting roles and executive search, senior mid-level management and Research & Business Insight. Norman Broadbent Plc is one of the few businesses which have a unique offering for their clients, an integrated recruitment service which specialises in Executive Search and Interim Management offering. The objective is to provide business continuity and executive-level Talent, meeting both short and longer-term needs.
There are different searches for different requirements. They provide an innovative in-house approach for delivering the promises as per client needs at Board and Leadership level. In addition, Research & Insight, Leadership Consulting & Assessment and Senior Interim Management are popular service lines across the group.
NBB R&I enables clients to make more informed 'people', organisational or commercial decisions. It also significantly mitigates risks for Talent Acquisition activity.
R&I is being increasingly used by clients on a stand-alone basis and is highly complementary to Search and Solutions service offerings.
Recent News
Mike Brennan, Chief Executive Officer of Norman Broadbent Plc has been announced as the winner of 2019 European Business Award by CEO Today Magazine.
Mike Brennan started his first business at the age of twenty-seven and has a cumulative work experience of more than twenty-five years in the global executive search markets. He has built search businesses and literally lived them in London, Hong Kong and Tokyo. He was also responsible for establishing and managing operations in Singapore, Dubai and New York. He joined NBB in April 2016 as Group CEO.
Frank Carter will be stepping down from Non-Executive Chairman. He was serving on this designation since 2016. The company has transformed into a more balanced, integrated and innovative services provider due to Frank's important contributions. Fiona McAnena (54) has been appointed as a Non-Executive Director; she would be joining the Board with immediate effect.
 Fiona has work experience in brand management and strategic marketing. She has served on advisory roles in formulating consumer-centric strategies for growth and commercial impact. She has been a member of committees such as finance, audit and risk, and nominations. The company believes that her experience would be a great asset to the group.
Demand for services is affected by global and UK specific economic conditions and the level of economic activity in the regions and industries in which the Group operates. When conditions in the economy deteriorate or economic activity slows, many companies hire fewer permanent employees or rely on internal human resource departments to recruit staff. While it appears that the global economy is still growing and the impact of Brexit on the UK economy is lower than expected, if the conditions deteriorate in the future then demand for the services offered by the Group could weaken resulting in lower cash flows. The Group attempts to mitigate this risk by operating across various diverse sectors where demand for such services are stronger. The Group's most vital resource remains its employees and the directors remain committed to retaining and recruiting quality staff who share the Group's culture and values.
Trading Update
The company has done well on profitability. The Group's revenue has increased by £2.6 million, which was up by 40 per cent to £9.2 million in FY2018. It was also recorded as the highest annual revenue in over 10 years. The Group's NFI (Net Fee Income) has surged by £1.6 million, which was up by 32 per cent to £6.6 million in FY2018. The Group's operating performance (loss of £0.6 million) has significantly improved in 2018 from a loss of £1.6 million in FY2017. The Interim Management NFI got increased by £0.8 million, up by 109 per cent precisely to £1.5 million in FY2018. The Executive Search NFI also got increased by £0.7 million, up by 24 per cent to £3.7 million in FY2018. The Solutions NFI got increased by £0.4 million, up by 45 per cent to £1.2 million in FY2018.
Financial Highlights for H1 FY2018 (£, thousand)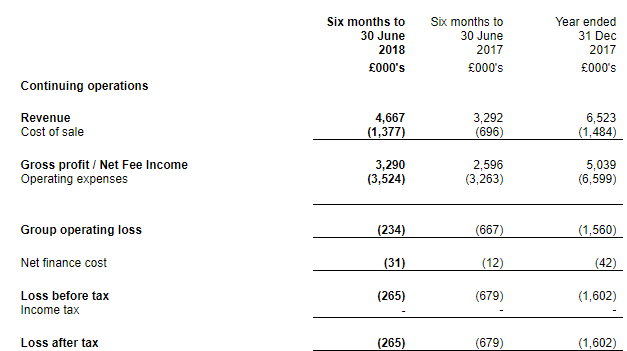 (Source: Interim reports, Company's website)
  The company had steadily moved into profits. The Group's revenue had increased by £1.37 million, up by 42 per cent to £4.7 million in H1 FY2018. The Group's NFI had increased by £0.7 million, up by 27 per cent to £3.3 million. The Group's Interim Management NFI had increased by £464,000; which was up by 139 per cent to £799,000 in H1 FY2018.The Group's operating performance (loss of £0.2 million) in H1 FY2018 was a significant improvement over the preceding period (loss of £1 million) in H2 2017.
The Group, in H1 FY2018, incurred an operating loss of £234,000 as against the loss of £667,000 in H1 FY2017 on turnover of £4,667,000 in H1 FY2018 as against £3,292,000 in H1 FY2017. In addition, the Group had reduced the operating loss (down by 74 per cent) from the preceding period (H1 FY2017) by £659,000.
The company successfully relocated to new Central London offices generating annual savings of £0.3 million (projected). The Group's performance exceeded the Board expectations in H1 FY2018.
The shareholders' equity stood at £1,765,000 as at 30 June 2018 (£2,049,000 at 31 December 2017). The Cash and cash equivalents at the end of H1 FY2018 amounted to £260,000 (£678,000 at 31 December 2017).
 The Net cash outflow from operations was £255,000 at the end of H1 FY2018 (£2,079,000 at 31 December 2017) and net cash inflow from financing activities amounted to £20,000 at the end of H1 FY2018 (£1,851,000 at 31 December 2017).
The business seems to be well positioned and the objective of the company is to continue building on the significant work carried out to date.
 Share Price performance
Daily Chart as at June-14-19, before the market close (Source: Thomson Reuters)
At the time of writing (as on June 14, 2019, at 03:21 PM GMT), shares of Norman Broadbent Plc were quoting at GBX 9.75 per share with no change against the yesterday's closing price level.
The outstanding market capitalisation of the company stood at around £5.26 million. In the last 52-wks, shares of Norman Broadbent Plc have registered a high of GBX 12.90 (as on Feb 13, 2019) and a low of GBX 9.00 (as on Aug 07, 2018). At the current trading level, as quoted in the price chart, its shares were trading 24.41 per cent below the 52wk high price level and 8.33 per cent above the 52wk low price level.
Stock's average traded volume for 5 days was 3,494.20; 30 days – 4,820.93 and 90 days – 8,016.83. The average traded volume for 5 days was down by 27.52 per cent as compared to the 30 days average traded volume.
From the SMA standpoint, shares of the NBB were quoting considerably below its 30-days, 60-days and 200-days SMA prices, which is a bearish technical indicator and indicates that the stock could fall further from the current trading level.
In the past 1 year, shares of Norman Broadbent Plc have delivered a negative price return of 7.14 per cent. In addition, on a year-to-date basis, the stock was down by approximately 18.75 per cent and declined by 11.36 per cent in the past three months. The company's stock beta was 0.47, reflecting lower volatility as compared to the benchmark index.