Summary

Utility sector witnessed record lows in 2020 due to the pandemic, causing an uncertain business climate.
National Grid, utility major, announced today a partnership with German RWE to develop offshore wind in the US.
The IEA has said that gas boilers would be banned from 2025 to achieve net zero emissions.
Energy system operators in the UK have faced pressures since the onset of the pandemic. The power demand fell to record lows in 2020 as the covid-19 crisis suppressed consumer demand.
Utility company National Grid reported a sharp drop in consumer power demand to 13.4GW on 28 June 2020, at 5:30 am, about 2.4GW lower than its pre-2020 records. Moreover, as renewable account for a bigger percentage of the power mix, effectively balancing the grid and renewable energy has become an emerging challenge to the sector.
Moreover, electric utility companies drove a surge in demand for the first auction after the UK started its carbon emissions trading system on 19 May. Bidders offered to buy over 29 million tons of emissions, even though only 6 million were available for sale due to huge pent up demand in the sector post-Brexit.
UK based utility companies have been polluting since January without being able to buy permits since in the earlier EU system, businesses used to buy permits throughout the year starting from January.
Meanwhile, the International Energy Agency (IEA) has said that gas boilers should be banned from 2025 to help achieve global net zero emissions by 2050. Hydrogen is expected to be used as a source of heating homes, although climate advisors say only 11 per cent will be available for heating since hydrogen is in limited supply. Other sources of fuel include geothermal and nuclear sources of energy.
In this article, we would put our lens at two FTSE listed utilities stocks that have been making news:
National Grid PLC (LON: NG.)
FTSE 100 listed National Grid is the UK's multinational electricity and gas utilities company. The company's venture arm National Grid Ventures announced a new partnership with German-based utility company RWE Renewables to develop offshore wind projects in the coastal area located in the Northeast of the US.
Also Read: 3 Energy Stocks in Focus After National Grid Ink $11-Bn Green Deal
NG also reported its results, announcing an underlying profit of £3.28 billion, down by 5 per cent from the previous year. It also announced its final dividend payout for the year to be at 49.16 pence per share, up by 1.2 per cent from the year ago period.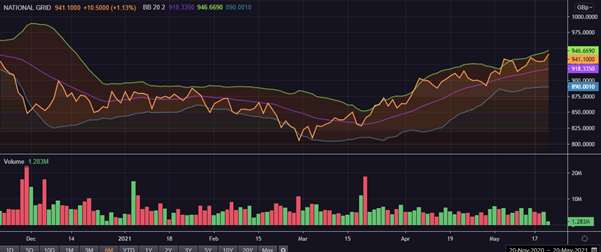 (Source: Refinitv, Thomson Reuters)
The company's shares were trading at GBX 939.60, up by 0.97 per cent, while the FTSE 100, the broader market index, was down by 0.08 per cent at 6,944.41 on 20 May at 10:20 HRS GMT+1. It's five-year average dividend yield stood at 5.2 per cent, while its FY 2020 price to earnings ratio was at 25.72.
Also Read: Net Zero Emissions: How UK Companies Are Trying to Achieve the SDGs
Centrica PLC (LON: CNA)
FTSE 250 listed company is a multinational utilities firm and the parent company of British Gas. In a trading update, it reported that its electricity demand fell by 15 per cent compared to the previous year, while home boiler repair and installations demand dropped by 11 per cent from the year ago period.
The company said it was facing an uncertain financial outlook after confirming the dismissal of 460 engineers under its fire and rehire scheme in April in order to help with its business challenges.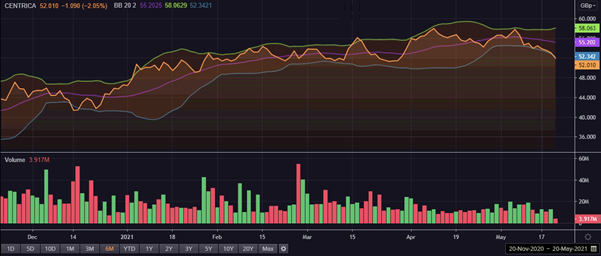 (Source: Refinitv, Thomson Reuters)
The company's shares were trading at GBX 52.00, down by 2.07 per cent, while the FTSE 250 index was down by 0.14 per cent at 22,203.07 on 20 May at 10:50 HRS GMT+1. It's five-year average dividend yield stood at 6.8 per cent, while its year to date returns stood at 12.17 per cent.
Also Read: Centrica (LON: CNA) owned British Gas to launch a five-day strike