UK Market News: The UK stock market was trading in the red on Friday following the warning from the Bank of England that the country will slip into recession in the last quarter of this year and into 2023. The lacklustre mood came a day after the central bank raised the interest rates to 1.75% and predicted that inflation in the UK would hit 13% by the end of this year, which is significantly higher than the bank's target of 2%. In the afternoon, both the FTSE 100 and the FTSE 250 were trading 0.30% lower.
WPP Plc (LON: WPP): Shares of the advertising agency slipped over 6% after the company reported its numbers for the first half of 2022. The group's like-for-like revenue grew by 8.7% to reach £6,755 million, while the pre-tax profits surged by 6.1% to £419 million.
Tullow Oil Plc (LON: TLW): Shares of the multinational oil and gas exploration firm fell by 2% during the day after it announced that it would plug and abandon its drilling operations at an oil exploration well located offshore Guyana.
Hargreaves Lansdown Plc (LON: HL.): Shares of the Bristol-based financial services firm rallied over 6% after it surpassed annual profit expectations. The company's underlying pre-tax profit reached £297.5 million. While it is down 19% from the previous year, it has exceeded company-compiled expectations by 5%.
US Markets: The US market is likely to get a mixed start, as suggested by future indices. S&P 500 future was down by 3.23 points or 0.08% at 4,151.94, while the Dow Jones 30 futures was down by 0.26% or 85.68 points at 32,726.82. The technology-heavy index Nasdaq Composite future was up by 0.41% at 12,720.58 (At the time of writing – 9:10 AM ET).
US Market News:
Shares of travel website operator Expedia (EXPE) climbed 5.4% in the premarket trading session after it exceeded the top and bottom line expectations in its quarterly results. The company reported a 57% rise in lodging revenue and a 22% increase in airline ticket revenue due to solid travel demand.
Shares of payment service provider Block (SQ) fell 6.4% in the premarket trading session despite reporting better-than-expected quarterly numbers. The company reported a 34% decline in revenue from its Cash App unit.
European Indices Performance (at the time of writing):
FTSE 100 Index One Year Performance (as on 5 August 2022)
(Source: Refinitiv)
Top 3 Volume Stocks in FTSE 100*: Lloyds Banking Group plc (LLOY), Vodafone Group Plc (VOD), BP Plc (BP.)
Top 3 Sectors traded in green*: Technology (0.88%), Healthcare (0.75%).
Top 3 Sectors traded in red*: Real Estate (-1.81%), Consumer cyclicals (-1.47%), Industrials (-0.78%).
London Stock Exchange: Stocks Performance (at the time of writing)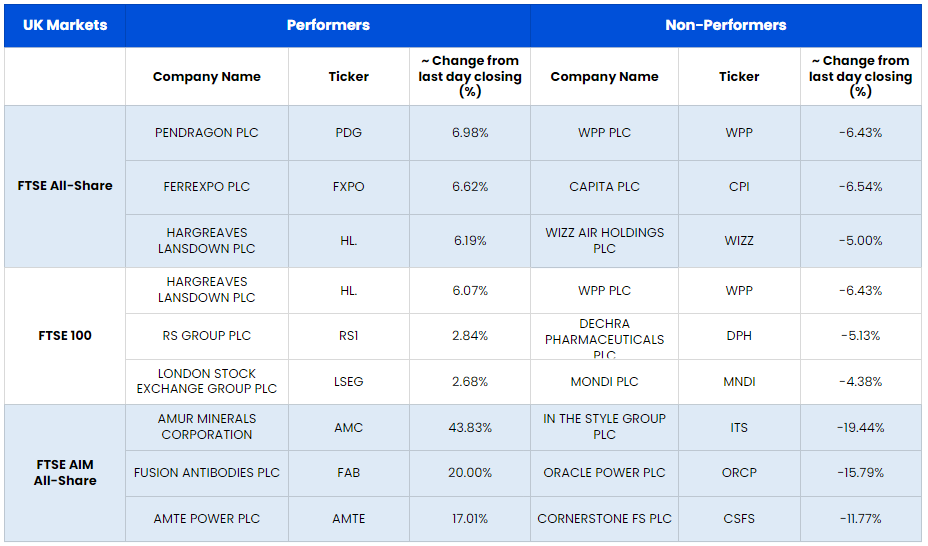 Crude Oil Future Prices*: Brent future crude oil (future) price and WTI crude oil (future) price were hovering at $94.21/barrel and $88.67/barrel, respectively.
Gold Price*: Gold price was quoting at US$ 1,804.50 per ounce, down by 0.13% against the prior day closing.
Currency Rates*: GBP to USD: 1.2021; EUR to USD: 1.0159.
Bond Yields*: US 10-Year Treasury yield: 2.810% UK 10-Year Government Bond yield: 1.993%.
*At the time of writing