Cannabis - Background
Cannabis is a genus of plants with three species: Cannabis sativa; Cannabis indica; and Cannabis Ruderalis. Hemp commonly refers to strains of Cannabis sativa with low psychoactive components is primarily used for industrial applications like rope and cloth making.
Increasing Investors Traction Towards Cannabis Industry
At this current juncture, developing Cannabis Industry is getting the traction of investors who are in hope to capitalise on the potential growth and high returns based on assumption of it being an untapped market or products that can get popularity in future. The cannabis sector has snowballed in recent years as several countries, including Canada and some states of the United States have explored new regulation for the sale and use of cannabis. On October 17, 2018, Canada became the second country globally to legalise cannabis products for recreational activities. Earlier only Uruguay did so in 2001.
Opportunities for Companies to Participate in the Growing Cannabis Industry
The cannabis industry is growing at a fast pace attracting investor sentiment and interest globally. The bullishness is induced by the fact that investors can partake in this industry through a variety of ways. On the one hand, investors can participate through brick and mortar shops. They can also focus on cultivation, sale, researching new products or farming methods for cannabis.
Businesses Under Cannabis Umbrella
Agriculture technology - This includes companies that can design and develop equipment for cultivation of cannabis, for example - Greenhouse technologies, lighting system, and automated fertiliser system.
Biotechnology - Companies which are developing medicine made from cannabis to tackle illness and diseases.
Consulting Services - Companies that will provide consultancy for taking license and advising their clients on the operational process.
Ancillaries services and products - Companies that offer complementary products, for example, Breathalyzer that test cannabis products and insurance to the cultivators of cannabis.
Cultivation and Retail - Companies which are engaged in Cannabis farming and sale of cultivated products to the other businesses, the majority thinks about these companies only when discussing the Cannabis sector.
Industrial Hemp - Companies that provide intermediator product using industrial hemp. It has numerous applications and uses like manufacturing consumer products like clothing and paper, as well as fuel, foods and building materials.
Holding Companies - Businesses that own a significant stake in the companies who are dealing in the Cannabis sector, this allows them to control the management and affairs of the company held.
The European scenario and Emerging United Kingdom Cannabis Industry
In Europe, including the United Kingdom, the Cannabis business is making steady inroads. For example, Germany, which legalised medical cannabis in 2017, represents the most significant current market share with an expectation of hitting USD 1 billion by 2022. In Germany, cannabis used by prescription only and distributed through pharmacies. The United Kingdom represents another significant market as it recently expanded its medical program and is home to GW Pharma, maker of FDA-approved Epidiolex drug. However, the cannabis space here got the green signal from the government only in late 2018.
The Supreme Cannabis Company Inc. (TOR: FIRE)
Background
The Supreme Cannabis Company Inc is a Canada-based company targeting the medical cannabis commercial space. In Canada's Ontario state, the company has an approximately 440,000 square foot cannabis cultivation facility at Kincardine. Supreme Cannabis Company's wholly-owned subsidiary 7ACRES has already bagged multiple awards in the cannabis space. Its other subsidiaries consist of the cannabis oil producer, Medigrow Lesotho Limited; and genetics and cultivation intellectual property company, Cambium Plant Sciences. Also, with Khalifa Kush Enterprises Canada ULC, the company has a brand partnership and licensing agreement.
Recent Developments intended to Broaden its United Kingdom Cannabis Exposure
July 17, 2019
The Supreme Cannabis Company Inc. announced that it has entered into a definitive agreement to acquire privately held company Truverra Inc. The acquisition agreement valued at approximately $20,000,000. The acquired company operates in the global cannabis market. Truverra Inc. has two subsidiaries they are, Truverra Europe B.V. and Canadian Clinical Cannabinoids Inc.
July 12, 2019
The Supreme Cannabis Company Inc. acquired Blissco Cannabis Corporation. The acquired company is a premium wellness brand and also operates in the cannabis oil extraction space.
June 24, 2019
The Supreme Cannabis Company Inc. introduced Supreme Heights, an investment platform. Located in London in the United Kingdom, it focuses on prospects in the cannabidiol wellness and health business segment in Europe in general and the United Kingdom in particular. The platform actively scouts for opportunities in the European cannabidiol wellness and health in general and of the United Kingdom in particular. The aim of the Supreme Heights investment platform is for investments in the cannabidiol business segment, which are strategic. It also delivers support services for cannabidiol focused brands and premium offerings. Primarily the platform targets high-growth health and wellness businesses.
The company's focus on the United Kingdom market is evident from the fact that the Supreme Heights investment platform will target only prospects in the United Kingdom and Europe.
Launch of the investment platform is a smart move on the part of the company. The management has extensive exposure in areas of the cannabis supply chain, marketing network, regulatory bottlenecks, product commercialisation, and corporate support services. Also, the top brass of the company has extensive experience in the launch of cannabis-based premium branded products. It will also come in good stead for the investment platform. The move to focus on the European cannabidiol market is a sound move on the part of the company. It is because the cannabidiol is currently undergoing extensive regulatory changes, thereby opening newer and lucrative yet untapped markets.
Financial Highlights (9M and Q3 FY 2019, Canadian Dollars (CAD)) – May 13, 2019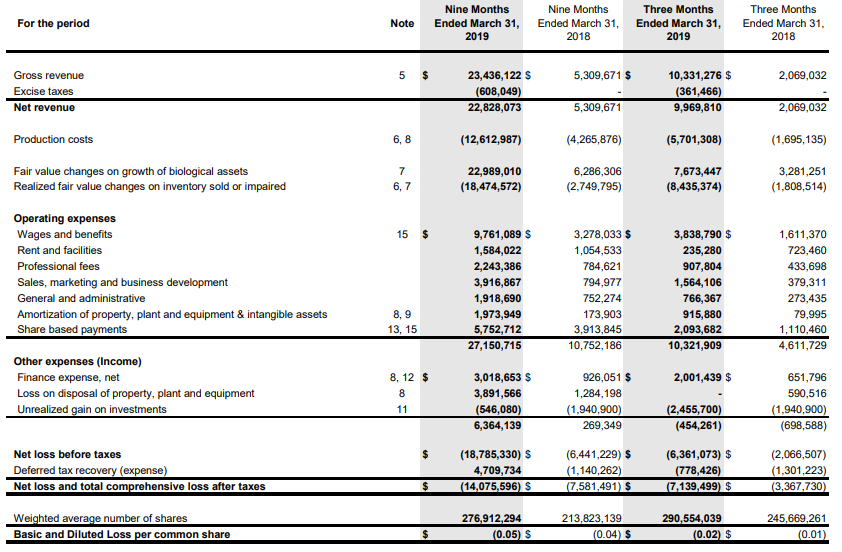 Gross Revenue for 9M FY 2019 (for the period ending March 31, 2019) came in at CAD 23.45 million versus Gross Revenue of CAD 5.31 million in 9M FY 2018. The upside in revenue came from the higher realisation from the average price of cannabis flower, which went up by twenty-four per cent year over year. The performance was also boosted by the launch of new products targeted towards adult users in Canada. Finally, higher capacity in the 7ACRES' cultivation facility also played a role in the upside. Production costs increased to CAD 12.61 million as compared to CAD 4.27 million in the year-ago period. Overall, 9M FY 2019 operating income came in at CAD 27.15 million as compared to Operating income of CAD 10.75 million in 9M FY 2018. Net loss after taxes for 9M FY 2019 came in at CAD 14.08 million versus Net Loss after taxes for 9M FY 2018 of CAD 7.58 million. The company's basic and diluted loss per share in 9M FY 2019 came in at CAD 0.05 versus a loss per share of CAD 0.04 in the year-ago period.
Supreme Cannabis Company Inc Share Price Performance
Daily Price Chart (as on July 23, 2019), before the market close. (Source: Thomson Reuters)
On July 23, 2019, at the time of writing (before the market close, GMT 02:16 PM), Supreme Cannabis Company Inc shares were trading at CAD 1.42, up by 0.71 per cent against the previous day closing price. Stock's 52 weeks High and Low is CAD 2.43/CAD 1.15. The outstanding market capitalisation was around CAD 458.23 million.
Supreme Cannabis Company Inc plans big for the United Kingdom market
After making forays in the Canadian market, it seems Supreme Cannabis Company Inc has big plans for the United Kingdom market. The company's wholly-owned subsidiary, 7ACRES, is a Licensed Producer. It manufactures dried cannabis to the tune of about thirty-three thousand and five hundred kilograms annually. This production is more than the current requirement of the company in its core market in Canada. It opens the horizon of the company towards new markets like the United Kingdom.
Supreme Cannabis Company Inc. earlier in March 2019 initiated steps to start a part of its production process in Malta. In line with this strategy, Supreme Cannabis Company Inc. signed an agreement with a Maltese government agency, Malta Enterprises. The Maltese government agency is the single point agency to entice investors in Malta. Supreme Cannabis Company Inc. management expects this would help it in getting a production license for cannabis in Malta.
Management is also prudent at making acquisitions aimed at diversifying its product base. Thus, to secure the supply of medical cannabis oil, the company in 2018 acquired Medigrow, a licensed producer of cannabis in the Kingdom of Lesotho. The acquisition was purely towards acquiring the assets, since Supreme Cannabis Company Inc., till date has no intention to target the market of Lesotho with cannabis oil. The acquisition was solely for catering to its global international wellness and medical cannabis markets, it is since Medigrow's cannabis oil production cost is on the lower side globally. Cannabis oil is a primary raw material for Supreme Cannabis Company Inc.'s global wellness and medical cannabis products.
More importantly, the company increased its foothold in the United Kingdom cannabis market, through its recent acquisition of Truverra Inc, its European subsidiary which has a well-established network across the United Kingdom.