Cora Gold LTDÂ
With an expansive portfolio of prospective gold assets in two world-class locations, Mali and Senegal in West Africa, London listed gold exploration Cora Gold Ltd (LON: CORA) is ideally placed to build both in-ground and shareholder value rapidly. Its large footprint of >1,200 sq km land across known gold belts encompasses several projects including its flagship project, Sanankoro, within the Yanfolila Gold Belt in southern Mali, which has a 1-2 million-ounce exploration target and has the potential for a standalone mine. Notably, a recent Scoping Study at this project suggested the potential for an 84 per cent IRR at US$1,400 gold and a payback of 18 months.
Other projects include the Yanfolila Project Area, in the same region as Sanankoro, and the Diangounte Project Area in western Mali / eastern Senegal, within the Kedougou-Kenieba Inlier, also known as the 'Kenieba Window'.
The company is led by an experienced team with a track record of discovery and development in Africa. It also boasts an impressive collection of supportive high-calibre shareholders including Hummingbird Resources, Lord Farmer and the Quirk family.
Investors should expect a steady stream of news throughout 2020 as results come in from ongoing exploration programmes. The focus is on Sanankoro, where several tens of kilometres of the known structure are largely untested; however, programmes are planned across the portfolio.
Prospective ProjectsÂ
Sanankoro Project - The flagship Sanankoro Project includes five contiguous permits: Sanankoro, Bokoro Est, Bokoro II, Dako II, Kodiou as well as three additional permits, Karan, Karan Ouest and Mokoyako, within the project area.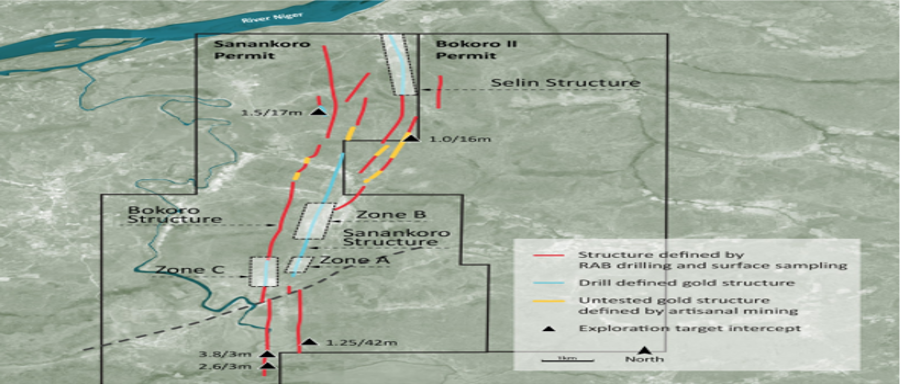 Map 1: Sanankoro Gold Discovery - Principal Structure and Prospects (Source – Company Website)
Exploration work carried out by the company has established a global near-surface target restricted to just 100m depth, which comprises substantial oxide mineralisation of 30-50 million tonnes, containing 1-2 million ounces (Moz) of gold.
A maiden Resource Estimate (MRE) of 5.0 million tonnes (Mt) at 1.6 g/t Au for 265k ounces of gold was completed by SRK in December 2019. This is an initial step in defining the overall oxide potential at the project given it was based on under 25 per cent of the total 40 linear km strike length of the potential mineralised zones identified to date. A slight amount of sulphide material was included in the MRE, confirming the company's hope that expansion into the sulphide zones could provide considerable future upside.
At the start of 2020, Cora released a Scoping Study overseen by independent firm Wardell Armstrong International, which shows Sanankoro has the potential to be a highly profitable standalone oxide mine. This investigated the potential development of the near-surface oxide resources, which the company expects to expand significantly in time to incorporate additional oxide and sulphide potential. At US$1,400 gold price, a 1.5Mtpa Heap Leach Mine delivers:
84% Internal Rate of Return ('IRR')
+US$19m per year average free cash flow generation
US$30.9m net present value ('NPV') at 8% discount rate
US$942 per oz All in Sustaining Cost ('AISC')
+45,000 oz per year average production
US$20.6m pre-production Capital Expenditure ('capex')
Payback period of less than 18 months
Drilling programmes are ongoing to test extension and parallel mineralised structures to known resources.Â
Yanfolila Project - The Yanfolila Gold Project comprises six permits encompassing 450 sq km: Tekeledougou, Farassaba III, Tagan, Fingouana, Siekorole, and Winza.  Notably, Tekeledougou lies some 60 kilometres south of Sanankoro and is situated within 8 kilometres of Cora's major shareholder, Hummingbird Resources' producing Yanfolila Plant.
To date, several reconnaissance drillings programmes have been conducted at the project confirming the presence of gold mineralisation. The company's primary focus is on the Kouroudian & Woyoni prospects within the Tekeledougou Permit where results to date include 56m @ 2.2 g/t Au, 17m @ 6.8 g/t Au and 1m @ 35.7 g/t Au. Further programmes are planned for 2020.
Map 2: Yanfolila Project Area (Source – Company Website)
Diangounte Project- The Diangounte Project consists of three contiguous permits: Diangounte Est, Satifara Ouest and Kakadian in western Mali and the Madina Fulbe Permit in eastern Senegal. Drilling and exploration in western Mali have yielded intersections of 6m of 2.51 g/t Au, and of 2m at 6.94 g/t Au. Drilling and exploration activities at eastern Senegal have yielded intersection of 3m at 41.20 g/t Au and of 3m at 7.86 g/t Au.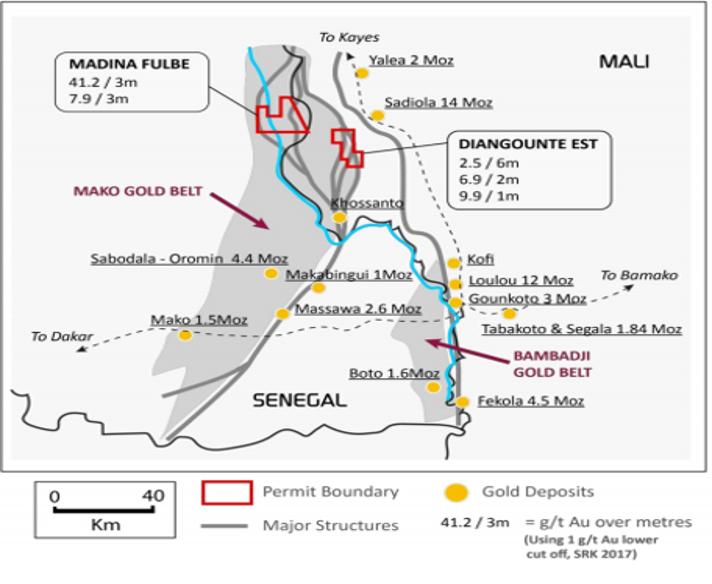 Map 3: Diangounte Project Area (Source – Company website)Â
Latest Updates – Drill Results
First drill results from a campaign which started in November 2019 at Sanankoro were announced on 11 February 2020, mainly testing continuity of mineralisation at depth. The results included:
SC241: 2.61 g/t Au over 29m from 82m including;

89 g/t Au over 12m in sulphide portion of the hole

SC246: 4.2 g/t Au over 7m from 101m including;
SC248: 2.05 g/t Au over 14m from 61m including;
SC248: 1.08 g/t Au over 18m from 84m
SC250: 1.68 g/t Au over 4m from 137m, hole ended in mineralisation
The announcement concluded that the current Resource has a range of pit depths from about 40-100m, so there is significant scope to increase the open pit Resources with further successful drilling.
Share Price Performance On LSE
(Source – Thomson Reuters)
On 11 February 2020, the shares of the company were trading on the London Stock Exchange at GBX 5.80 (11.33 AM GMT), with a gain of 2.61% from the previous day's closing price of GBX 5.75. In the last week, the shares have generated a return of +3.11 per cent, and in the last year to date too, the shares have generated a return of +3.11 per cent.
The shares, during the past 52 weeks of trading have touched a 52-week high of GBX 10.00 and a 52-week low of GBX 2.70. The company's market capitalisation stands at around £7.61 million on the London Stock Exchange at the time of writing on 11 February 2020. The stock's average traded volume for five days was 179,055.00; 30 days- 288,011.90 and 90 days – 259,214.94.
Outlook
2020 has started well for Cora, with a positive Scoping Study and impressive drill results from the company's flagship project, Sanankoro; expect more in the same vein to follow throughout the year. Whilst Sanankoro has the potential to be an extremely profitable standalone oxide mine, having a high IRR and a low capex payback period, investors should not forget the company's other projects, Yanfolila and Diangounte, where high yielding gold ore grades have also been reported.  Further work is planned at these projects, which will also be reported during the year, to add significant weight to the future growth prospects of the company.
The directors and management have proven track records in discovery and mine development; Cora is one to watch as they focus on repeating previous success stories.