Taptica International Ltd. (TAP) is into consumer services specializing in the media sector and having operations in more than 60 countries. The company offers advertising services, taking maximum advantage of the latest video and display technology to reach users for every app, service and brand. The company works for more than 450 leading advertisers including Amazon, Twitter and Disney etc.
Recent news
Taptica International Limited was an AdTech vendor of Fetch Media Limited to promote Uber's mobile app (under the "Uber Campaign"). There was no direct involvement of Taptica or any of its subsidiaries and Uber. Overall, Fetch was running thousands of campaigns successfully, directly liaising with Taptica daily. As is standard procedure in the business, reconciled reports were sent by Taptica to Fetch at the end of each month and the final billed amounts were approved for payment by Fetch. The revenue of Taptica directly related to" the Uber Campaign" is insignificant. The relationship between Uber and Fetch has been in hot water apparently, by their litigation history and Fetch has even quoted Uber as a "faithless business partner" in the public domain. Taptica Ltd. and its subsidiaries consider the claims to be meritless and will put up a strong defence against these claims.
Financial Results and Review – Financial Year 2018 ($, thousand)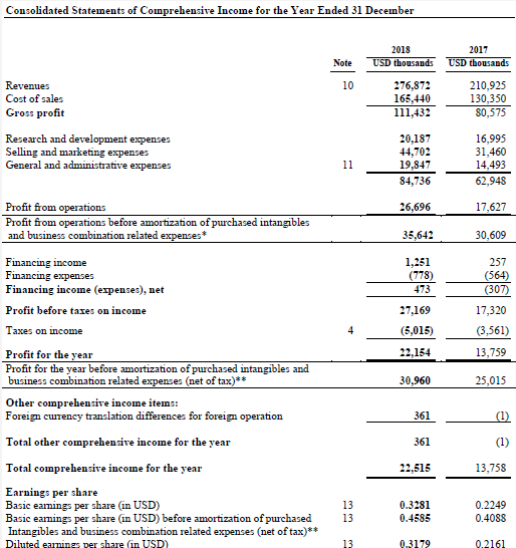 (Source: Annual Report, Company's website)
For the Financial Year ending 31 December 2018, the company's reported revenue stood at $276,872 thousand as compared to $210,925 thousand in the same period of last year. There was a significant increase of 31.3 per cent due to an increase in revenue from American and Asian region whereas, revenue from Europe and Israel declined. The business of the company remained cash-rich with a strong balance sheet.
The company had a sustained diversification of revenue streams with a focus on margin improvement. The Gross Profit for Financial Year 2018 increased by 38 per cent to $111,432 thousand from $80,575 thousand in Financial Year 2017. The gross margin increased from 38.2 per cent in Financial Year 2017 to 40.25 per cent in Financial Year 2018 due to an increased efficiency and enabling campaign optimisation. The company's reported Adjusted EBITDA for Financial Year 2018 stood at $44.1 million as compared to $34.2 million in Financial Year 2017.
The profit from operations for Financial Year 2018 stood at $26,696 thousand as compared to $17,627 thousand in Financial Year 2017. The Profit before tax stood at $27,169 thousand in Financial Year 2018 as compared to $17,320 thousand in Financial Year 2017. The company's reported total comprehensive Income for the Year 2018 stood at $22,515 thousand as compared to $13,758 thousand in Financial Year 2017. The company's reported Earnings per share for Financial Year 2018 stood at 32.81 cents as compared to 22.49 cents in Financial Year 2017. The company's Diluted EPS for Financial Year 2018 stood at 31.79 cents as compared to 21.61 cents in Financial Year 2017. The Net cash inflow from Operating activities for Financial Year 2018 stood at $37.5 million as compared to $30.8 million in Financial Year 2017.
R&D expenses increased to $20.2 million in the year (2017: $17 million), as the Company continued to invest in R&D to support the growing scale of Taptica's technology platform and expansion in its offering. During the year the company was able to consolidate and decrease infrastructure and operating costs within R&D.
Sales & Marketing expenses increased to $44.7 million (2017: $31.5 million), with the focus on enhancing brand recognition, expanding the global customer base and investing in the expansion of the US and global offices, whilst simultaneously, the Company decreased its cost base within the performance marketing division.
The company had shown good financial growth as against the previous year. There had been strong growth in the overseas business of the company especially in America and Asia region. Recently released results for the financial year 2018 also showed the strong growth outlook of the company.
While overall the Company has performed to plan in 2018, the post period end merger with RhythmOne plc has the potential to be a step-change for Taptica. The Board believes it will create a leading video advertising business with the strong US and international footprint, coupled with significant economies of scale across the supply chain and an end-to-end advertising technologies stack. The outlook for the Group remains positive and as previously flagged in the March 2019 update, trading at the beginning of the current financial year has been mixed between the two divisions. The Board's expectations for advertising platform (Tremor Video DSP) remains high, with management focused on delivering sustainable margin improvement in this segment. Taptica's performance-based advertising division has performed to plan at the outset of the current financial year however it has encountered headwinds across the supply chain affecting much of the industry and a few key customers have engaged later this year than in previous years. The Board expects that apart from creating one of the leading digital advertising companies in the US, the merger with RhythmOne will mitigate much of the market volatility within Taptica's performance-based marketing activities by providing additional access to quality supply, as well as to deliver a number of further synergies within both the performance and branding businesses.
Taptica International Limited Share price performance
Daily Chart as at June-14-19, before the market close (Source: Thomson Reuters)
At the time of writing (as on June 14, 2019, at 11:01 AM GMT), shares of Taptica International Limited were quoting at GBX 112.25 and added 11.13 per cent against the yesterday's closing price level. The outstanding market capitalisation of the company stood at around £128.96 million with a dividend yield of 4.99 per cent.
In the last 52-wks, shares of Taptica International Limited have registered a high of GBX 400 (as on Sep 04, 2018) and a low of GBX 73.20 (as on Jun 11, 2019). At the current trading level, as quoted in the price chart, its shares are trading 71.93 per cent below the 52wk high price level and 53.34 per cent above the 52wk low price level.
Today's volume in the stock (before the market close, at the time of writing) stood at 2,465,829. Stock's average traded volume for 5 days was 2,673,948.00; 30 days 733,051.87and 90 days – 897,339.31. The average traded volume for 5 days was up by 264.77 per cent as compared to the 30 days average traded volume. The company's stock beta was 1.57, reflecting higher volatility as compared to the benchmark index.
From the SMA standpoint, at the time of writing, its shares were trading below the 30-days SMA. However, they were trading considerably below the and 60-days and 200-days SMA, which indicates a negative trend in the stock price and carrying the potential to move down further from the current trading levels.
In the past 1 year, shares of Taptica International Limited have delivered a negative price return of 64.56 per cent. However, on a year-to-date basis, the stock was down by approximately 36.88 per cent and declined by 33.99 per cent in the past three months.
With Bank of England reducing the interest rates to a historic low level, the spotlight is back on diverse investment opportunities.
Amidst this, are you getting worried about these falling interest rates and wondering where to put your money?
Well! Team Kalkine has a solution for you. You still can earn a relatively stable income by putting money in the dividend-paying stocks.
We think it is the perfect time when you should start accumulating selective dividend stocks to beat the low-interest rates, while we provide a tailored offering in view of valuable stock opportunities and any dividend cut backs to be considered amid scenarios including a prolonged market meltdown.


CLICK HERE FOR YOUR FREE REPORT!