Highlights

In 2014, when Russia annexed Crimea, there was little to no condemnation from BRICS
In February, only Brazil voted yes on a UN General Assembly resolution that called on Russia to end its military operations in Ukraine
Russian banks have been removed from the SWIFT system
BRICS – Brazil, Russia, India, China and South Africa – may be characterized as that combination of newly industrialized countries and powers, that may be too significant to be ignored by the West. They account for a combined total of nearly 42 per cent of earth's population and about 27 per cent of the planet's land surface. Considering this, any effort to uplift humanity as a whole might be amiss if they choose to ignore this group.
A little history
While the concept was in the works years before, the first official BRIC summit was held in June 2009. In 2011, the five countries spoke out in unison condemning the West for airstrikes in Libya.
In 2014, when Russia annexed Crimea, there was little to no condemnation from the group. In fact, they abstained from a vote at the UN General Assembly that condemned the Russian annexation of Crimea.
Back then, on Australian Foreign Minister Julie Bishop's suggestion that Russia be banned from a G20 meeting, BRICS foreign ministers retorted in unison. "The custodianship of the G20 belongs to all Member States equally," their statement reminded her.
In February too, only Brazil voted yes on a UN General Assembly resolution that called on Russia to end it military operations in Ukraine. The others abstained. Mind, most of the BRICS countries are facing separatist movements at home.
Also read: What sanctions has Canada imposed on Russia over Ukraine crisis?
What are some challenges BRICS countries face amid Russia-Ukraine war?
Challenges BRICS countries face amid Russia-Ukraine conflict
The BRICS bank aka the New Development Bank (NDB) has put on hold transactions in Russia. Efforts by the West include the removal of Russian banks from the SWIFT system. As intended, this is likely going to isolate Russia from international trade and will probably be one of the biggest challenges for BRICS countries.
Reportedly, a Chinese bank with a branch in Moscow has seen an influx of Russian companies wanting to open new bank accounts. FESCO Transportations Group, a logistics and transport company, announced that will accept payment in yuan.
Also read: Why did Russia invade Ukraine?
India is also allegedly exploring alternative payment mechanisms. One option being supposedly looked at was setting up Russian firms with rupee accounts. The country has a massive agricultural sector and needs Russian fertilizer.
On the flip side, there may be opportunities too. Indian steel mills are reportedly stepping up to the plate literally, to plug the supply void left by Russia. India is the second-biggest steel producer in the world, Russia the fifth. The demand it is experiencing in the sector is coming from all over the globe including Europe, the Middle East and Africa.
Also read: How could Russia seizing Zaporizhzhia nuclear plant impact the world?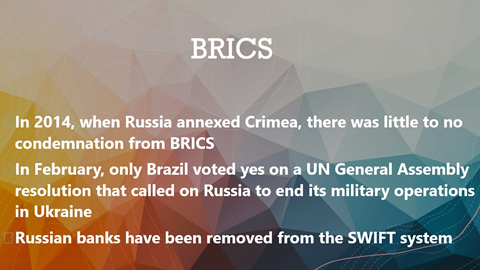 Image source: © 2022 Kalkine Media®
Viewpoint
Deepening a West versus East divide is perhaps in the best interest of none. Especially so in a nuclear-armed world. It isn't like the West and Russia have zero common objectives. Prolonged disruption to the international economic system is going to hurt many others than just Russia.
Also, a lot of debate might be raised. Will this make the BRICS countries further question the custodianship of the West? Will this push Putin and Russia toward China? Could it lead to "de-dollarization"?
Also read: Russia-Ukraine conflict: What are economic costs of a war?