Highlights
Medicare is the universal healthcare scheme of Australia and ensures access to a wide range of health and hospital services at reduced or no cost to all Australians.
Prime Minister Scott Morrison has made it clear that his government will make no reductions to Australia's universal healthcare scheme if he gets re-elected
The Labor party has made pledges related to aged care, including wage raises, mandating on-site registered nurses and minimum hours of face-to-face contact
Budget 2022-2023 announced major reforms in PBS thresholds, mental health services, aged care services, and disability insurance scheme
Australia has one of the best healthcare systems globally, offering its citizens safe and affordable healthcare services. The country hosts two kinds of healthcare systems – public and private. The public health system, popular as Medicare, provides essential hospital treatment, doctors' appointments, and medicines for free or at a remarkably lower cost.
Medicare: The foundation of the health system in Australia
Established in 1984, Medicare is the universal healthcare scheme of Australia. It ensures access to a wide range of health and hospital services at reduced or no cost to all Australians.
Image source: © 2022 Kalkine Media®
The Pharmaceutical Benefits Scheme (PBS) is a significant part of Medicare, which makes some prescription medicines cheaper. A person enrolled under Medicare is required to pay only a portion of the total cost of medicines listed under PBS and the rest is paid by the Australian Government.
The facility is available for Australian and New Zealand citizens, permanent residents in Australia, and people from countries with reciprocal agreements.
Do read: ASX stocks in focus amid Australia's record health budget
Federal Election 2022: Claims for healthcare
As Federal Election draws closer, competing parties are making their claims and predictions about healthcare schemes. Earlier in April, Prime Minister Scott Morrison made it clear that his government will make no reductions to Australia's universal healthcare scheme if he gets re-elected. Similarly, the Labor party has made pledges related to aged care, including wage raises, mandating on-site registered nurses and minimum hours of face-to-face contact.
In the budget reply 2022, Anthony Albanese from the Labor party announced five measures for the aged care:
Provision of full-time qualified and registered nurse for every aged care facility
Increasing standard of aged care by providing a greater number of carers and more time
A rise in pay for aged care workers
Ensuring every aged care resident gets good and nutritious food
Deliver new funding, more staff and better support to the aged care sector and make sure that every single dollar of that investment goes to better care for people
However, both major parties have failed to pledge for increasing funding for hospitals
Also read: ACA flags early learning sector concerns ahead of Federal Election 2022
What the Cancer Council has to say?
Cancer Council Australia has called on all political parties to pledge to five main concerns to deliver better cancer outcomes to all Australians: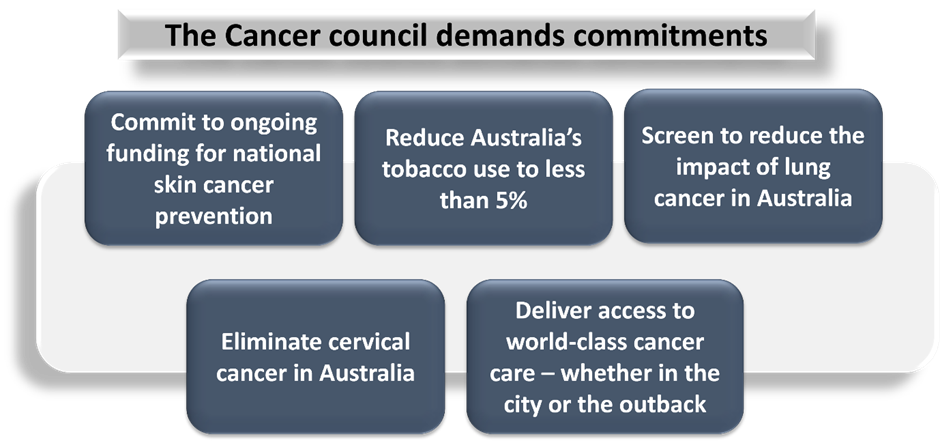 Image source: © 2022 Kalkine Media®
Do read: Oncosil hits milestone in pancreas cancer treatment; shares leap 78%
Budget 2022-2023: Highlights from healthcare
In the recent budget announcement (29 March 2022), the Australian government ensured to upgrade Medicare to include new services such as cancer diagnosis, genetic testing and supporting pregnant women's health. Starting this year, the government made telehealth a permanent part of Medicare. Other major updates for the healthcare sector are:
The government will reduce the PBS Safety Net Thresholds from 1 July 2022, which is expected to benefit around 2.4 million Australians.
Investment of AU$547 million in mental health services
In 2022‑23, spending on aged care is expected to be AU$29.8 billion, up from AU$13.3 billion in 2012‑ Additionally, the government is committing a further AU$468.3 million to support the aged care sector
The National Disability Insurance Scheme will provide AU$33.9 billion to over 500,000 Australians who have a permanent and significant disability in 2022‑ The funding will be jacked up to AU$44.6 billion in four years.