Highlights

The TSX Capped Utility Index rose by about three per cent quarter-to-date.
Stocks of TransAlta Renewables plummeted by roughly five per cent this year
Canadian Utilities posted an increased earnings of C$ 151 million in Q2 2022, higher than C$ 5 million reported in Q2 2021
Income investors looking for defensive play can explore quality dividend-paying utility stocks like TransAlta Renewables (TSX:RNW), Canadian Utilities (TSX:CU), and Polaris (TSX:PIF) etc. to boost their portfolio.
The utility sector could withstand times of economic uncertainty. The TSX Capped Utility Index rose by about three per cent quarter-to-date (QTD) amid rising inflation and continuous interest rate hike.
Keeping these points in mind, Kalkine Media® have shortlisted five dividend-paying utility stocks that passive income seekers can consider right now. Let us closely glance at these TSX utility stocks.
1. TransAlta Renewables Inc (TSX:RNW)
TransAlta said its renewable energy production jumped to 1,231 GigaWatt hours (GWh) for the second quarter ended on June 30 this year, higher than 1,051 GWh in Q2 2021. The mid-cap clean energy producer reported a top line of C$ 139 million during the latest quarter, up from C$ 92 million a year ago.
TransAlta Renewables also posted C$ 49 million in cash available for distribution in Q2 2022, relatively up from C$ 40 million recorded in Q2 2021. Further, the renewable energy firm also declared a monthly dividend of C$ 0.78 on August 3, to be paid on December 30 this year.
According to Refinitiv findings, RNW stocks recorded a Relative Strength Index (RSI) value of 68.36 (near the overbought level of 70) on August 3, which denoted a medium-to-high momentum.
2. Canadian Utilities Limited (TSX:CU)
Canadian Utilities said it invested C$ 294 million in capital projects during Q2 2022. The large-cap utility company revealed that 83 per cent of this total investment was invested in regular utilities while the remaining 17 per cent was for energy infrastructure.
Canadian Utilities posted increased earnings of C$ 151 million attributable to equity holders in the second quarter this year compared to C$ 5 million reported in the same quarter last year. The utility service company is set to pay a quarterly dividend of C$ 0.444 on September 1.
The CU stock spiked by over 12 per cent in nine months. As per Refinitiv findings, CU stocks saw their RSI value nosedive to 50.05 (indicating a moderate trend) on August 3.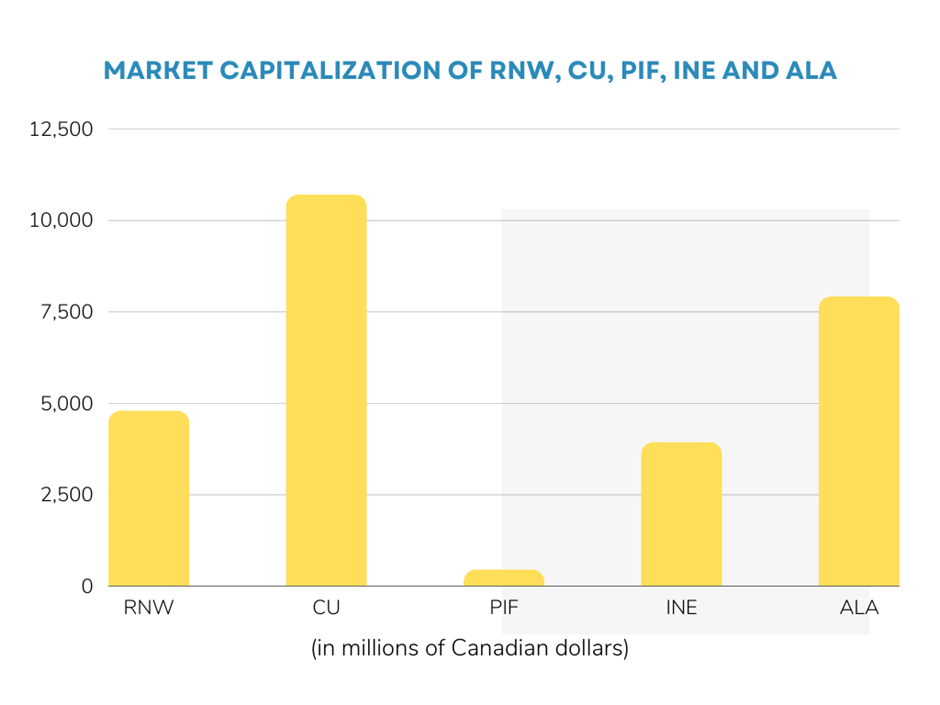 ©Kalkine Media®; ©Garis Studio via Canva.com
3. Polaris Renewable Energy Inc (TSX:PIF)
Polaris Renewable, formerly named Polaris Infrastructure, is a Toronto-headquartered firm focused on renewable energy projects in Latin America. The small-cap firm completed the acquisition of Canoa 1, a solar project in the Dominion Republic operating at a capacity of 32 MWdc.
Polaris Renewables held a debt-to-equity (D/E) of 0.62 (lower than one), which generally indicates less financial risk. Polaris, in addition, distributes dividends (currently US$ 0.15) every quarter.
The PIF scrip shot up by over 35 per cent in six months. Refinitiv data suggests that PIF stocks held an RSI value of 56.52 on August 3.
4. Innergex Renewable Energy Inc (TSX:INE)
Innergex reported a double-digit growth of 19 per cent in production to 2.85 million MegaWatt hours (MWh) in Q2 2022 compared to 2.39 million recorded in the same period of 2021. Innergex also saw a revenue surge of 29 per cent year-over-year (YoY) to C$ 219.74 million in Q2 2022.
Innergex also announced a quarterly dividend of C$ 0.18 per common share to be disbursed on October 17. Stocks of Innergex Renewable soared by nearly 11 per cent QTD. According to the data gathered from Refinitiv, INE stocks appeared to be gaining some momentum, with RSI value of 68.09 on August 3.
5. AltaGas Ltd (TSX:ALA)
AltaGas is scheduled to dole out a quarterly dividend of C$ 0.265 on September 29. On the financial front, the C$ 7 billion-market cap company saw its revenue jump to C$ 3.24 billion in Q2 2022, up from C$ 2 billion recorded in the quarter ended on June 30, 2021. AltaGas also improved to net profit to C$ 35 million in the latest quarter, higher than C$ 24 million in the same quarter of the previous year.
The ALA stock climbed over 11 per cent in nine months. The utility stock was down by nearly 10 per cent from a 52-week high of C$ 31.16 (April 19). On August 3, stocks of AltaGas recorded an RSI value of 56.28, as per Refinitiv findings.
Bottom line
The TSX benchmark index lost almost eight per cent in 2022 in contrast to the TSX utility index, which gained by over two per cent this year. Hence, Canadian investors focused on passive income might consider TSX utility stocks.
Please note, the above content constitutes a very preliminary observation based on the industry, and is of limited scope without any in-depth fundamental valuation or technical analysis. Any interest in stocks or sectors should be thoroughly evaluated taking into consideration the associated risks.