Highlights

Stocks of Cathedral (TSX: CET) shot up by 42 per cent to C$ 0.71 at 11:17 EST on Monday, July 4
The Canadian energy service company is set to acquire Altitude Energy for about US$ 100 million
Cathedral stock rose by almost 66 per cent on a year-to-date
Stocks of Cathedral Energy (TSX: CET) shot up by 42 per cent to C$ 0.71 at 11:17 AM EST on Monday, July 4, in the wake of its newly announced agreement to acquire Altitude Energy Partners, a US-based directional drilling service business of Black Bay Energy Capital.
Cathedral, which specializes in providing drilling services to the oil and gas sector, aims to expand its drilling operations to the United States by entering into the US$ 100 million deal, payable in combination of cash and CET shares. The energy service company expects to close this acquisition in early July this year.
In the light of this expansion, let us explore more about Cathedral Energy.
Cathedral Energy Services Ltd (TSX: CET)'s financial results in Q1FY2022
The Canadian driller service provider reported a growing revenue of C$ 34.38 million in the first three months of FY2022, notably up from C$ 11.36 million in Q1 FY2021. The C$ 91-million market cap company increased its profitability by posting a rising net profit of C$ 2.24 million in the latest quarter compared to a loss of C$ 2.08 million a year earlier.
Cathedral's latest cash flow statement shows C$ 2.35 million in income from operating activities in Q1 2022 compared to a loss of C$ 2.24 million a year ago.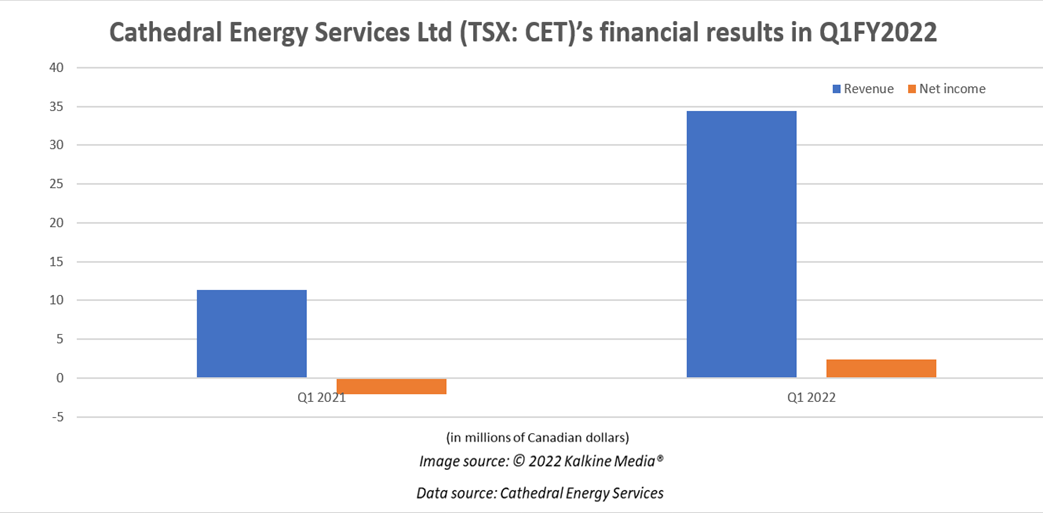 Cathedral Energy's stock performance
Cathedral stock rose by almost 66 per cent on a year-to-date (YTD) basis. From a 52-week high of C$ 0.99 (on April 18), CET stock has fallen by over 36 per cent.
As per Refinitiv findings, CET seems to be gaining traction with a sharp increase in its Relative Strength Index (RSI) to 46.72 on July 4 from below 30 in the previous session. Cathedral's debt-to-equity (D/E) ratio was 0.68 (below 1) reflects low solvency risk.
Bottomline
Cathedral acquired private directional drilling service Compass, based in Canada, for a consideration of C$ 9.5 million recently. With such strategies to expand its drilling footprints across geographies, CET stock could significantly grow in value. Also, the S&P/ TSX Energy Index zoomed by almost 40 per cent this year. Hence, investors could consider this penny stock but in consideration to their risk tolerance.
Please note, the above content constitutes a very preliminary observation based on the industry, and is of limited scope without any in-depth fundamental valuation or technical analysis. Any interest in stocks or sectors should be thoroughly evaluated taking into consideration the associated risks.