In Canada's Alberta, daily oil production volume registered a record jump in March 2021. This surge came after two months of negative volume growth. Now, some estimations suggest that this recovery can push oil companies to better earnings in coming years.
Let's put this into perspective with some figures. Average daily oil production in the region was about 2.9 million in May 2020. From there, it surged to 3.6 million in March 2021. West Texas Intermediate (WTI) futures are also hovering over US$ 60 since last month. These improvements come as several countries around the world are registering progress in their COVID-19 vaccination campaigns.
In this light, let's look into two TSX-listed oil and gas stocks that you can explore for medium to long-term investments – Suncor Energy (TSX:SU) and Canadian Natural Resources (TSX:CNQ).
Suncor Energy Inc. (TSX:SU)
Suncor, one of the country's top energy companies, is engaged in upstream production as well as crude oil refining. Suncor claims to have about seven billion barrels of oil reserves (including proven and probable). The company is also partnering with utility company ATCO Ltd (TSX:ACO.X) on a potential clean hydrogen production project in Alberta.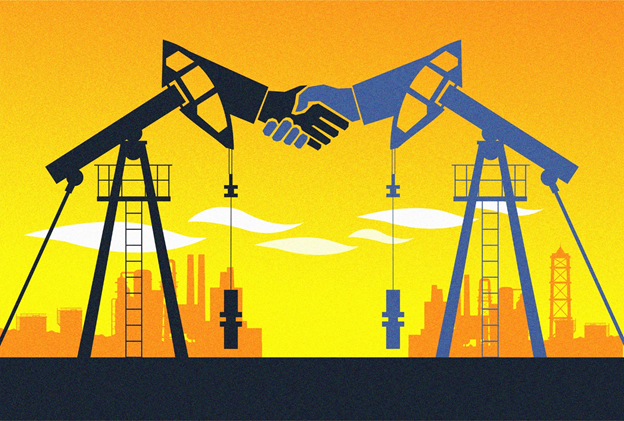 Copyright © 2021 Kalkine Media
The oil and gas stock surged by about 28 per cent this year. The company pays quarterly dividends of C$ 0.21, although its three-year dividend growth is in the negative territory (-8.21 per cent).
Suncor's market cap is over C$ 42 billion, and its return on equity is 0.07 per cent, as per TMX.
In Q1 2021, Suncor posted operating earnings of C$ 746 million, as against an operating loss of C$ 421 million in Q1 2020.
Canadian Natural Resources Limited (TSX:CNQ)
Canadian Natural Resources is another oil and natural gas producer in Western Canada that can gain from the projected oil boom. It yielded about 1.16 million barrel oil equivalent per day on an average last year.
The C$ 49-billion market cap company posts a return on equity of 6.87 per cent, as per TMX. Its quarterly dividends, at C$ 0.47, grew by 12.23 per cent in the last three years.
Canadian Natural's stock surged nearly 20 per cent in the last three months and ballooned by about 31 per cent this year.
In first quarter of 2021, its net earnings climbed to C$ 1,377 million against that of C$ 1,282 million in Q1 2020.
The above constitutes a preliminary view and any interest in stocks should be evaluated further from investment point of view.