Highlights

Origin Energy anticipates its Energy Markets division's underlying EBITDA to be $500 million to $650 million in FY23.
The company witnessed a 30% increase in its FY22 underlying profit compared with the previous year.
Origin Energy (ASX:ORG) released its AGM 2022 report on the ASX on 19 October 2022 (Wednesday), stating that it anticipates a significant increase in its Energy Markets division's underlying EBITDA in FY23.
An expected rise in the natural gas gross profit is the driving force behind improvement of the Energy Markets division's underlying EBITDA over the preceding year. At the same time, the company anticipates the electricity gross profit to continue reducing since higher energy prices are only partially factored into regulated tariffs.
How did Origin Energy perform in FY22?
Financial performance: Compared with the prior year, the underlying EBITDA increased to $2,114 million, from $2,036 million, and the underlying profit increased by 30% to $407 million. Origin reported a loss of $1,429 million, or $2,196 million in non-cash impairment, on a statutory basis.
A record cash dividend from Australia Pacific LNG of $1,595 million, made possible by higher realised oil and spot LNG prices, helped Origin achieve a solid free cash flow position of $1,062 million.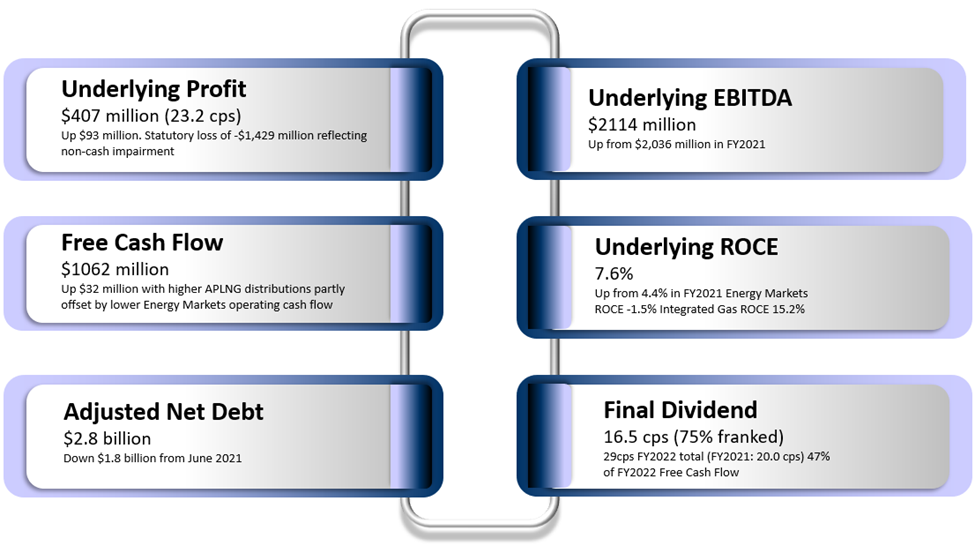 Image Source: © 2022 Kalkine Media ®
Data Source- Company announcement dated 19 October
Operational performance: Origin's domestic gas business did well in the energy markets. However, higher commodity prices, domestic supply disruptions, erratic wholesale electricity prices, higher fuel costs, and wet weather all worked together to put pressure on the Energy Markets division's earnings during the financial year, with the underlying EBITDA declining by 63% from the previous year. Additionally, due to greater anticipated recoveries from producing fields, the reserves climbed dramatically, and revenue increased significantly as a result of higher global commodity prices.
Apart from its financial and operational performance, below are a few key highlights of Origin's FY22 results:
implementation of a new strategy and ambition for driving the energy transition.
completion of the sale of a 10% interest in Australian Pacific LNG.
announcement of accelerated exit from coal-fired power.
announcement of sale of Beetaloo interests and intention of exiting other exploration permits over the years.
release of the first climate transition action plan.
distribution to shareholders for the year of $750 million, including a $250 million share buyback.
Progression of 700 MW battery onsite plan.
$720K donated to charities using its employee-matched giving program.
Talking about Origin's performance in FY22, Scott Perkins, Chairman, Origin Energy, said
Image Source: © 2022 Kalkine Media ®
Data Source- Company announcement dated 19 October
What's in the FY23 and FY24 guidance?
FY23:

Image Source: © 2022 Kalkine Media ®
Data Source- Company announcement dated 19 October
FY24: Origin expects the Energy Markets underlying EBITDA to continue to increase in FY24. As increased wholesale electricity prices pass through to client rates, a greater contribution is anticipated from the electricity industry.