Highlights

James Hardie Industries slumped nearly 15% after the company slashed its earnings forecast for FY23 on Tuesday (8 November 2022).
James Hardie has cited a fall in volumes across all three key regions – North America, Asia Pacific and Europe.
As of 30 September 2022, the company's cash position stood at US$90.7 million, down US$34.3 million from US$125.0 million at 31 March 2022.
On Tuesday, the company has also announced a new capital allocation framework, including US$200 million share buyback.
Manufacturer of fiber cement and gypsum building solutions, James Hardie Industries plc (ASX:JHX), today (8 November) announced results for its second quarter, fiscal year 2023, the three-month period ending 30 September 2022.
As per James Hardie, there has been a reduction in housing market activity due to which the company has updated 2023 adjusted net income guidance range to US$650 million – US$710 million.
At around 1:30 PM AEDT, the shares of the company were trading 13.716% lower at AU$28.810 apiece on the ASX today.
Key takeaways from FY2023 second quarter results as compared to the second quarter FY2022: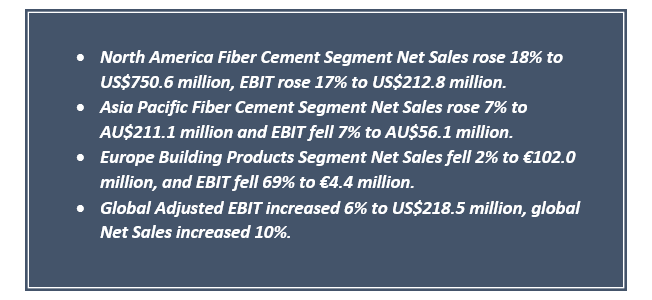 As per the company, the first half of FY2023 witnessed an operating cash flow generation of US$264.6 million and the working capital rose by US$46.9 million. The company has also adjusted its capital allocation framework and has decided to replace providing unfranked ordinary dividend with a US$200 million share buyback programme.
James Hardie explained that its cash position has fallen by US$34.3 million to US$90.7 million as on 30 September 2022, from US$125 million at 31 March 2022. Based on the 'challenging macro-economic conditions and uncertainty looming around the housing market, the company has adjusted the fiscal year 2023 net income range to US$650 million - US$710 million. Previously, the guidance ranged between US$730 million - US$780 million. The main reason that the company has cited is fall in volume expectations.
Share price performance of James Hardie on the ASX
The stock JHX has lost more than 17% in the past five trading days. The shares have lost over 25% in last six months and have shed 47.23% during the last year. On a year-to-date basis, the stock has lost almost 50% of its value. However, looking at the broader picture, the company has moved up 38% in the past five years (as of 1:55 PM AEDT, 8 November).