Highlights

Collins Foods has reported a statutory net profit after tax (NPAT) of AU$11 million for the half year ended 16 October 2022.
The NPAT has fallen from the AU$26.4 million reported in the prior corresponding period.
Revenue increased 15% to AU$614.3 million for the period.
The KFC and Taco Bell franchise in Australia, Collins Foods Limited (ASX:CKF), on 29 November 2022, announced its results for the half year ended 16 October 2022 (HY23). As per Collins, the given period witnessed the brand strength of KFC driving robust same-store sales (SSS) growth. This helped lessen a few aftereffects of the existing cost inflation.
Meanwhile, the shares of the company were spotted trading 17.330% lower at AU$8.300 apiece at 12:18 PM AEDT on the ASX on Tuesday.
Key takeaways from the half-year results shared by Collins Foods:
The company's revenue has risen 15% to AU$614.3 million against AU$534.2 million in HY22.
The statutory EBITDA has been reported to be AU$93.4 million as compared to HY22's AU$92.5 million.
Underlying EBITDA is up 0.5% to AU$95.4 million compared to AU$94.9 million in HY22.
Statutory NPAT declined to AU$11.0 million, compared to HY22's AU$26.4 million.
Underlying NPAT of the company has fallen 14.2% to AU$24.8 million. This was AU$28.9 million in HY22.
Collins posted a Net Operating cash flow of AU$69.1 million against AU$72.3 million in HY22.
As per Collins, net debt was reduced AU$6.5 million to AU$191.1million, and Net Leverage Ratio decreased to 1.31.
The company announced a fully franked interim dividend of 12.0 cents per ordinary share. The dividend value was the same in HY22.
Collins Foods, via today's release, also shared the financials for KFC Australia in particular. KFC Australia's revenue rose 10.6% to AU$479.6 million against AU$433.7 million IN HY22. The SSS growth was 5.1% against 0.1% in pcp.
The company stated its underlying EBITDA was AU$95.0 million compared to AU$94.3 million in HY22.
The company shared that strong growth in digital and delivery, along with e-commerce, accounted for over 22% of total sales in HY23, up from 16% in HY22.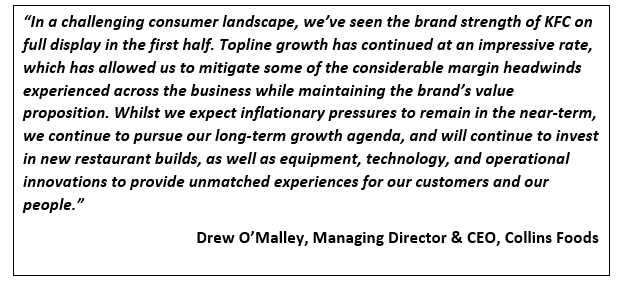 The share price performance of CKF on the ASX:
The shares of Collins Foods have marked a loss of 18.72% in the last five days on the ASX. In the last month, the shares have fallen 12.23% and have shed 13.16% in the last six months on the ASX. The CKF shares lost 34.11% on the ASX during the previous year. However, looking at the broader picture, the shares have moved marginally up by 37.96% on the ASX (as of 12:34 PM AEDT, 29 November 2022).