Highlights

Australian shares extended last week's rebound as investors grabbed stocks in beaten down sectors
Buying was visible across the board with large cap, midcap and small cap participating in the market rally
Meet of G7 nation leaders and their decision on Russia remain the key concern for investors globally
Australian benchmark ASX 200 index gained 1.9% on Monday, building on last week's rebound, amid a broad-based buying. The financial sector led gains in the market as investors grabbed shares of beaten-down Australian big four banks. Energy stocks also ended their dark days becoming the second highest gaining sector on Monday. Over the last five days, ASX200 has gained 4.24%, though still down 9.92% on a year-to-date basis.
How were the sectors and indices placed?
All eleven sectors closed higher alongside the ASX 200 Index. Financials and energy stocks remained the best performers, gaining 2.64% and 2.56%respectively. IT and consumer discretionary sectors also registered more than 2% gains today.
Volatility indicator- A-VIX was down 1.67% continuing its downward trail from last week. Meanwhile All-Ordinaries index gained 1.94%. The Large cap stocks index ASX 50 (XFL) climbed 1.893%, while Midcap index ASX Midcap 50 (XMD) closed 1.886% higher. ASX Small Ordinaries index (XSO) shot up 2.341%.
Top gainers and losers on Tuesday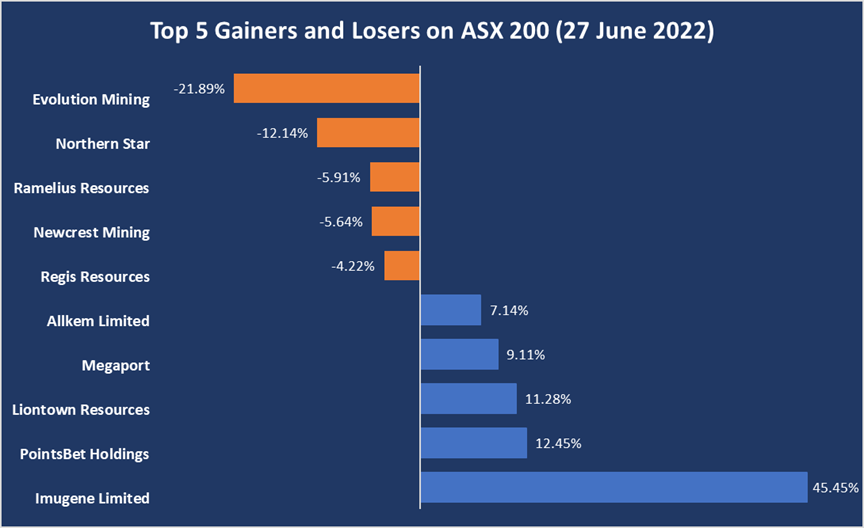 Image Source © 2022 Kalkine Media ®, data source- ASX website
Newsmakers of the day,
Across the Globe,
In US, Wall Street displayed a strong rebound. Market remains focused on policy responses from the Fed to high inflation and recession fears.
In Asia, Japan's Nikkei was gaining along with South Korean KOSPI. In Hong Kong, Hang Seng climbed, and China's Shanghai Composite and Shenzhen also edged higher. Another key market influencer during the week would be the Chinese purchasing manager's index.
European stocks are expected to remain slightly lower on Monday. Investors will be looking toward the European Central Bank -ECB's annual gathering. Another influencer during trade hours in Europe could be the summit of the Group of Seven (G7) leaders for guidance.
On commodities side,
During early hours of Monday in Asia, oil was moving up with investors looking for G7 meeting inputs. The G7 nations are to discuss Russian oil exports and revival of Iran's nuclear deal.
Both the crude benchmarks Brent and WTI were up.
Natural Gas and Gasoline prices followed the downward trail of oil.
Among metals, copper and steel were higher while iron ore continued its price drop.
Also, yellow metal gold is shining brighter as some countries from G-7 nations plan to ban bullion imports from Russia. The import ban is predicted to tighten supplies in the market.
Even other precious metals such as platinum, palladium and silver were jumping higher on Monday.