Benchmark US indices rebounded strongly from a three-day slide on Tuesday, March 15, as a further drop in oil prices and slow growth in producer prices raised hopes that the Fed may not need to increase the interest rates as aggressively to hold back inflation.
The S&P 500 rose 2.14% to 4262.45. The Dow Jones rose 1.82% to 33544.34. The NASDAQ gained 2.92% at 12948.62, and the small-cap Russell 2000 was down 1.40% to 1968.97.
Oil settled below US$100 a barrel after seeing prices skyrocketing to over US$139 last week, bringing temporary relief to the market struggling to fend off the surging inflation concerns.
The international benchmark, Brent crude, declined by over 6% to US$99.91 a barrel, while the US WTI crude dropped by more than 6% to US$96.44 a barrel in intraday trading.
The central bank officials were due to meet on Tuesday for a two-day policy conclave in the backdrop of 40-year-high inflation that threatened to slow down global economic growth.
The central bank is expected to announce a quarter-percentage-point increase in interest rates on Wednesday, the first hike since 2018. Investors were eagerly waiting for the decision.
Traders will also look for clarity on how the bank plans to tread in light of the Ukraine crisis.
A European delegation was scheduled to meet Ukrainian President Volodymyr Zelenskyy in Kyiv to extend broad support as Russian forces continued bombarding the capital city.
On Tuesday, Labor Department said the producer-price index, which reflects the supply situation, rose at a seasonally adjusted 0.8% in February, down from an upward revision of 1.2% in January.
Consumer discretionary and technology sectors led gains in the S&P 500 index on Tuesday. Ten of the 11 segments stayed in the positive territory. Energy stocks were the bottom movers.
In the energy sector, Exxon Mobil Corporation (XOM) decreased by 5.69%, Chevron Corporation (CVX) declined 5.06%, and PetroChina Company Limited (PTR) fell 4.42%. ConocoPhillips (COP) and EOG Resources, Inc. (EOG) tumbled 1.55% and 1.74%, respectively.
In the consumer discretionary sector, Amazon.com, Inc. (AMZN) rose 3.89%, Tesla, Inc. (TSLA) gained 4.63%, and The Home Depot, Inc. (HD) increased by 3.20%. Nike, Inc. (NKE) and McDonald's Corporation (MCD) advanced 1.56% and 2.83%, respectively.
In technology stocks, Apple Inc. (AAPL) grew 2.97%, Microsoft Corporation (MSFT) soared 3.87%, and Nvidia Corporation (NVDA) surged 7.70%. ASML Holdings N.V. (ASML) and Broadcom Inc. (AVGO) ticked up 3.32% and 4.40%, respectively.
Traders also closely tracked a sharp rose in daily covid cases in China for a possible impact in global economic growth.
The cryptocurrency market was up 2.16% to US$1.76 trillion at around 3 pm ET, as per coinmarketcap.com. Bitcoin (BTC) rose about 2.3% to US$ $39,647.88 in the last 24 hours.
Also Read: Mecha Morphing (MAPE) bringing IDO on Polkastarter (POLS): know details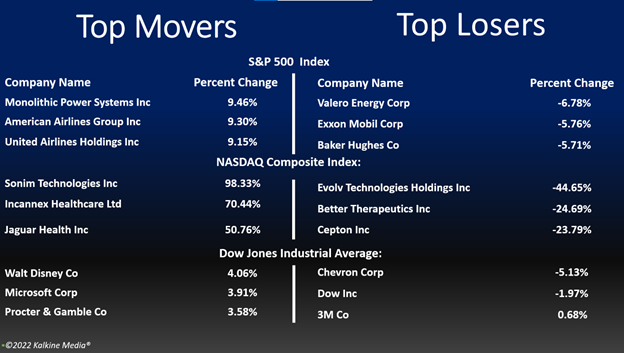 Also Read: ZIM to RRC: Top 5 mid-cap stocks to watch amid disruptive trends
Also Read: Is Microsoft (MSFT) stepping into cryptos with ConsenSys funding?
Futures & Commodities
Gold futures declined 2.11% to US$1,919.35 per ounce. Silver futures fell 0.80% to US$25.095 per ounce, while copper futures declined 0.44% to US$4.5030.
Brent oil futures fell 0.03% to US$98.45 per barrel and WTI crude futures declined 7.65% to US$95.13.
Bond Market
The 30-year Treasury bond yields was up 0.33% to 2.484, while the 10-year bond yields rose 0.43% to 2.149.
US Dollar Futures Index fell 0.06% to US$ 98.960.
How Are US listed Top Notch Chinese Stocks Faring?