Benchmark US indices closed higher on Tuesday, December 7, lifted by technology, energy, and consumer discretionary stocks in a turbocharged trading session.
The S&P 500 was up 2.07% to 4,686.75. The Dow Jones rose 1.40% to 35,719.43. The NASDAQ Composite surged 3.03% to 15,686.92, and the small-cap Russell 2000 was up 2.00% to 2,247.48.
Traders exuded growing confidence as the Omicron threat faded into the background, although scientists were still unsure over its severity or the efficacy of the existing vaccines against it.
All 11 segments of the S&P 500 stayed in the green. Technology, energy, and consumer discretionary stocks were the top gainers. Consumer staples, utility, and the healthcare segments trailed.
Intel Corporation (INTC) stock rose over 3% after announcing plans to take its subsidiary Mobileye public through IPO on NASDAQ next year. Mobileye specializes in self-driving technology.
The MongoDB, Inc. (MDB) stock jumped more than 16% after strong third-quarter results. The technology company posted a 50% increase in revenue YoY.
Vir Biotechnology, Inc. (VIR) stock rose more than 8%, and its partner GlaxoSmithKline PLC (GSK) stock gained 1% after their covid drug was found effective against Omicron in pre-clinical studies.
In the technology sector, Apple Inc. (APPL) stock grew 2.77%, Microsoft Inc. (MSFT) rose 2.28%, and Fortinet Inc. (FTNT) gained 8.52%. Nvidia Corporation (NVDA) and ServiceNow Inc. (NOW) jumped 6.84% and 7.45%, respectively.
In the consumer discretionary sector, Tesla Inc. (TSLA) stock rose 3.83%, Amazon.com (AMZN) grew 2.96%, and Etsy Inc. (ETSY) increased by 6.41%. Home Depot Inc. (HD) and Nike Inc. (NKE) surged 0.14% and 1.76%, respectively.
In the consumer staple sector, Procter & Gamble Company (PG) stock declined 0.24%, PepsiCo Inc. (PEP) fell 0.08%, and Philip Morris International Inc. (PM) decreased by 0.56%. Colgate-Palmolive Company (CL) fell 0.84%, and Kellogg Company (K) was down 0.82%.
Also Read: Top growth stocks that gave over 200% return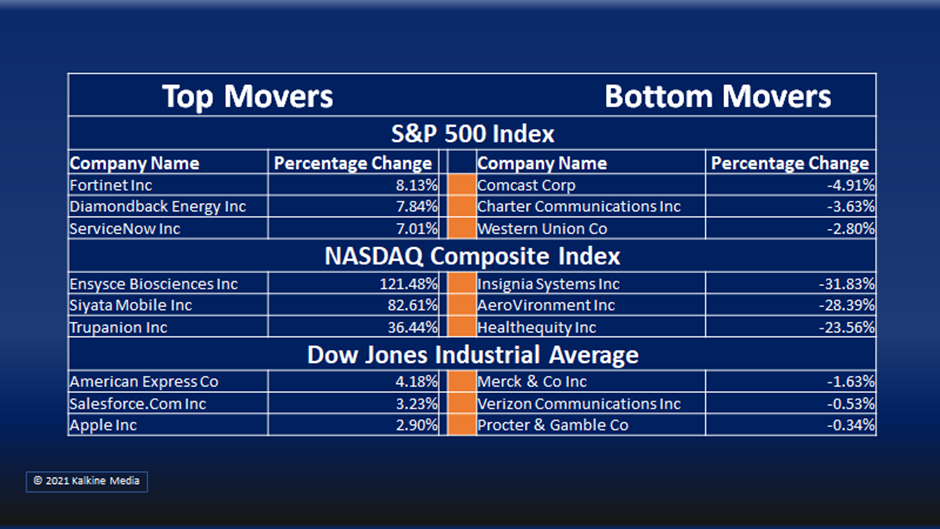 Also Read: Siyata Mobile (SYTA) stock jumps 130% on US$1.3 million order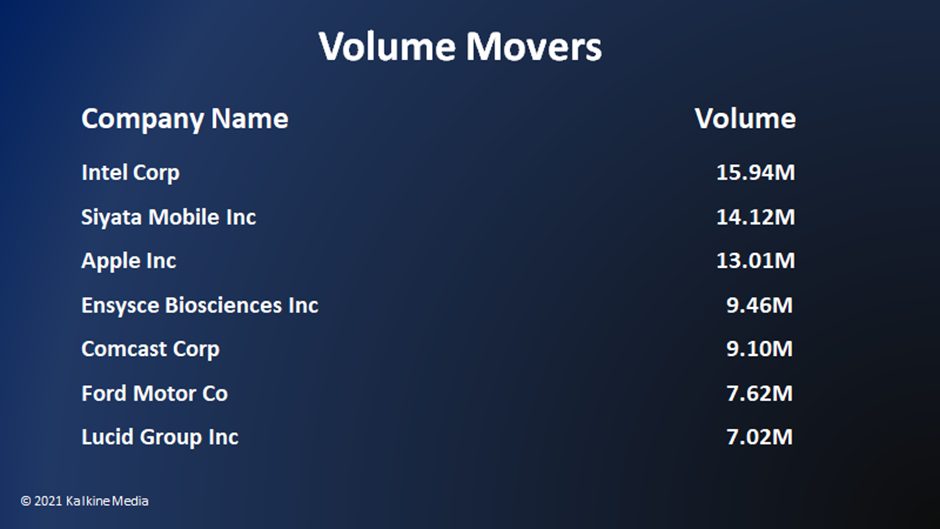 Also Read: GSK and VIR: Two rising healthcare stocks to explore
Futures & Commodities
Gold futures were up 0.42% to US$1,787.05 per ounce. Silver increased by 1.21% to US$22.532 per ounce, while copper fell 0.05% to US$4.3355.
Brent oil futures increased by 2.50% to US$74.91 per barrel and WTI crude futures climbed 2.96% to US$71.55.
Bond Market
The 30-year Treasury bond yields was up 2.42% to 1.801, while the 10-year bond yields up 2.98% to 1.477.
US Dollar Futures Index decreased by 0.02% to US$96.315.