Highlights:

Dent provides eSIM cards, mobile data plans, call minutes top-ups, and a roaming-free experience to the users.
It is available for trading on exchanges like Binance, KuCoin, etc.
It returned gains of over 30% in the last seven days.
The Dent (DENT) crypto seems to be gaining traction in the market, as evidenced by the recent surge in its price. Its price was up more than 11% in the last 24 hours, while its one-day volume fell over 47% on Tuesday morning.
Now, before we discuss the crypto's recent developments and price and performance, let's understand what Dent (DENT) crypto is.
What is Dent (DENT) crypto?
Dent describes itself as a revolutionary digital mobile operator that provides users with a wide range of products and services. It provides eSIM cards, mobile data plans, call-minutes top-ups, and a roaming-free experience.
According to its website, it harnesses the power of blockchain technology to create a global marketplace for mobile data liberalization.
The project has a huge mobile device user base, and its services and products are currently available in over 140 countries. It has many renowned enterprise partners, including Samsung Blockchain, The Enterprise Ethereum Alliance, and Telecom Infra.
The DENT Wireless project was co-founded by Tero Katajainen and Mikko Linnamäki and was launched in 2017.
Its native utility token, DENT, is an Ethereum-based ERC-20 token. The token is available for trading on exchanges like Binance, KuCoin, etc.
Although DENT had no new updates to share on Tuesday, the market's positive momentum may have pushed the token's price higher.
On June 23, it announced partnering with Wifimap.io to provide the best eSIM user experience. DENT's recent listing on the Kraken exchange may have helped gain traction. DENT went live Kraken on July 1.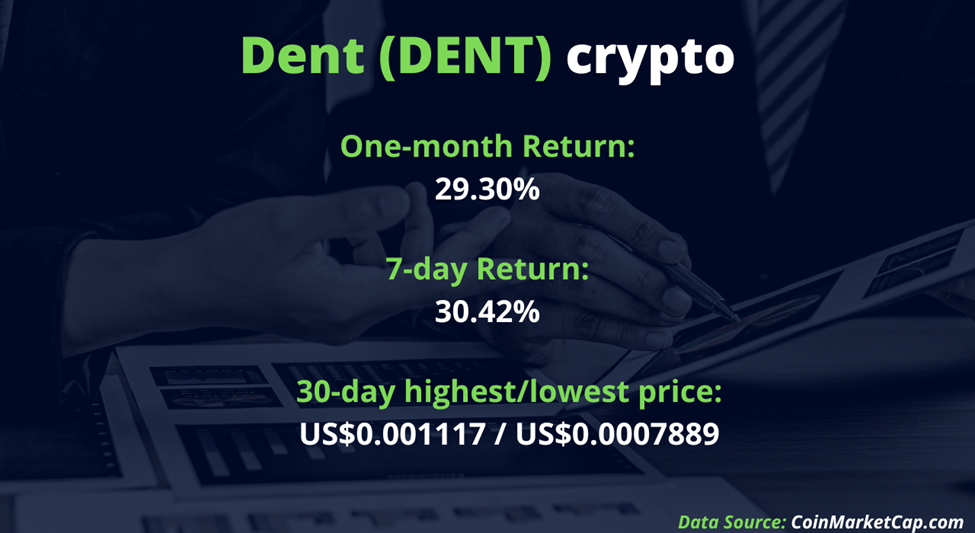 Image Source: ©Kalkine Media®; © Blend Spot via Canva.com
Bottom line:
The DENT crypto was priced at US$0.001105 at 8:16 am ET on July 19, up 11.18%, while its volume for the trailing 24 hours fell 47.97% to US$42.79 million. It has a market cap of US$109.53 million, and its fully-diluted market cap is over US$110.18 million.
The token has a total supply of 100 billion, and its current circulating supply is 99.01 billion. It returned gains of 30.42% in the last seven days while increasing 29.30% over the past 30 days.
The DENT token saw the highest price of US$0.001117 and the lowest price of US$0.0007889 in the last 30 days.
Risk Disclosure: Trading in cryptocurrencies involves high risks, including the risk of losing some, or all, of your investment amount, and may not be suitable for all investors. Prices of cryptocurrencies are extremely volatile and may be affected by external factors such as financial, regulatory, or political events. The laws that apply to crypto products (and how a particular crypto product is regulated) may change. Before deciding to trade in financial instruments or cryptocurrencies, you should be fully informed of the risks and costs associated with trading in the financial markets, carefully consider your investment objectives, level of experience, and risk appetite, and seek professional advice where needed. Kalkine Media cannot and does not represent or guarantee that any of the information/data available here is accurate, reliable, current, complete, or appropriate for your needs. Kalkine Media will not accept liability for any loss or damage as a result of your trading or your reliance on the information shared on this website.