Highlights:

PolkaBridge (PBR) is a decentralized protocol for cross-chain functioning.
PolkaBridge has so far launched more than 50 projects, and the protocol has more than US$10 million of total value locked (TVL) into its staking pools.
PBR has a market capitalization of US$4.5 million.
PolkaBridge (PBR) token gained attention on Tuesday morning and rose 3.17%. The token traded at US$0.08719 at 9:10 am ET after announcing an average Annual Percentage Yield (APY) of more than 50% on staking PBR tokens on BSC.
Last week, it announced the completion of its integration with the Binance Smart Chain (BSC) blockchain. Polkabridge has migrated its token from Ethereum to BSC to offer its community low fees and faster settlement time.
Since the announcement, the token has been gaining and raked in approximately 77% price gain in seven days.
It also announced to launch PolkaBridge Insights platform last week; however, the date was not revealed.
The Insight project of PolkaBridge is one of the core projects by its team purpose-built to educate its community and impart information about the market, other projects, current scenarios, concepts, guides, walkthroughs etc.
So, it is planned as a content creation and dissemination platform of PolkaBridge to expand its suite of products consisting of DeFi and NFT DAapps. The informative platform is aimed to help the community to become updated about the crypto market and blockchain's current status and make better decisions.
Around 60% of work is complete on the new platform, and a testnet can be expected to be launched soon before the full-fledged launch of the platform.
What Is PolkaBridge?
PolkaBridge is a decentralized protocol for cross-chain functioning. It is designed to work as a bridge between Polkadot and other blockchains. The protocol currently operates on the Ethereum blockchain.
PBR is the native token of Polkabridge. The token is used for transactional activities on the network such as staking collateral, rewards, participating in the Initial DEX Offerings (IDOs), swapping cross-chain, and lending purposes.
The PolkaBridge ecosystem includes P2P Exchange, deflationary farming, staking, multi-chain and cross-chain AMM, launchpad, and the metaverse.
Polkabridge has so far launched more than 50 projects, and the protocol has more than US$10 million of total value locked (TVL) into its staking pools, as per the official site.
Other upcoming projects are Trade with wallet, 24/7 customer support, reduced fee and a fully secure platform.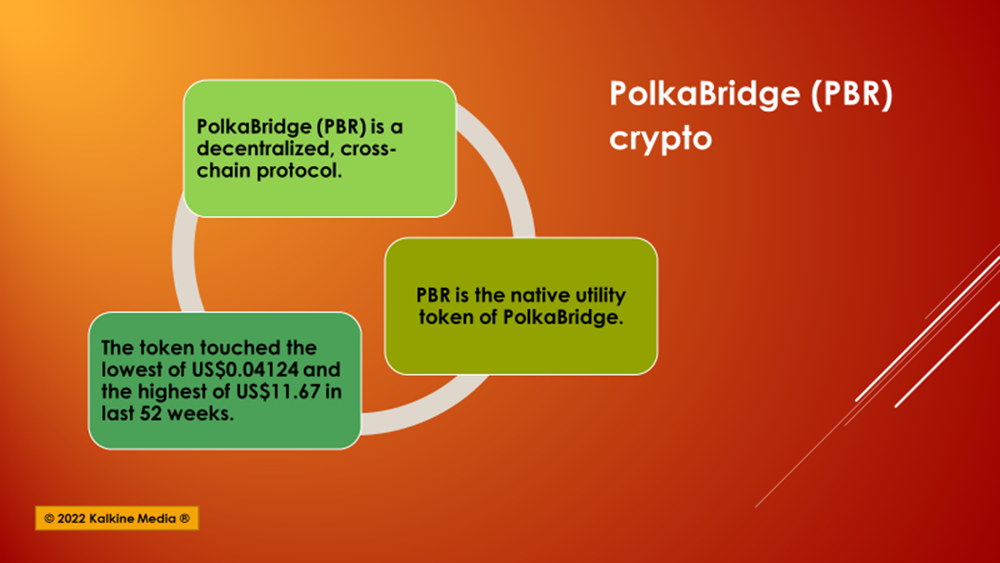 Data Source: Coinmarketcap.com
PBR token:
The token, with a circulating supply of 51.8 million PBR, has a market capitalization of US$4.5 million. Its total supply is 77.8 million.
Its trading volume increased 9.21% to US$2.25 million over the last 24 hours.
The token trades on crypto exchanges such as MEXC, KuCoin, and Gate.io. BiBox, and ZT.
Bottom line:
The cryptocurrency market took a plunge in the last few months after a series of failures of crypto projects, including the collapse of Terra, Celsius, etc. Many crypto lending projects faced a liquidity crunch due to the huge sell-off in the crypto market.
Thus, however lucrative the crypto market may appear, investors should exercise due diligence and invest money only when they can afford to lose it in a worst-case scenario.
Risk Disclosure: Trading in cryptocurrencies involves high risks, including the risk of losing some, or all, of your investment amount, and may not be suitable for all investors. Prices of cryptocurrencies are extremely volatile and may be affected by external factors such as financial, regulatory, or political events. The laws that apply to crypto products (and how a particular crypto product is regulated) may change. Before deciding to trade in financial instrument or cryptocurrencies you should be fully informed of the risks and costs associated with trading in the financial markets, carefully consider your investment objectives, level of experience, and risk appetite, and seek professional advice where needed. Kalkine Media cannot and does not represent or guarantee that any of the information/data available here is accurate, reliable, current, complete or appropriate for your needs. Kalkine Media will not accept liability for any loss or damage as a result of your trading or your reliance on the information shared on this website.