Highlights

Wine companies warned that the country could face a booze shortage during the festive period due to a severe lorry driver crunch unless more action is taken by the UK government.
The WTSA found that import orders are now taking 5 times longer than the previous year and that freight costs have risen by 7 per cent.
The UK is expected to face a major alcoholic beverages shortage during the Christmas holiday period due to a severe shortage of lorry drivers unless the government takes more action, a group of 48 wine and other alcohol businesses cautioned in a letter to the UK's transport secretary, Grant Shapps.
The UK industry body, Wine and Spirit Trade Association (WSTA) has conveyed the message to the government stating that freight expenses had risen by around 7 per cent due to an increase in lorry drivers' wages. The increase in wages was in order to retain HGV drivers amidst the ongoing supply-chain related issues.
The WTSA also stated that import orders were taking 5 times longer to complete than the previous year, as they were now taking over 2 weeks for orders that normally take about 2 days.
Industry leaders suggested extending the HGV driver's visas to one year to address the issue, and such visas are expected to expire by February next year.
Let us take a look at 2 FTSE listed wine stocks, with a one-year return of over 60 per cent:
Gusbourne PLC (LON: GUS)
AIM-listed Gusbourne is a British wine maker with vineyards located in Kent and West Sussex in England.
The company launched an open offer recently to its qualifying shareholders, offering an issue price of 75 pence per share for 8,323,493 open offer shares. The offer is expected to raise up to £ 6.2 million.
The open offer is the last leg of its recent fundraising-related deals aimed at raising capital for the company.
The capital is expected to be used to help with Gusbourne's ongoing business growth and development goals and for the repayment of all the current short-term debt from its balance sheet.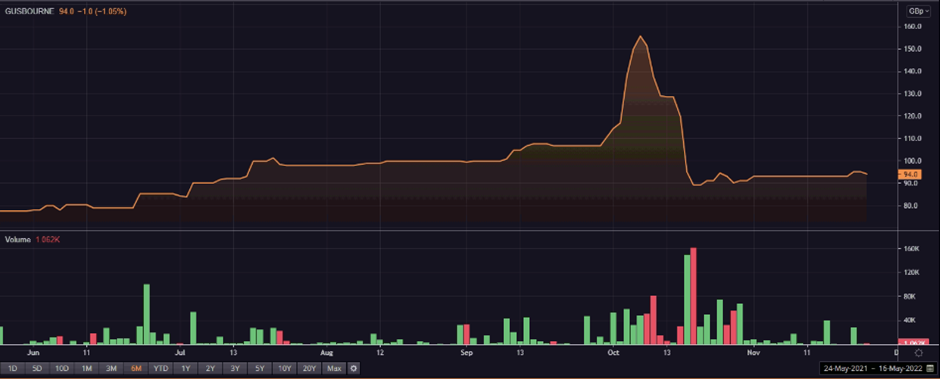 Image source: Refinitiv
Gusbourne's shares closed at GBX 95.00 on 24 November. The group had a market cap of £55.16 million as of Wednesday. Its one-year return was at 73.57 per cent as of 24 November.
Stock Spirits Group PLC (LON: STCK)
The main market listed Stock Spirits Group is a British spirits company.
The group is scheduled to report its final results next month, on 8 December. Its revenue rose by 0.3 per cent at constant currency for the six months to 31 March, to EUR183.4 million, from EUR189.6 million in the previous year.
The group's profit for the period rose by 91.6 per cent to EUR28.1 million, from EUR14.7 million in the year before.
Image source: Refinitiv
Stock Spirits Group's shares closed at GBX 377.00 on 24 November. The group had a market cap of £752.00 million as of Wednesday. Its one-year return was at 62.85 per cent as of 24 November.