New Zealand happens to be a fast-emerging producer of oil and gas with several under-explored basins as well as substantial petroleum potential. The Government's long-term strategy is to boost the value of the country's petroleum exports to $30 billion a year by 2025. This oil and gas company has delivered a return of ~25.66% in the time span of previous 3 months. Notably, in the time frame of past 6 months, the stock rose by ~44.89%.
A major company that will benefit from the growth in New Zealand's oil and gas sector is New Zealand Oil & Gas Limited (NZX: NZO).
New Zealand Oil & Gas Limited
Summary:
NZO's cash balance rose to $110.8 million at June 30, 2020, implying a rise from $105.6 million.
The pandemic impacted the global markets, but the company's production facilities were operating.
The company will review as well as implement opportunities to reduce carbon impact of its own operations.
New Zealand Oil & Gas Limited (NZX: NZO) is an NZX-listed company based in Wellington, New Zealand. The company possesses a low-cost structure, cash for the purposes of acquisitions, subsurface expertise, exploration interests in NZ, Australia and Indonesia, as well as a controlling interest in Cue Energy. The company has 3 production profiles i.e. Sampang PSC, Maari and Kupe. The company has stated that production in 2019-20 was down moderately as compared to the previous year. The main cause was month-long maintenance outage at Kupe, as well as a decline in well performance that brought production below plateau.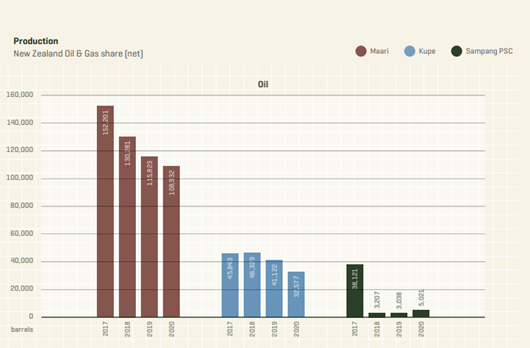 Key Data (Source: Company Reports)
Improvement in Bottom Line
For the 12 months ended June 30, 2020, the company reported a net loss of $0.8 million. Revenue for the year stood at $37.3 million, down from $43.3 million in previous year. Cue made the contribution of $25.2 Mn to revenue as compared to $27.5 Mn last year as well as revenue from Kupe production was $12.0 Mn as compared to $15.9 Mn last year. The cash balance rose to $110.8 million at June 30, 2020, reflecting a rise from $105.6 million.
The cash balance is anticipated to reduce moving forward as the company contributes to cost of drilling the Ironbark well off Western Australia, presently anticipated to be drilled in Q4 of calendar year 2020. It was mentioned that pandemic disrupted the global markets, but the company's production facilities kept operating. The company's revenues remained robust as the portfolio is dominated by gas, connected to pipeline markets with long term contracts.
While improving its EBITDA margins from -5.8% in FY16 to 40.4% in FY20, the company has delivered sustainable growth. The company has a decent track record of maintaining the margins. Its net margin has also improved from -81.7% in FY16 to -2.1% in FY20.
NZO Significantly Upgraded its Developed Reserves in Kupe
In a recent release, it was mentioned that NZO has materially upgraded its developed reserves in Kupe gas and light oil field off Taranaki, New Zealand (NZ). Post a review by joint venture, Kupe fields production adjusted 2P (proven and probable) total reserves have increased by ~23 percent.
NZO Receives Approval for Ironbark Environmental Plan
New Zealand Oil & Gas Limited has been advised by the Operator BP, that the Ironbark Exploration Drilling Environment Plan (EP) has been approved. Exploration permit WA-359-P is situated in Carnarvon Basin, offshore Western Australia, ~50 km from current North West Shelf LNG infrastructure.
Ironbark-1 well is expected to drill to ~5500 meters as well as would be the first test of Ironbark gas prospect.
Strategic Review
In the release dated June 4, 2020, it was mentioned that New Zealand Oil & Gas Board undertook strategic review with regards to the future direction of the company.
The impact on energy markets has been intense globally, as the US oil prices recently went negative for first time in the history. The company has weathered this storm considering it has portfolio weighted mainly towards gas and has a robust balance sheet. Recently, it has managed to sign many confidentiality agreements and is keenly assessing opportunities that fit within parameters of the company.
Key Risks
The company has exposure towards foreign currency risk on cash and cash equivalents, oil sales, the recoverable value of oil and gas assets as well as capital commitments that are denominated in foreign currencies. However, the company is also exposed to liquidity risk. Liquidity risk is the company's ability to meet the contractual obligations. The company keeps on evaluating the liquidity requirements. Generally, the company generates enough cash flows from the operating activities to meet the obligations arising from the financial liabilities as well as has liquid funds so that potential shortfalls can be covered.
On October 9, 2020, the stock of New Zealand Oil & Gas Limited has ended the session at NZ$0.710 per share, reflecting a decline of 2.74% on an intraday basis.
The sole motive of an investor is to grow his/her capital over a period to meet financial goals. In pursuit of this, investors are in a constant hunt for stocks that have capital appreciation potential and those that pay dividends, which one can reinvest to further increase the rate of return. Dividends can also be seen as an incentive for an investor to hold the stock for a longer duration of time, especially when the overall market enters a bear phase, or the underlying invested company goes through business troughs and peaks.
Stocks that have high dividend yield are considered to be a safe bet, but to take a blanket call just on dividend yield would be naive, as there is more to be analyzed to make a sound judgment on the ability of the business to keep paying a dividend over long periods.
Companies over time, increase dividend payout, and in the long term, an astute investor can reap high rewards by picking good dividend stocks, across sectors, thus diversifying and reducing the volatility of one's portfolio. Investors in New Zealand can reap the benefit of dividend imputation credit and further increase their overall return on investment.
So, how should one pick a dividend stock? How to invest in stocks that have the wherewithal to not only pay a dividend but also increase dividend payout over the years?
With Kalkine, you will find answers to these questions, as we conduct a detailed analysis of companies based on quantitative and qualitative parameters.
Sound dividend stocks are investors' delight. They provide the benefits of capital appreciation and the joy of constant income despite the market volatility.
CLICK HERE FOR YOUR FREE REPORT!