Summary

To avoid the emergence of new cases in the country and for reducing the burden on quarantine amenities, New Zealand is attempting to limit the number of citizens returning home.
Meanwhile, some companies are reporting solid results for the financial year 2020 despite the COVID-19 pandemic.
NZX-listed primary health care provider Green Cross Health reported an operating profit of nearly NZ$31.0 million up by 5.4%.
In the financial year 2020, Fisher & Paykel Healthcare's NPAT rose by 37%.
COVID-19 turmoil has affected all the nations across the globe, healthcare companies, institutes, including many scientists, are burning their mid-night oil to find a suitable treatment/vaccine for this deadly virus. COVID-19 has infected more than 15.79 million people and has taken 640,016 lives reported to the World Health Organization (WHO) as of 26 July 2020.
New Zealand had declared itself COVID-free initially till on 16 June 2020 the country reported 2 new cases of COVID-19. Notably, there is no one in the country receiving hospital-level care for the coronavirus infection.
New Zealand to limit returning citizens
On 7 July 2020, the New Zealand government asked its national airline not to take new bookings for at least three weeks amid the COVID-19 turmoil, as reported by Reuters.
The border of New Zealand is shut down to everybody except for returning citizens, even though some exemptions are in place for business and compassionate purposes. Moreover, Air New Zealand stated that new bookings for the next 3-weeks had been put on hold. Further, the airline added that it would align daily arrivals with the available capacity at isolation facilities.
Meanwhile, as the financial year has ended for most of the NZ companies, they are updating the market with their annual reports. In this article, we are highlighting two NZX-listed healthcare stock which reported solid results in the financial year 2020. Let us delve deep and discuss- GXH and FPH.
Green Cross Health Reported Solid Results in FY20, Operating Profit up 5.4%
An NZX listed primary health care provider Green Cross Health Limited (NZX:GXH) offers its services to communities covering the length and breadth of New Zealand. The Company provides support, care as well as advice to its communities through pharmacies, medical centres and community health services.
On 27 April 2020, Green Cross Health updated the market with its annual report for the year ended 31 March 2020.
The company generated revenue of approximately NZ$569 million in the financial year 2020, as a result, almost consistent with the previous year with a small increase of 0.2%.
In FY20, Green Cross Health reported an operating profit of nearly NZ$31.0 million up by 5.4%.
NPAT (Net Profit after Tax) attributable was NZ$13.5 million, down by 16.2% on pcp.
The balance sheet of GXH continues to have robust liquidity, which will allow the company to traverse the next period, with challenges stemming from the ongoing COVID-19 pandemic.
The company is well-positioned to consider acquisitions over the medium term selectively.
Medical Revenue up by 8.5% to NZ$76.5 million and operating profit soared by 81.1% to NZ$8.0 million, reflecting organic revenue growth.
Revenue of pharmacy division down by 1.1% and operating profit down NZ$4.8 million to NZ$22.5 million.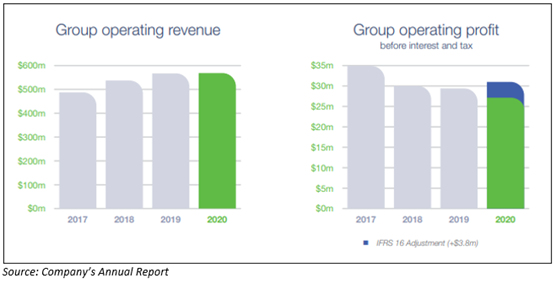 Pharmacy division Highlights
During the year, the Pharmacy division continued to leverage trusted brands, both through the network of 361 stores and through increasing the digital capability of the company to support engagement with its customers in several channels.
Moreover, Green Cross Health continued to evolve its product range and offering along with instilling a focus on margin management across all product categories.
In the pharmacy division, same-store sales growth increased by 1.5%, same-store script numbers up by 1.3%.
Year on year (YoY) growth with living rewards loyalty program now at 1.7 million members.
In February 2020, two stores acquired in Karori, Wellington.
Medical division Highlights
The Medical division delivered continued growth year on year in revenue and profitability. The company continues to invest in driving patient growth, both organically and through selected acquisitions.
Medical revenue increased by 8.5% to NZ$76.5 million, with operating profit up by 81.1% to NZ$8.0 million. This performance was the consequence of improved operational efficiency, organic revenue growth, as well as an IFRS 16 impact of nearly NZ$1.2 million.
Enrolled patients as of 31 March 2020 totalled to 267,000, a rise of 12k (4.7%) since March 2019.
Community Health division Highlights
The Community Health division substantially improved performance this year with the focus of Green Cross Health on underlying profit drivers, instead of revenue growth.
The Community Health division had a healthy increase in operating profit to NZ$2.5 million, a rise of NZ$2.4 million over the prior corresponding period.
The main driver of the improvement in performance was operational efficiency with costs decreasing by 3.0% on reduced revenue of 0.6%.
Stock Information- On 27 July 2020, GXH stock is trading at NZ$1.06 (NZST: 04:25 pm) with a market capitalisation of approximately NZ$150.31 million.
Fisher & Paykel Healthcare's FY20 NPAT rose by 37%
NZX and ASX listed manufacturer of breathing equipment Fisher & Paykel Healthcare Corporation Limited (NZX:FPH) is a leader in designing and marketing of respiratory care products. The company mainly operates into two groups Hospital group & Homecare product group.
On 29 June 2020, FPH revealed its results for the FY2020 ended 31 March 2020. In the fiscal year 2020, products of the company used by approximately 16 million patients, including many patients having COVID-19.
The highlights from the fiscal year 2020 are-
In FY20, the company recorded a net profit after tax (NPAT) of ~NZ$287.3 million rose by 37% as compared to the pcp.
The operating revenue reported to be NZ$1.26 billion, growth by 18% on pcp.
In the hospital operating revenue, FPH reported 25% growth.
The operating revenue from homecare product rose by 9%, 4% rise in constant currency (cc).
FPH reported 4% growth in constant currency revenue in OSA masks.
Final dividend increased to 15.5 cps from 13.5 cps, up by 15% on pcp.
Fisher & Paykel mentioned that revenue growth is primarily led by increased use of OptiflowTM nasal high flow therapy, improved requirement for products to treat COVID-19 patients, as well as strong hospital hardware sales throughout the year.
Moreover, the company stated that it is well-positioned for responding to the ongoing global health emergency and adapt to a 'new normal'.
Stock Information- On 27 July 2020, FPH is trading at NZ$35.18 (NZST: 04:25 pm) dwindled by 0.17% from its previous close. The market capitalisation of FPH stock stood at NZ$20.26 billion.