As we know, the outbreak of COVID-19 impacted several sectors and market players were forced to reshuffle their holdings in a bid to safeguard their investments. Amidst all these, Healthcare sector has shown its resilient nature, and to some extent, the sector was able to withstand the impact of pandemic. This company from healthcare space has managed to achieve decent momentum. With respect to its outlook, the company is expecting that operating cashflow might improve further, and its operating expenses would remain at current levels or lower. The company has also released its robust FY 2020 results.
Pacific Edge Limited (NZX: PEB)
Summary

Scale adoption by the leading healthcare institutions is the commercial objective for PEB in all the markets, mainly the United States.
PEB is focused towards achieving the key strategic objectives and the company stated that commercial momentum is increasing.
Investment support of $22 million reflects upon the growing interest of investors in products and the management of the company.
According to the company's annual report of FY 2019, Bladder cancer is the sixth most common cancer and $240K has been estimated as the average total lifespan cost. Notably, 800k US patients are actively monitored for the bladder cancer 2-3 times per annum. The company's products fall under 4 categories:
Cxbladder Detect- It provides clinicians with a cost-effective, quick, and accurate measure of the presence of cancer as an effective adjunct to cystoscopy.
Cxbladder Triage­­­­­- It is used in the primary assessment of patients with haematuria. It is meant to reduce the need for a costly and invasive work-up in patients who have a low chance of having urothelial carcinoma.
Cxbladder Monitor- It accurately identifies patients with a prior history of urothelial cancer whose Cxbladder Monitor score indicates that they have a low chance of recurrent urothelial carcinoma.
Cxbladder Resolve- It identifies those patients who can have aggressive or more advanced bladder cancer.
USA has been PEB's primary market and accounts for 78% of the total laboratory throughput in FY20. The USA is the world's largest healthcare market and it has an estimated addressable market for Cxbladder of $1.2 billion.
Total Laboratory Throughput (Source: Company Reports)
Pacific Edge Limited has recently made an announcement that it has been notified by Novitas that LCD: Biomarkers for Oncology (L35396) provides coverage for Cxbladder, CPT codes 0012M as well as 0013M for the tests performed on or post 1st July 2020 which are necessary medically. It includes reimbursement for all the Cxbladder tests done for patients covered by CMS (or Centers for Medicare and Medicaid Services) throughout USA, at already determined national CMS price for Cxbladder of USD760 per test.
Commercial Agreement With Kaiser Permanente Might Provide A Great Opportunity For Growth
PEB and US healthcare provider, Kaiser Permanente, have reached an agreement with respect to the commercial use of PEB's Cxbladder tests.
Kaiser Permanente has over 12 million members, employs ~23,000 physicians and operates 39 hospitals. So, this agreement is a major achievement for the company, which is expected to deliver a significant increase in revenues in the coming future.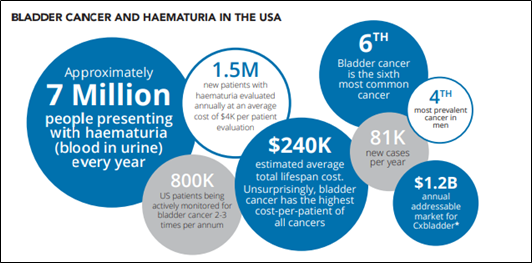 Key Data (Source: Company Reports)
PEB Accepts Investment Offer of $22 million
The company has accepted an investment offer of $22 million from ANZ New Zealand Investments. The company will issue 33,846,154 shares to ANZ New Zealand Investments at a price of NZ$0.65 per ordinary share.
The investment from ANZ New Zealand Investments clearly shows that the company has been growing investors' interests after the completion of two major commercial milestones in the USA. The additional growth capital would help the company in accelerating the commercial progress as well as would allow the company to execute on the future growth opportunities, hence, enhancing value for all the shareholders.
Road Ahead
The company stands at a unique position in the whole world with a large addressable market, the first-mover advantage, and established model and products with exciting and repeatable performance.
In NZ, the demand from public healthcare providers has been growing, and the company will now focus on upselling additional tests to its current customers and securing adoption from the remaining DHBs.
A Quick Look at Results
The company reported operating revenue growth of 14% from $3.8 million in FY19 to $4.4 million. Total laboratory throughput increased by 7 percent as compared to pcp to 16,861 tests. The company stated that US total laboratory throughput witnessed an increase of 6% on pcp to 13,240 tests.
Operating expenses in FY20 stood at $24.1 million, a 5 percent increase as compared to the previous year. The FY20 net operating cashflow was negative $15.4 million, while in FY 2019, the figure was negative $17.5 million.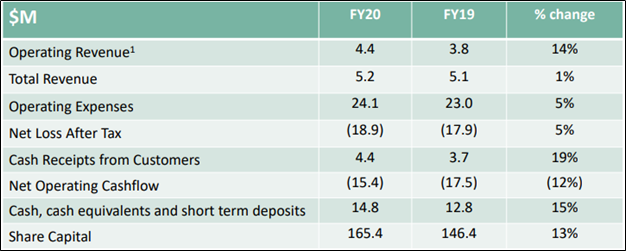 Key Numbers (Source: Company Reports)
COVID-19 restrictions impacted the company's operations; however, the company expects that in the near future, tele-consultations will become more common practise. Notably, there has been a rapid increased use of telehealth in the United States during these uncertain times.
A top US healthcare provider has stated that their usage of tele-consultations has improved from 15% of all appointments pre-COVID-19 to 80% currently.
Additionally, the company has been able to cut costs to offset income reductions and has also obtained financial support in the form of COVID-19 relief packages from governments in Australia, New Zealand, and the United States.
Pacific Edge ended the trading session on August 7, 2020 at NZ$0.710 per share, reflecting a decline of 1.39% on an intraday basis. Notably, the stock price of the company has witnessed a rise of ~175.68% in the time span of past one year.